Summary: In this article, we discuss the importance of retail design for retailers and big box stores. The Look Company has worked with clients across various retail sectors to design effective visual engagement solutions that attract customers and maximize store revenue.
---
Amidst the growing popularity of omnichannel retail, click-and-collect, and social commerce, what does the brick-and-mortar store format mean for retailers today?
The physical store is a vital link between the brand and its audience. Every square foot of retail real estate provides an unparalleled opportunity for brands to connect directly with their target audience and gives shoppers a chance to experience the brand and its products first-hand.
Retailers can directly observe and influence customer behavior, get insights into their buying journey, and understand how they can streamline the store layout to improve customer experience.
Shopping Experience is Key for Retail Success
What creates positive experiences for shoppers? The ambiance, lighting, graphics and floor planning, and aisle layouts influence how much time visitors spend on the shop floor, how they navigate through the store, and even how much they add to their shopping carts.
Effective store design plays an important role in shaping customer experience and impacts the business's bottom line.
What is Retail Store Design?
Far from being just an aesthetically pleasing shop floor, retail store design is a branch of study that combines product marketing, visual merchandising, and branding for retail spaces.
It is a well-planned strategy to design retail spaces to optimize expensive commercial space for sales conversion, increased revenue, better customer experience, and a stronger brand identity.
The Importance of Retail Design: A Mantra to Boost Sales
Good retail design leverages thoughtful floor and aisle layouts, storefront displays, lighting, floor displays, music, and in-store visuals to create an atmosphere conducive to shopping, help shoppers navigate their way through the store and encourage them to see more sections and trigger impulse purchases.

There are many benefits of a well-crafted and strategic store design:
Increased sales & revenue is the biggest benefit! Well-designed stores coax shoppers to spend more time on the shop floor, and immersive displays prompt them to experience and buy products.

Well-laid-out aisles and displays direct the flow of traffic through the store and, when used effectively, can lead shoppers to high-value products and featured merchandise.

Retailers can maximize floor space usage in expensive retail spaces with efficient store layouts and space-saving product displays.

Product shelves at eye level and eye-catching, bold in-store graphics help maximize the visibility of products in the store.
The Look Company: Bringing Your Retail Vision to Life
The Look Company transforms retail environments by delivering innovative display systems and printed graphics. Our SEG Graphics and modular frames capture shoppers' attention by providing an elevated in-store experience.
Our proprietary hardware is designed and manufactured in-house, enabling us to produce custom solutions to satisfy project requirements.
Our designers audit your space and recommend the best solutions to engage your audience and elevate your brand's experience.
Creative design: Our seasoned experts guide you in designing and planning your in-store visual engagement solutions. 
Location plan drawings: We work with retailers to determine the types of in-store graphics and signage that will be required based on the physical store location. This helps our team to deploy innovative solutions to help you maximize floor space, create changeable displays, and plan for frequently updated storefront displays.
Product design: We create custom display solutions, giving your store a unique and differentiated appeal.
How TLC Works with Clients Across Industries
Grocery stores & supermarkets
When it comes to retail store design for supermarkets, you need to design sensory experiences—and that means going beyond mere product shelves. Our visual engagement solutions focus on appealing to the senses—and groceries have the potential for that! From smells to taste and texture, there's a lot that visual merchandisers can work with in a supermarket.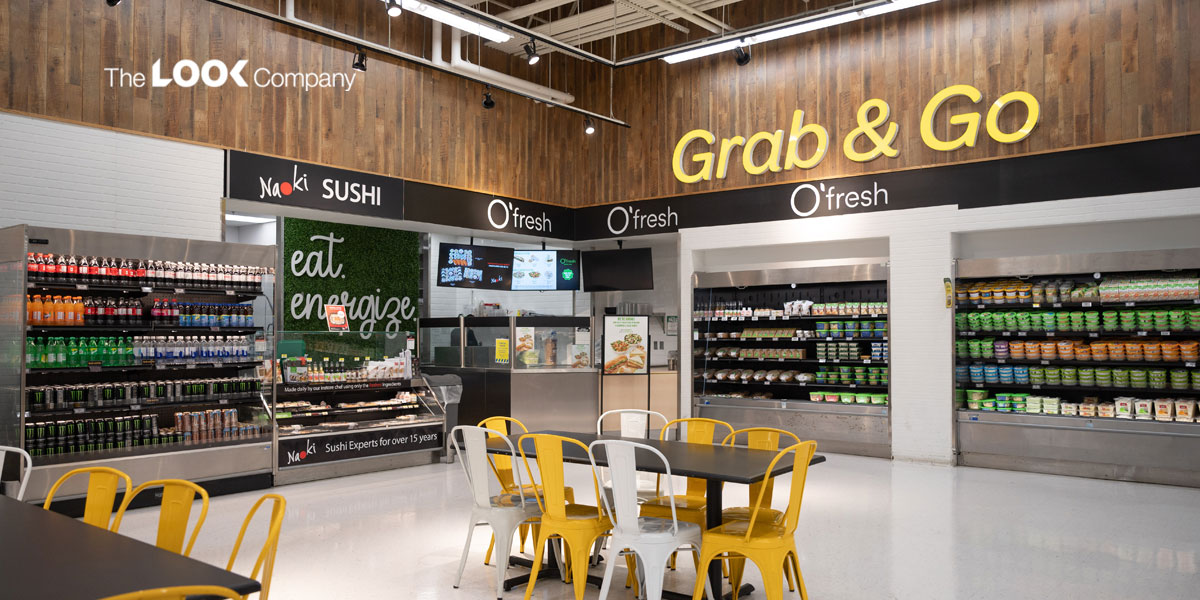 In addition, product displays located strategically across the shop floor can help to increase cart value as shoppers are tempted to add more to their carts on the way to checkout. Power wall displays play a crucial role in directing attention to freshly prepared or seasonal products. We have also successfully used point-of-purchase displays at checkout counters to trigger last-minute impulse purchases.


Fashion stores
Window displays are a key element of retail store design for the apparel & accessories sector. Storefront displays or a quick glance at the look of the shop floor creates an impression about the brand in the shopper's mind. A well-crafted visual merchandising strategy draws passersby into the store, and well-thought-out in-store displays help to convert them into customers.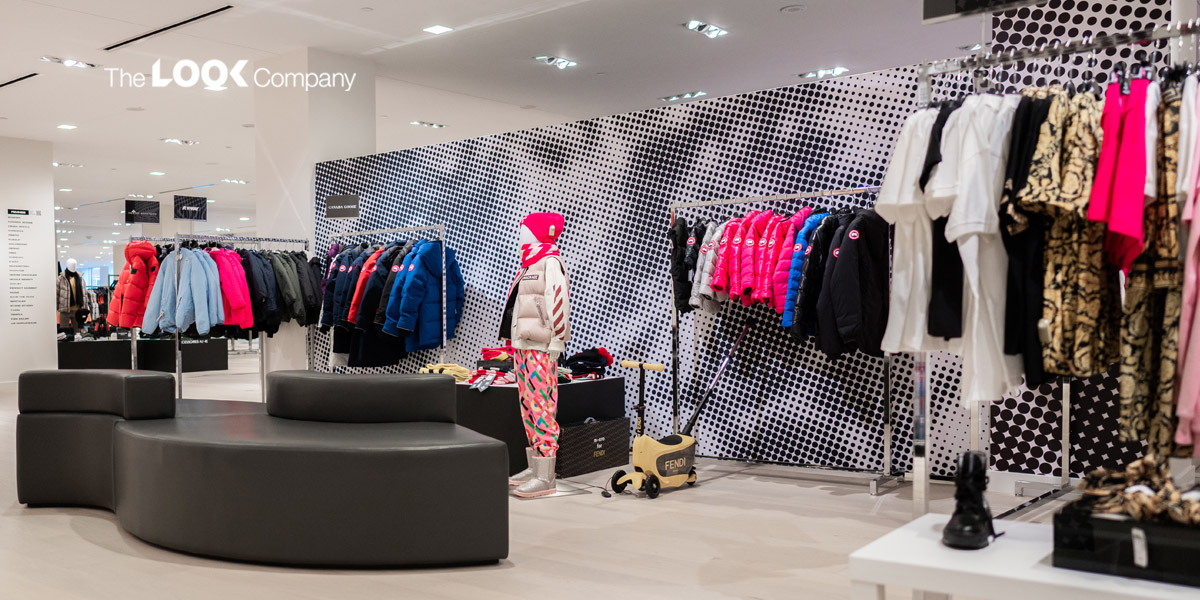 Read about how we designed a reconfigurable space for featured events and VIP exclusive experiences for Holt Renfrew Ogily's Montreal store. We used custom-made flexible frames and SEG fabric panels that could be changed out for every event. The versatility of the wall configurations allowed the client to create temporary rooms and direct customer flow efficiently through the space.
Furniture & home
TLC works with furniture stores to transform them from being sales outlets to retail spaces that offer an incredible shopping experience using engaging furniture store merchandising and showroom displays.
The Look Company designed a turnkey solution for Mattress Firm. The client wanted a retail display system to provide a uniform look and feel within their showroom, enhance the store-level experience, and increase in-store engagement.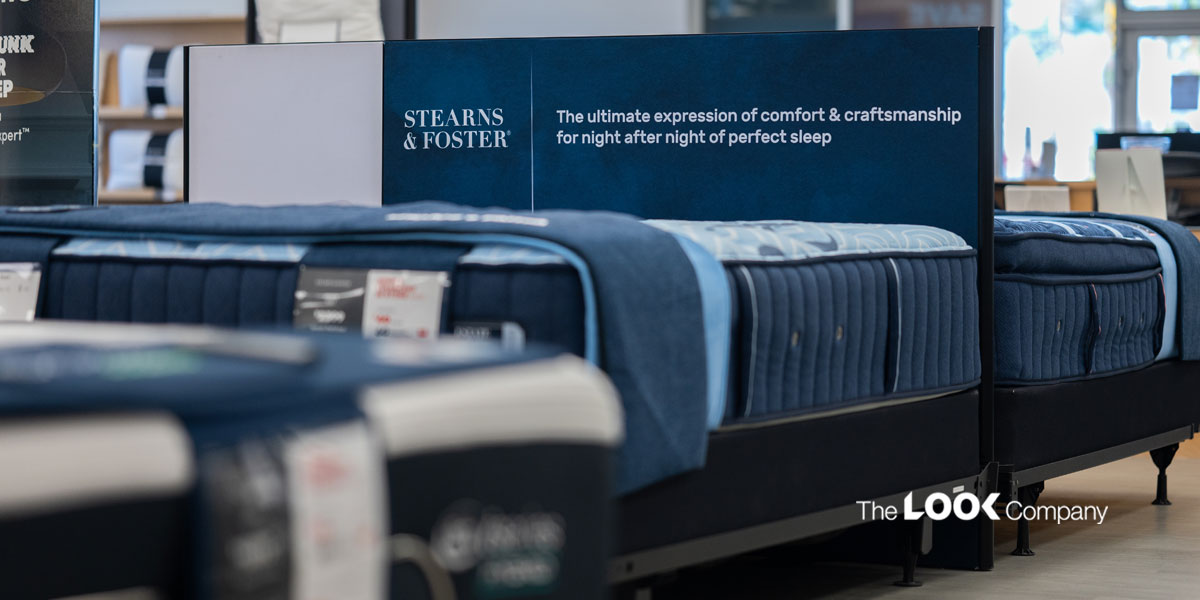 Our team designed a modular display system that could be adapted to their changing promotions. The solution included:
Self-standing product displays

On-the-wall frame displays

Lightboxes

Ceiling-hung frames

Wall-mounted or self-standing accessory shelves with printed fabric graphics that in-store staff could easily update.
Over five months, The Look Company produced and delivered 70,000 hardware frames and printed 2,800,000 sq. ft. of printed graphics on fabric for Mattress Firm.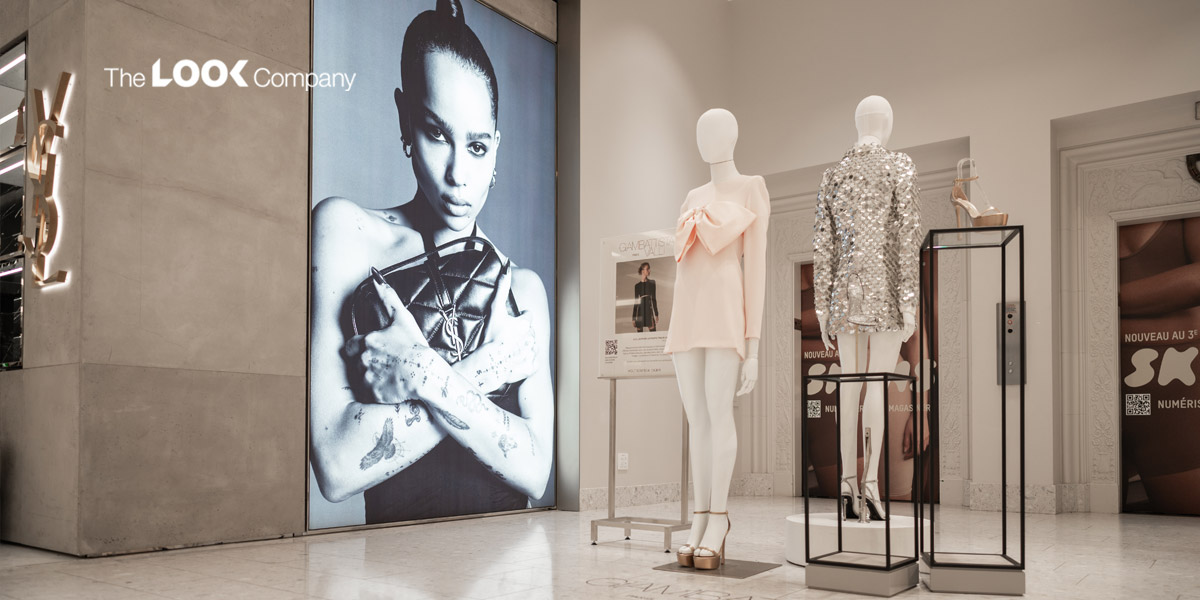 The Look Company: Our Work Reflects the Importance of Retail Design
TLC's experience with design and planning for effective visual engagement solutions has benefitted retailers and big box stores across various sectors. 
Get in touch with TLC today and learn more about our design and planning services to transform your retail space into an experience for your customers.