Summary: The Look Company specializes in sports event branding and visual engagement solutions for live sports competitions. Read on to learn how we provide end-to-end services, from concept development to installation.
---
Dressing a stadium or live sports arena for sponsors' branding is no easy task. It is not just about putting up brand logos—but creating an awesome experience for fans, teams, and sponsoring partners.
The scale, complexity, and time pressures involved in delivering visual engagement solutions for venues of live sporting events is a highly specialized service.
To pull off effective sports event branding, you will need a partner with significant experience in executing visual displays and branding solutions for large events, staffed with trained and passionate specialists who can work with efficiency and accuracy while sticking to demanding deadlines.
The Look Company has executed several large sports branding projects worldwide for over 2 decades, bringing innovative visual engagement solutions to the live sports and events industries.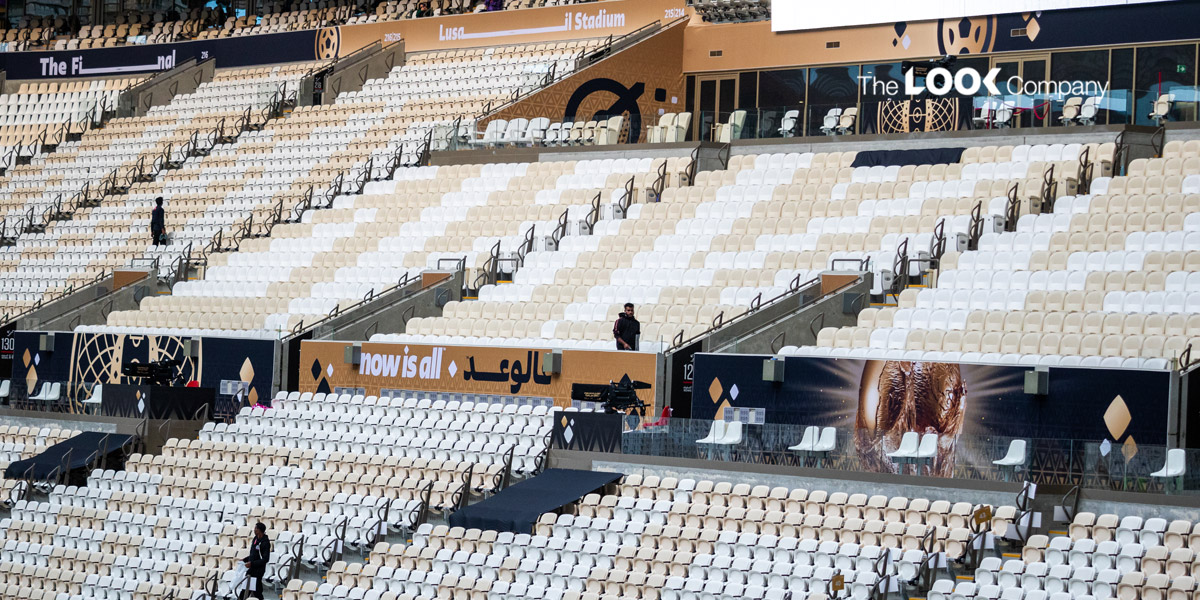 End-to-end Stadium Branding Solutions: From Concept Development to Installation
We transform your live sports event into an unforgettable experience. Our stadium branding process involves complete project scoping, concept development support from our experienced consultants, large-format printing, project management, and flawless on-site installation.
We can undertake stadium branding or rebranding projects of any scale and budget. Our bespoke solutions are designed to meet your requirements.
A dedicated project manager sees your stadium branding project through all its phases—from design to installation.
3 Phases of Delivering Sporting Event Visual Engagement Solutions
We offer a full range of integrated solutions and services—from concept development, setting brand guidelines, requirements scoping and end-to-end project management.
Concept development

Design & planning

Project management & installation
Let's look at what happens at each of these stages in detail:
1. The concept development process

Our concept development team supports you right from the time you have a design or concept in mind. We work with you through the ideation process, planning out the visualizations of the idea and collaborating with all stakeholders. We also develop brand guidelines to be followed throughout the project.
Many concepts we have worked with in the past have been a challenge to execute while maintaining print quality and ensuring easy changeability of graphics for different competitions, multiple matches and home teams in the same stadium. 
Take a look at how TLC executed a turnkey stadium branding solution for a new, state-of-the-art 30,000-capacity Mosaic Stadium, home to the Saskatchewan Roughriders of the CFL.
TLC worked on the project from the initial planning and conceptual stages to project scoping, design, engineering, production and installation to ensure quality and consistency.
Over 150,000 square feet of material was printed for the project.
The highlight of this project was a custom lightbox stairway—that showcased TLC's design ingenuity and impeccable installation. Proprietary 100mm extrusions on the lightboxes and vibrantly colored fabric prints created an effect far superior to the digital screens that were originally planned.



2. Design & planning
Our specialist teams step in at the design stage so we can guide you through the process of selecting the right types of signage, materials, and sizes to bring your idea to life. We conduct a site survey to audit the final space available for print graphics and study location plan drawings to create a full inventory of what types of signage and graphics will be required for the project.
Our capabilities include the following: 
Survey and CAD as-built drawings

Engineering to regulatory and physical requirements for weight, wind load, and facility standards

Technical drawings and product development services

Design application of brand and sponsor integration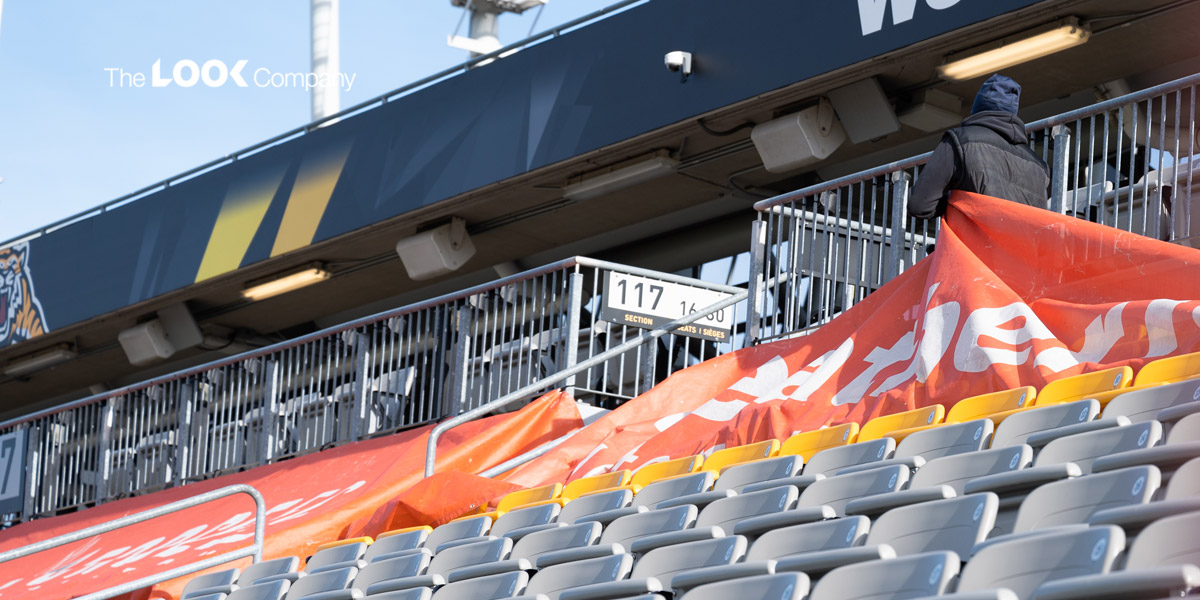 Take a look at how TLC supported Tim Hortons Field, working out a system that allows them to do a full stadium change-out of team-branded materials between games from the Tiger-Cats to Forge FC—the two teams that call the stadium their home.
We worked closely with business and football operations teams and developed visuals and design applications for the stadium, locker rooms and training facilities. Our project management team was responsible for the production and installation of every branded element at Tim Hortons Field.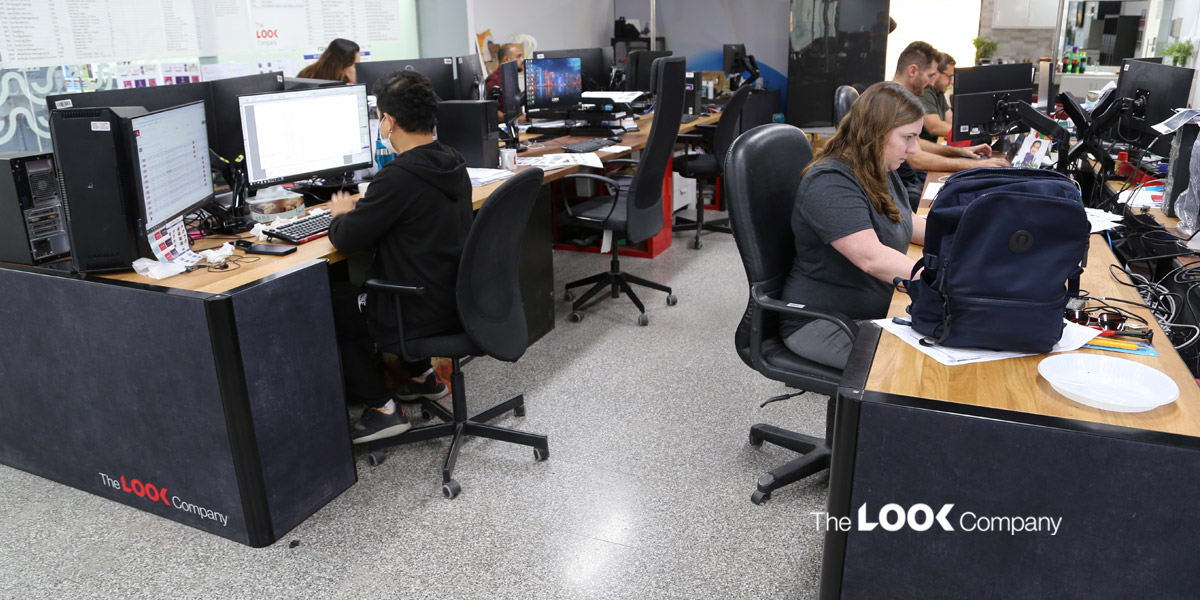 3. Project management & installation
With large branding projects involving multiple types of signage and graphic elements, project management is the key to keeping the focus on timely execution and avoiding budget overruns.
We prepare a detailed project plan, coordinate with various stakeholders, liaise with vendors, designers, and suppliers and seek the required approvals and certifications.

Next, we plan out the engineering needed to execute the design concept at the venue. 

Then, the designs are sent off for final printing. 

Finally, our skilled installation teams ensure a flawless finish to the signage and graphics.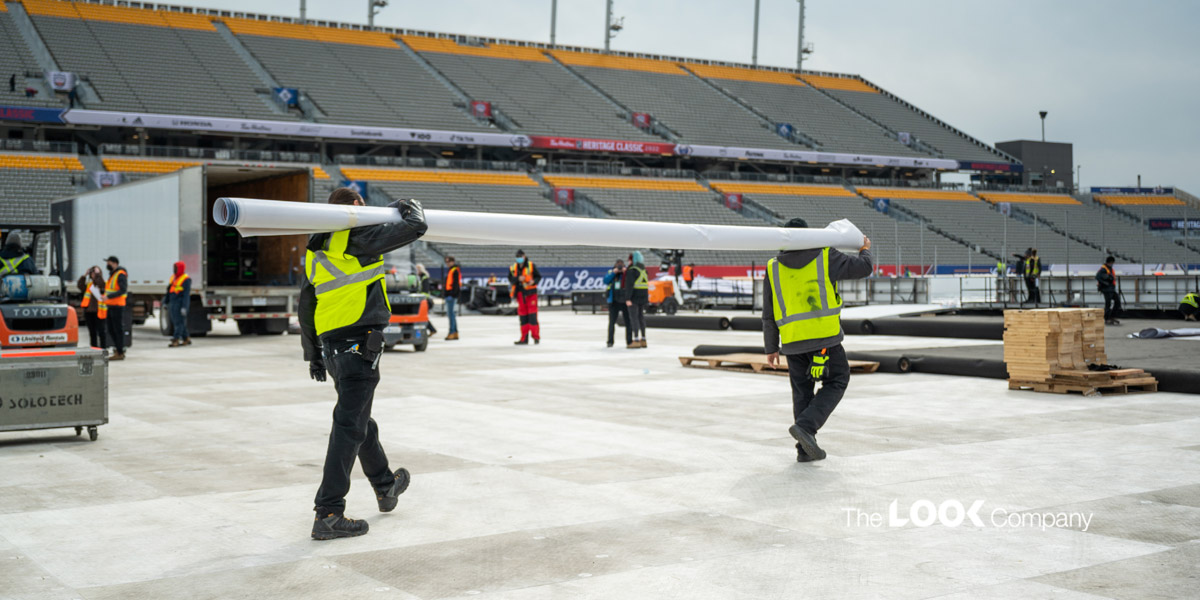 TLC: The Specialists in Stadium Branding
The Look Company has achieved the G7® Master Facility Targeted Qualification, so you can be sure that all your branding prints will be produced to the highest standards of consistency and quality in proofing, brand color management and print processes.
Vivid colors and bold prints on material with just the right texture are important elements of visual engagement solutions. TLC gets them right with award-winning print technology and an experienced studio team. 
Our vividly colored graphic prints create a focal point to attract attention and engage sponsors' target audience—including community visitors, home team supporters, and fans.
Here are some of the stadium branding elements TLC can customize for live sports arenas: 
Wayfinding signage to guide spectators

Custom-printed seat covers to stagger seating or block out rows of seats (or just create the right atmosphere!)

Field-of-play headwalls, fence scrim & scaffold branding

Banner stands, poles and branding for sponsored fan zones

Athlete tunnels, concourses, lounges & stage branding

F&B popups, floor decals and stair risers

Branded photo walls or media backdrops for stadium interiors

Printed sports memorabilia and fan zone graphics

Exterior event branding or city dressing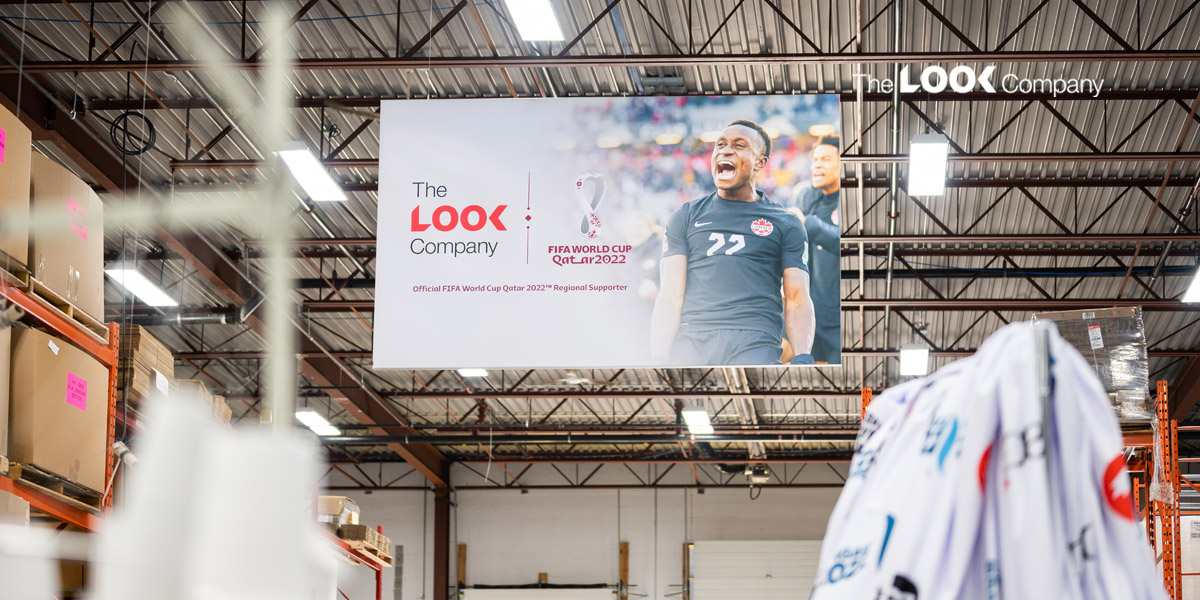 The Look Company specializes in venue branding for sports competitions, visual engagement solutions for stadium interiors, and eye-catching print graphics for live sports events. 
We offer a full range of integrated solutions with a team of experienced specialists to transform your sport environment into engaging and memorable brand experiences.
Get in touch with TLC today for stadium branding solutions and stunning event branding graphics to wow sports fans, their home teams, and the players themselves!