Summary:
Creatively executed visual merchandising displays elevate your furniture store to a memorable shopping experience. Here's how you can revamp your in-store displays for a stunning retail experience.
---
Innovative retail design can take your furniture store beyond a mere sales outlet to an incredible shopping experience.
While the primary objective of your furniture store merchandising strategy is to increase sales, be mindful that the modern customer looks for a shopping experience rather than simply purchasing a product.
Retail displays in furniture stores are a critical element of a marketing plan for retailers. They must transmit the brand's values and also be distinctive enough to make the brand stand out from its competitors.
Having great products in your store isn't enough to meet your retail objectives. Creatively executed visual merchandising elevates it to a memorable experience for customers.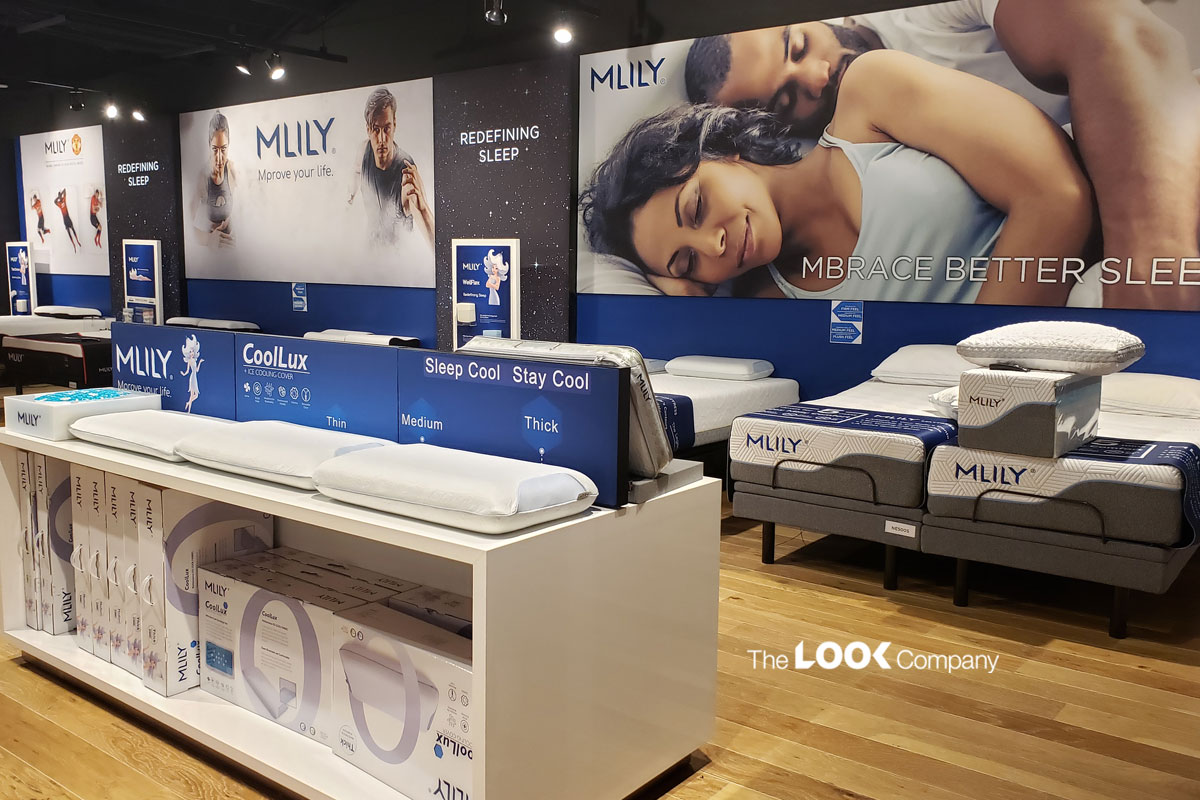 How to Identify if Your Furniture & Mattress Store Merchandising Needs a Revamp
Does your retail store still use the same drab display ideas season after season?
Eye-catching retail displays, including window displays, outdoor signage and in-store display graphics, play a significant role in driving foot traffic to your store and engaging shoppers. 
How do you know if you need to revamp your displays? Here are some signs to look out for:
Are you seeing a decrease in foot traffic into your store compared to the same season in the past few years? While there may be many reasons for a decrease, you must relook at your visual merchandising to see if that's one of the reasons you're missing out on store visits. If you fail to pique the interest and curiosity of discerning shoppers with creative and entertaining displays, you may well face low foot traffic.

Retail stores go through seasonal peaks. If you expect a peak during a high-activity season, but it's not reflected in your sales report, start investigating! Missing a seasonal peak may indicate that your visual merchandising strategy is not working and you are not attracting customers into your store.

Are shoppers walking past your featured in-store displays and missing out on featured or on-sale products? Drab or old displays may become a 'blind spot' with shoppers. Creating modular, contemporary, and easy-to-change-out displays will help you engage store visitors and keep them coming back for more.
The Look Company offers changeable, modular and integrated display systems to give your store a fresh look for each season. 
Our dynamic display systems help you easily create walls, booths, or complete rooms to pull off a new display and quickly revamp the look of your store.
Top tip: When revamping your displays, add mood lighting to create an appropriate atmosphere for the products you are selling. Use spotlights to highlight a product that's the star of that display, or use discreet lighting techniques to emphasize specific display areas or immersive graphics and décor.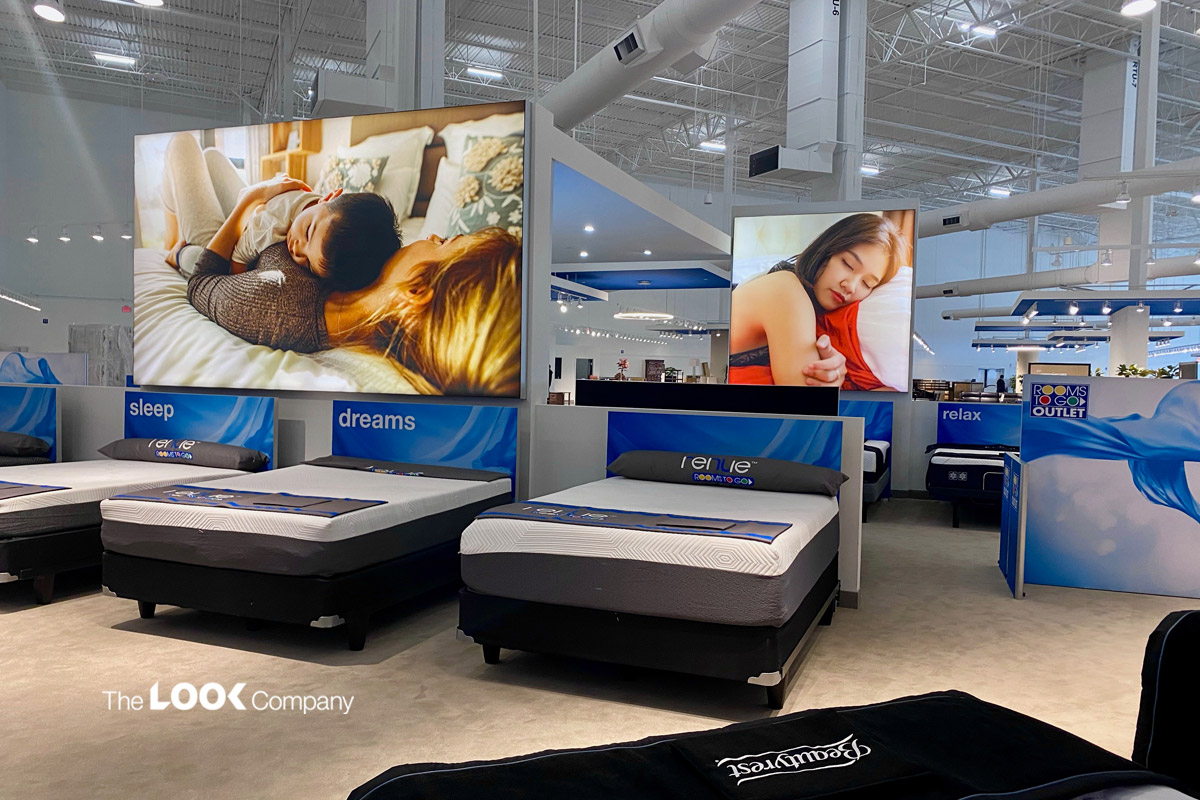 TLC's custom fabric lightboxes with vibrant imagery are a great way to create stunning in-store displays that customers simply can't miss. 
As Cindy Williams, Retail Business Development Manager, The Look Company, pointed out: "The showrooms that get the most traffic invest in visually engaging bright designs." 
She was happy to note that The Look Company was part of "lighting up" several of the furniture and mattress showrooms at the Las Vegas Furniture Market, helping them see an exponential increase in showroom traffic.
Retail Trends to Take Your Furniture & Mattress Store Merchandising from Drab to Fab!
Let's highlight some retail trends you can leverage to revamp your store and meet your retail objectives.
1. Outdoor signage to draw customers in
Use outdoor signage to feature products on sale or newly launched products to entice shoppers to step in and take a look. For example, TLC offers flagpoles and freestanding banner stands that you can use in parking areas outside the store or along the curb just outside your store.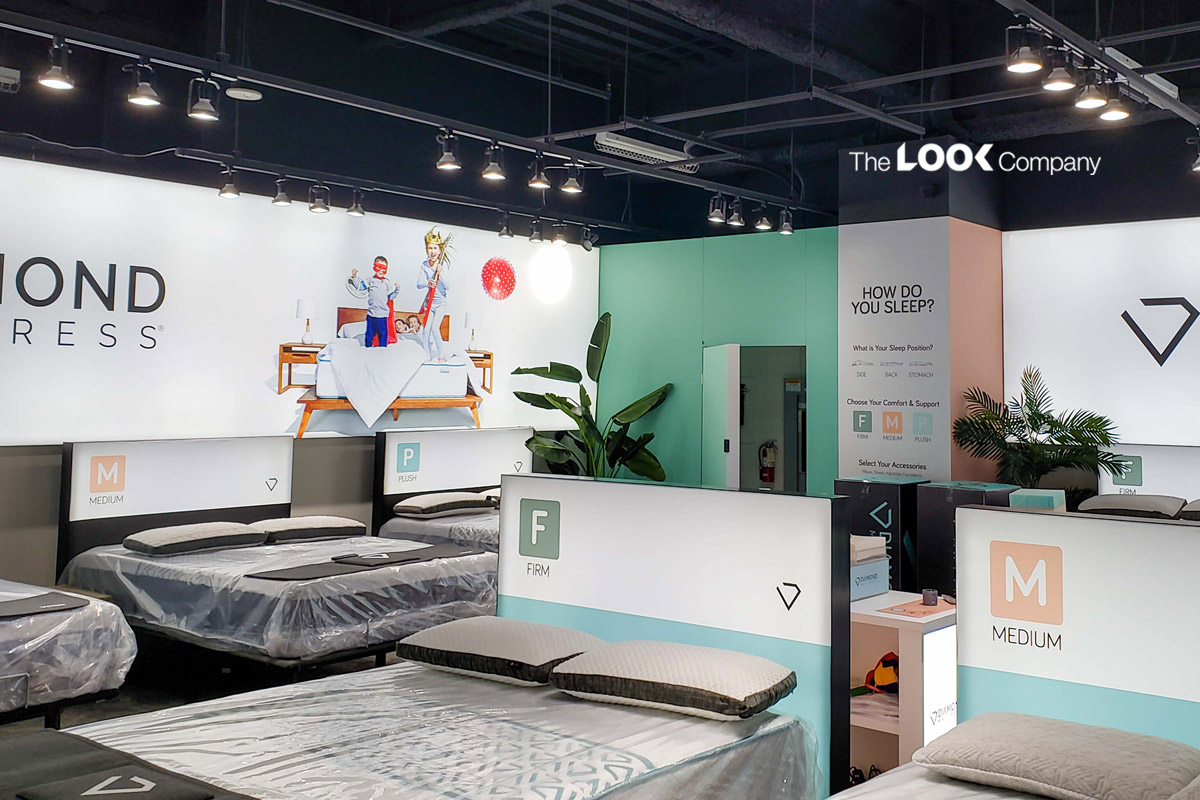 2. Recreate a scene that your customer can relate to
Use modular partitions to recreate the room where the shopper will use your furniture. TLC's modular partition systems help you create walls, corners, booths or even complete rooms, giving you unlimited design capabilities. Visual merchandisers can use props, accessories, and décor creatively to recreate a setting that customers can relate to and trigger their imagination. For example, recreate a cozy nursery room vignette to sell baby cribs and cots. Using soft lighting, baby toys, colorful wall graphics, and other props will allow customers to imagine how the furniture would look in their own home.
3. Imaginative product placement with in-store display systems
Themed displays that engage the customers can take your furniture store from boring rows of racks and stacks to an immersive experience that tells the story of your brand in a memorable way!
Our freestanding kiosks and pop-ups are great for temporary, portable and adjustable displays. Our high-quality SEG fabric prints and customizable framing systems provide an opportunity for retailers to get creative. Use these to design innovative islands of themed displays across the store.
4. The rule of 3
The rule of three is a retail display tactic that visual merchandisers leverage to engage customers. According to studies on eye-movement tracking, using a group of three elements creates an asymmetry that compels the eye to take in more details and therefore enhances recall. An interesting example is arranging products by height (small, medium tall) or using triangular arrangements with a focal color at one end of the triangle.
5. Design smart floor plans
Smart floor plans ensure that shoppers walk through the most important display areas in your store and don't miss out on any special promotions. Create a clear route that winds through the store. Keep the floor uncluttered but make it easy for people to wander around all sections. 
Use wayfinding signage innovatively to lead customers through the store—lead customers from display areas to trial rooms, winding across various sections of the store and finally leading to the checkout. Think floor decals, wall graphics, hanging backlit signs and more!
TLC offers high-quality wayfinding solutions for directional, informational, and regulatory signage for retail spaces.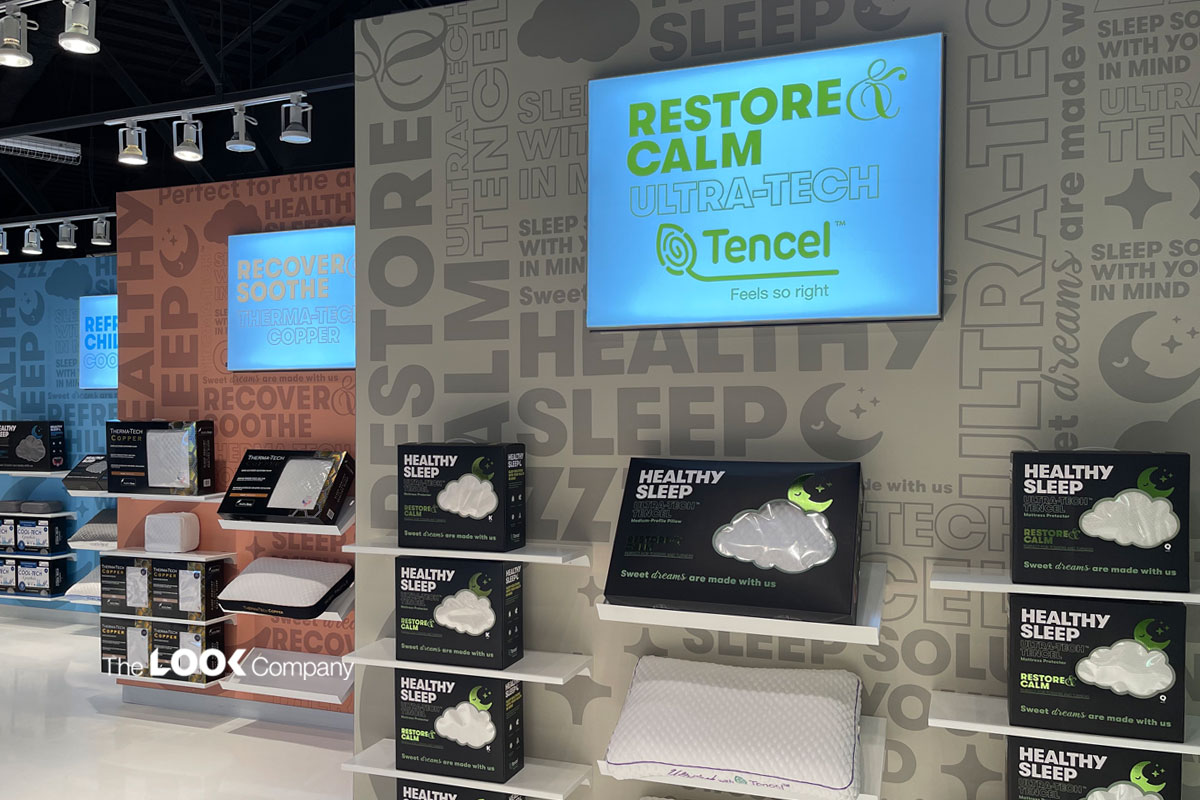 6. Point of purchase (POP) displays
Product displays at the checkout counter are the last opportunity to get customers to add more items to their cart. These POP displays work well to target unplanned or spontaneous buying behavior. Accessories like linen, small home décor items, or tools for DIY furniture are ideal for POP displays.
TLC: Creating Authentic and Engaging Brand Experiences for Furniture & Mattress Retail
Work with The Look Company to take your furniture store merchandising displays to new levels of customer engagement.
Talk to TLC for a winning strategy to create an immersive, memorable shopping experience for your customers and watch your retail sales skyrocket!