Summary: Brand activations at sports events are an opportunity for authentic engagement with fans. TLC builds a cohesive visual engagement strategy for activation campaigns. Read on for some valuable tips to successfully activate your brand.
---
Live sports events offer brands a can't-miss opportunity to connect directly with sports fans, who are also their target audience and provide authentic engagement opportunities that are hard to come by in any other element of their marketing strategy.
Targeted sports event sponsorship allows brands to achieve first-hand insight into their target audiences' consumption behavior and preferences.
Live Sports and Mega Sporting Events: It's a Numbers Game
Top brands actively look for sports sponsorship opportunities and use mega sporting events for brand activations. Why?
Before the pandemic in 2018, 16.67 million fans attended NFL games in the U.S., with each team welcoming an average total of more than 521,000 spectators to their home games.
According to the Nielsen Global Sports Marketing Report 2022, sports sponsorships were up 107% in 2021 and drove an average 10% lift in purchase intent among the fanbase. 
The global sports market is expected to grow from $354.96 billion in 2021 to $501.43 billion in 2022 at a compound annual growth rate (CAGR) of 41.3%. It is expected to reach $707.84 billion in 2026 at a CAGR of 9%. 
As a demographic, sports fans are unmatched in the passion and engagement they bring to the game. That's why brand activations at sports events are vital in marketing plans for top brands.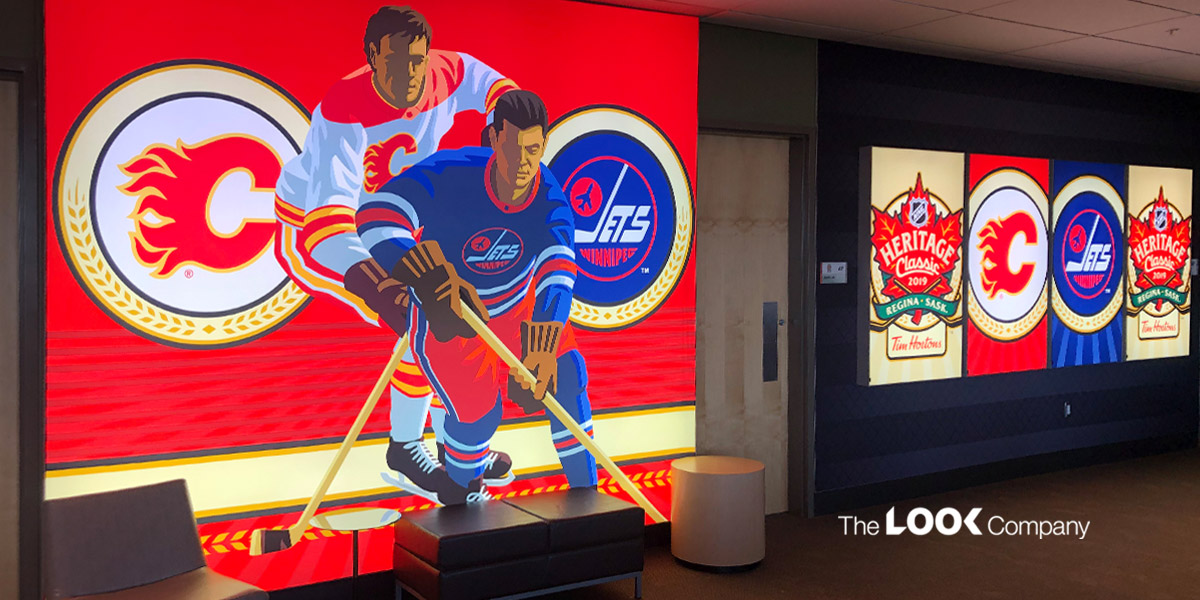 Brand Activations at Sports Events: Authentic Engagement with Fans
When you plan a brand activation campaign, you're looking to create brand awareness, reach more people in your target segment and gain direct access to potential customers when they're in a receptive state of mind. Sports sponsorships boost your campaign's reach and have a lasting impact. Sports sponsorships also foster brand loyalty more subtly and effectively than other marketing tactics and ultimately increase sales. Brand activations at sports events tick off all the right checkboxes!
5 Tips for Planning Successful Brand Activations
In a crowded retail market, brand managers look for every additional touchpoint or opportunity to get eyeballs for their brand campaigns. Apart from branding displays and signage, The Look Company helps brands build a cohesive visual engagement strategy for brand activations at sports venues and their surrounding environments.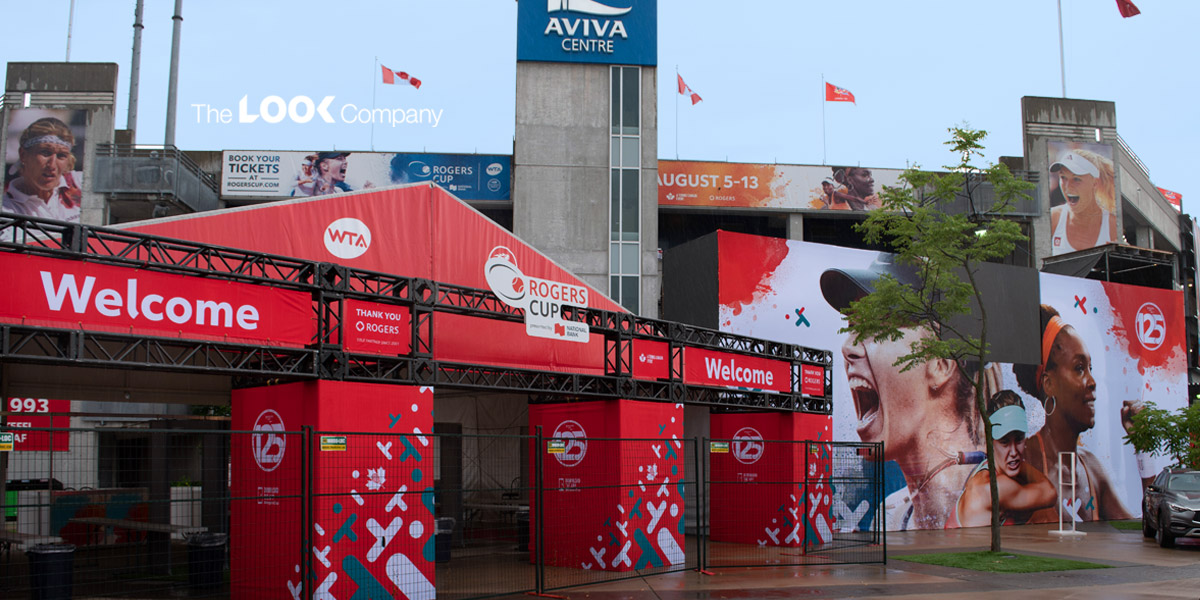 #1 Carefully Select the Right Sports Events to Sponsor
Pick a sports event whose audience is a great fit for your brand or product. The most important consideration when you plan a brand activation campaign is that your sponsorship goals should match the characteristics of the fan demographic attending the event. The perfect activations are those that align the characteristics of the fan audience with the needs of the sponsor.
David Arnold, Professor of Marketing at London Business School and author of The Handbook of Brand Management, highlights the importance of establishing a clear link between the brand and the sport.
A brand mismatch distracts customers from the game and the players they love.
He gives the example of Wimbledon: "IBM is a great brand match for Wimbledon," he says. For 27 years, IBM has been the official IT supplier to Wimbledon, supporting its data and statistics. Its tagline 'Helping Wimbledon in their pursuit of greatness' fits the game as well as its own corporate values. 
At TLC, our concept development team includes seasoned experts in crafting unique brand solutions for sports environments. Speak with us before you plan your brand activation campaign, and let our experts recommend the best-fit solutions for your needs.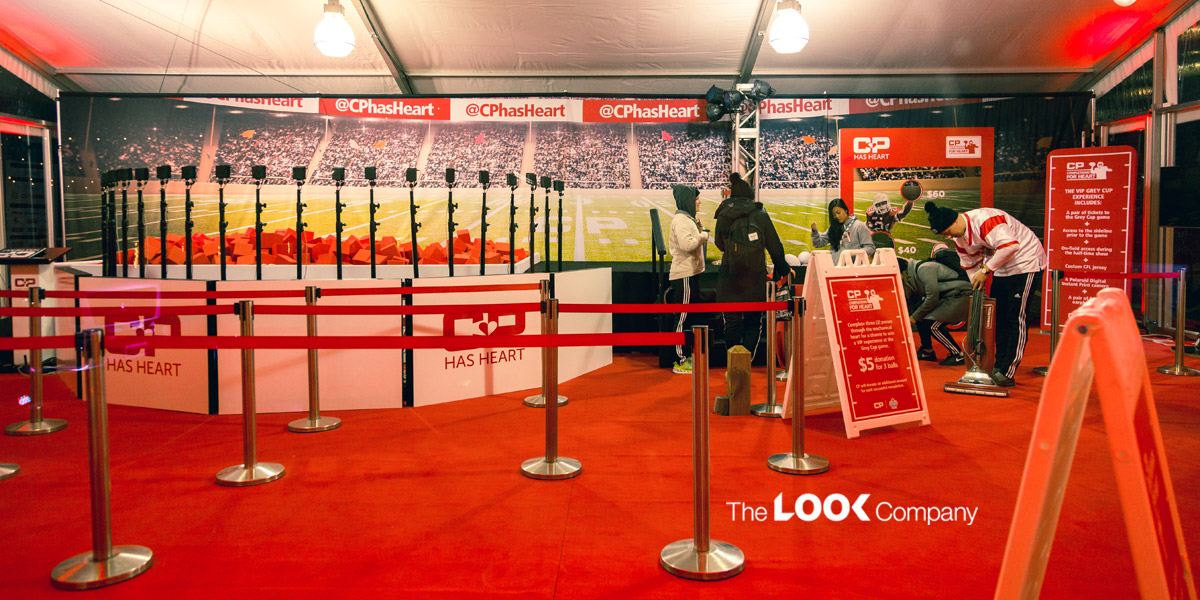 #2 Plan Engaging Fan Experiences for High Brand Recall
Plan activities that either entertain or delight fans, draw their attention to your product or brand or make an emotional appeal to their aspirations.
Here are some ideas to create an engaging and memorable experience for fans:
Exclusive fan experience zones with team support walls, fan quizzes or surveys, and digital leaderboards with live scores or championship ratings.

Contests with gifts or lucky draws with sports memorabilia giveaways.

Surveys or post-event registration forms with discount coupons for team souvenirs, branded team t-shirts, caps, and more.

Interactive kiosks with branded, gamified content to keep boredom at bay while they wait for the event to begin. 
Take a look at how designers at TLC transformed the Tim Hortons Field, home of the Hamilton Tiger-Cats of the CFL (Canadian Football League). Stadium concourses showcasing the current sponsors, branded corporate suites, locker rooms, and training facilities were outfitted with impactful graphics and rapid changeout display systems.
Retail stores and kiosks within the stadium were designed to capitalize on spontaneous point-of-sale purchases. The Alumni Lounge, the Coors Light Banquet Bar and The Canadian Football Hall of Fame were outfitted with stunning backlit lightboxes, immersive SEG fabric prints, custom pin mounted letters, plaques, and logos.
#3 Design Shareable Experiences and Use Branded Props to Amplify Your Brand's Reach
When fans take selfies at a sports stadium, what do they do with them? Share them, of course! Focus on providing opportunities to share photos, videos or WOM (Word of Mouth) experiences to increase the reach of your brand and campaign. Branded photo booths or photo walls for instagrammable moments are a great idea.
Another simple yet effective way to amplify your reach: Hand out free branded props that fans can use during the game to cheer on their teams. Each time fans cheer a goal or win, your branding is captured in photos, videos, live streams, match replays and post-event content, amplifying your brand's reach well beyond the live audience!
#4 Use Event Branding Print Solutions and Graphics to Support Your Brand Activation Campaigns
TLC delivers event branding and visual display systems to support your brand activation campaigns:
Sponsored graphics for in-stadium flags, fence scrims, field-of-play headwalls, athlete tunnels, locker rooms and lounges.

Customized branded kit of parts, media backdrops, instagrammable fabric & frame walls, temporary pop-ups and tents.

Creative wayfinding signage that incorporates your brand or product in a witty or meaningful way.

Branded crowd control barriers for pedestrians and other city dressing such as building wraps and facades.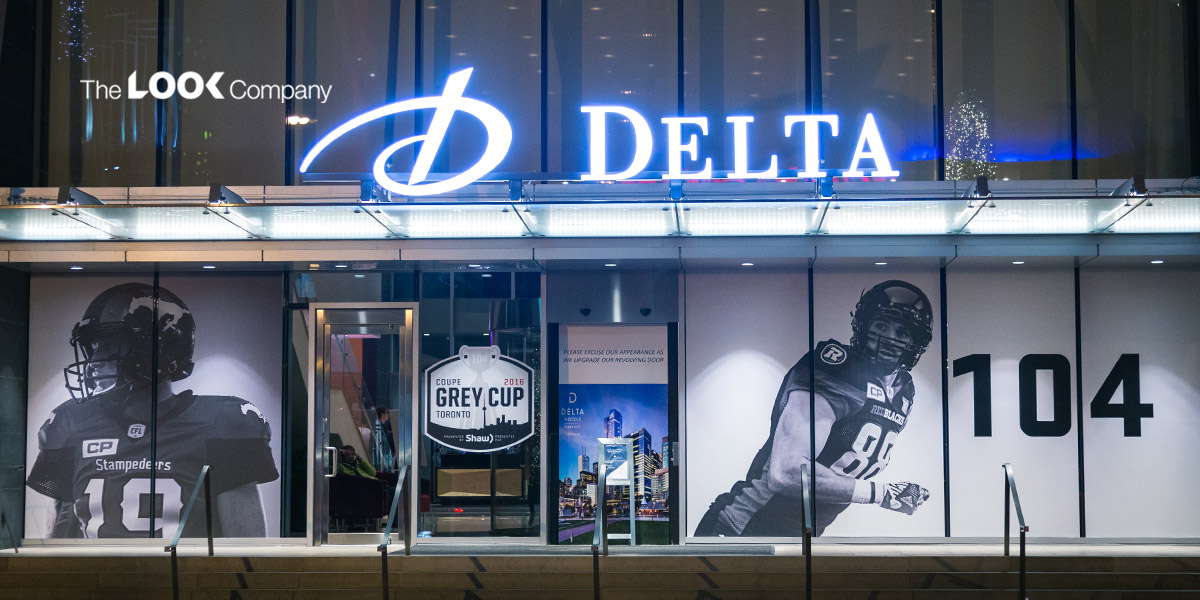 We transform live sports events into unforgettable experiences. Brands can use temporary pop-ups, building wraps and facades, branded fence scrims and other display solutions to activate their brands in an electrifying and memorable atmosphere.
#5 Look for Opportunities to Partner with Other Brands
Brand collaborations make good sense when you're reaching millions of people. Pick a brand or product that is strategically synergistic with your brand and launch co-branded promotions at the event. This way, both brands reach a newer base of loyal audiences and gain better recall at a lower cost.
Co-branded F&B (Food & Beverages) booths and hospitality areas.

Tailgating experiences in collaboration with F&B brands to offer tasting samples or collaborations with celebrity chefs for chef-led cook-offs.

Product sampling or testing drives that collect customer information for post-event customer connections.

Pop-up bars with branded banners, floor decals and sponsor's logos.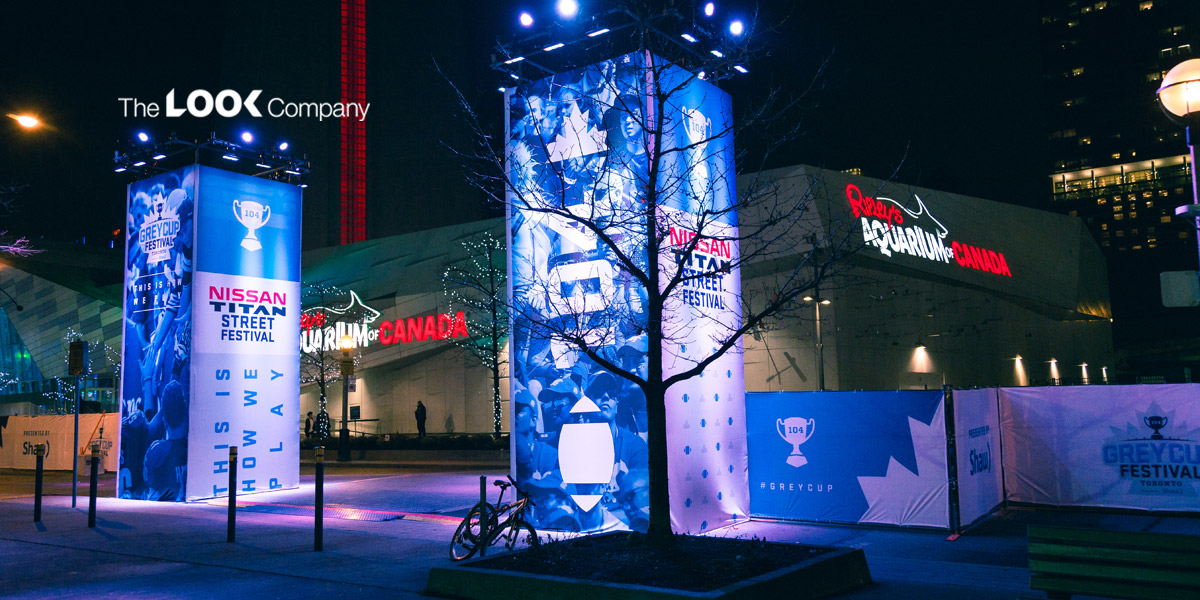 TLC: Your Partner in Brand Activations at Sports Events
TLC delivers brand activation solutions with a definite wow factor!
Many brands struggle to come up with ideas to create an engaging and memorable experience for fans. The Look Company helps you move beyond regular merchandising displays and visual display solutions to a structured brand activation plan at mega sporting events.
Our visual engagement solutions and our expertise at live events and sports venues provide you with cohesive branding for your brand activation campaign across the stadium and team zones, elevating the fan experience.
We have a long track record of supporting national and international sports. We have provided branding and signage solutions at various high-profile sporting events, including the FIFA Club World Cup 2019™.
We are proud to announce that we have been confirmed as a Regional Supporter of the FIFA World Cup Qatar 2022™, in an agreement covering North and Central America.
Talk to TLC for a full range of integrated services with a global team of experienced specialists to transform event venues and sports environments into engaging and memorable brand experiences.