COVID-19 took away one of the most defining aspects of a live sports event—the crowds. A sports arena—whether it is a stadium or an auditorium, an ice rink or a sports field—comes alive with the passion of thousands of spectators. Live sports events rule the hearts and minds of die-hard fans. 
Sports brings together people from otherwise diverse backgrounds and beliefs. It is a unifier, an equalizer, a glue that bonds them together. And the stadium is a social hub—much more than a physical location. It's a place where emotions run high. Watching a live game is a shared, social experience made richer by the collective power of sports-crazy fans and supporters.
Fans are as crucial for the sports industry as are their star players. Why? Quite simply because fans rake in revenues. The presence of these fans impacts every aspect of the sporting industry. When fans engage with a sports brand or team, it sets the cash registers rolling in more ways than one. They are consumers of sports content and branded merchandise, seat tickets, and the venue's hospitality facilities. For sports fans, it is not just about buying products but a feeling of belonging to a larger movement.  And this is the essence of the fan experience.
At The Look Company, we design fully planned, branded, immersive experiences throughout the venue. Our innovative solutions provide a much larger canvas to sports brands and game sponsors. Wall-mounted frames and lightboxes with custom printed SEG fabric throughout the stadium concourses are just some of the creative ways in which we engage fans.
We design innovative broadcast visibility solutions for field-of-play areas and behind-the-scenes stadium areas like the locker rooms and corporate suites. Take a look at how we transformed the look of the Tim Hortons Field, home of the Hamilton Tiger-Cats of the CFL (Canadian Football League), the Forge FC of the CPL (Canadian Premier League), and the Canadian Football Hall of Fame.
The new normal: A new type of sports fan emerges
As we adapt to a new normal, a dramatic new fan profile is emerging. This sports fan is as passionate as before but more open to new types of sports entertainment. Today's fans accept that we may be devoid of the full-house stadium effect for a long time. They are content being a part of a fan club that may not physically be present at the same location.
They are also hungry for new forms of sports content and seek out more choices.
They engage in unique ways with their favorite sports teams and star players. They seek out engaging, interactive, and immersive experiences. They may spend less time consuming sports content and tend to move quickly from one channel to another. The industry now recognizes this profile as the fluid fan.
Local fans vs global fans vs fluid fans
In the 20th century, we saw local fans who followed their favorite sports on radio, TV, and through newspaper reports. From the late 1900s to 2020, the global fan was most predominant. This type of sports fan supported international teams in addition to local ones. Satellite TV or cable TV, and later OTT platforms were the media of choice. This fan also followed private leagues.
Late 2020 onwards, a new fan profile emerged—the fluid fan. Known to change allegiances, this type of fan moves quickly from channel to channel and from team to team.
The fluid fan is 'constantly-on' and consumes content online on smart devices, mobile apps, and social media. But even the fluid fan values the in-person experience that live games offer. After all, watching a pay-per-view performance on a mobile screen cannot match the exhilaration of witnessing it from among hordes of screaming fans.
The fluid fan carries the online experience into the live arena, interacts digitally while at a live game and circles back to take the online conversation into the stadium. This fluidity creates truly memorable experiences.
Designing fan experiences for the fluid fan
We are in an era where sports meets technology.
We're at the crossroads of digital and mobile. The fluid fan prefers an experience that is immersive, tech-enabled, and omnichannel. How do you design experiences for the fluid fan? How do we recreate the excitement, passion, exhilaration, and feeling of loyalty that characterized fan experiences pre-COVID?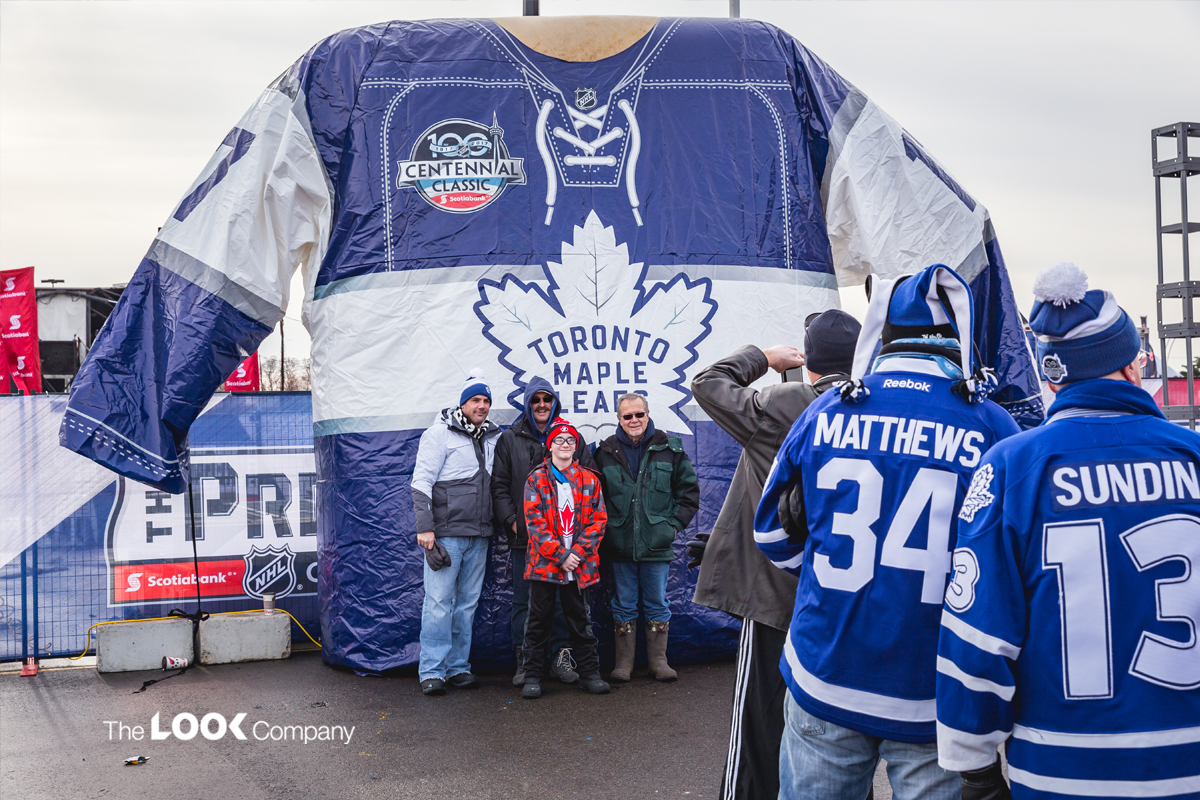 At The Look Company, we create experiential ecosystems. Consistent visual messaging across all channels is more critical now than ever. Our visual engagement displays are tailored to communicate your brand's story and allow fans to experience your brand through multiple touch-points. From the parking lot to the stadium seats, we create environments that make fluid fans put down their phones and truly immerse themselves in the game.
How do TLC products enhance fan experience?
Fan experience is about feeling like you're part of the game. The possibilities are endless and our work at Mosaic Stadium in Regina, Saskatchewan completely captures the fan excitement and die-hard dedication. Watch how we transformed this sports stadium with the fan in mind:
[VIDEO] https://youtu.be/NcmlIqe4J0o
Graphics and visual solutions for sports arenas and stadiums create branding and recognition for teams. They unite teams, spectators, and audiences, create a unique environment for fans to enjoy—branded visual solutions bring prominence and attention to sponsors and corporate partners. They bring in revenue through advertising and corporate hospitality. Branded merchandise promotes fan loyalty. 
TLC solutions for the new normal in sports stadiums and arenas
The Look Company (TLC) specializes in visual engagement solutions that aesthetically unify stadiums, teams, and sponsors. Our solutions are uniquely designed to engage fluid fans, and those watching sports broadcast online and on smart devices. Stadium seat covers, for example, provide sponsorship opportunities and enhance broadcast visibility.
The eye-catching visuals on these seat covers look great—but they are also helpful in maintaining safe distancing between players and the audience by blocking off rows of seats. Made of Perfknit or Polywoven fabric, these covers are custom-printed to communicate your team's branding to the fans in the arena and those watching the broadcast. With an easing of lockdowns and social distancing norms, we are now starting to welcome fans back into sports arenas.
TLC has a range of custom-designed products, and solutions to promote sponsor brands, sell team merchandise, and entice fans and corporate guests into the venue's hospitality sections. With flags, banners, floor decals, wayfinding signages, media backdrops, stadium exteriors, fence scrims, and field-of-play (FOP) visual elements, we've got the fan experience covered in every part of the venue! 
Our visual engagement solutions fully outfit your sports venue for a superior fan experience. We understand fan behavior and map the fan's journey to capture their attention and fuel their loyalty to the game and their star teams. 
We're obsessive about design and aesthetics, and we look to innovate and customize solutions for every client. 
Connect with us to find the right look for your sports venue or event today!