The COVID-19 pandemic didn't change the way we shop—we already shopped online—but it accelerated how comfortable we are with ecommerce and it put pressure on web-based retail to improve user experience (UX) both online and offline. Smaller retailers adopted a hybrid in-store/eCommerce model: Retail stores could remain open or those locations could be repurposed into fulfillment centers for online orders.
The Shift From Traditional Commerce To Ecommerce
In 2020, total retail sales in Canada hit record declines, dropping by 1.5% overall. Brick-and-mortar stores were hit hardest as retail ecommerce sales reached a record $3.9 billion in May, a 110.8% increase compared to May 2019. In the United States, total retail sales increased in 2020 by 6.9%, hitting $4.04 trillion in 2020. Ecommerce sales represented $861.12 billion of the overall expenditure, up 44% from 2019.
Ecommerce order portals could handle this influx of orders, but the supply chain for order delivery was configured for old projections; shipping networks struggled to keep up and backend fulfillment was bottlenecked. Shipping delays were even more pronounced because of social distancing protocols. Retail chains struggled to deliver their goods on time. Canada Post reported shipping parcels at record levels—even well into June of 2020—the mail system could not keep up with customer demand.
What was the best solution to ease postal pressure?
Retailers explored a new shipping model where retail stores doubled as micro-fulfillment centers (MFCs)—and that pivot paid off.
What is a Micro-Fulfillment Center?
Nathan Schmies, Vice President of supply chain operations at Hub Group shared his definition with Supply Chain Dive: Micro-fulfillment refers to "a hybrid model that uses smaller facilities that are much closer to consumers."
This has also been referred to as "last mile delivery." Logistics company DHL describes MFCs as a concept that places small-scale warehouse facilities in accessible, urban locations that are close to the end-consumer—in that last mile.
Think of MFCs as Airbnb's for shipping logistics.
Tiny storage spaces rent out to retailers as needed (or convert from a retail store to a distribution center). This makes consumers happy in two ways:
Parcels arrive fast (in 2-3 days)

Customers could pick up their parcels at an MFC the same day.
Both make it easier for retailers to scale and offer fast, efficient, cost-effective home delivery. But it is option #2 that presents a new branding opportunity in 2021. BOPIS (buy online pick up in-store) is a new venue to communicate value and customer-focused branding impact. Curbside pickup is even more convenient than next-day shipping. Micro-fulfillment centers cut down the distance between product and purchaser, reducing delivery costs, meeting changing consumer extractions, and enhancing the online shopping experience at the ground level.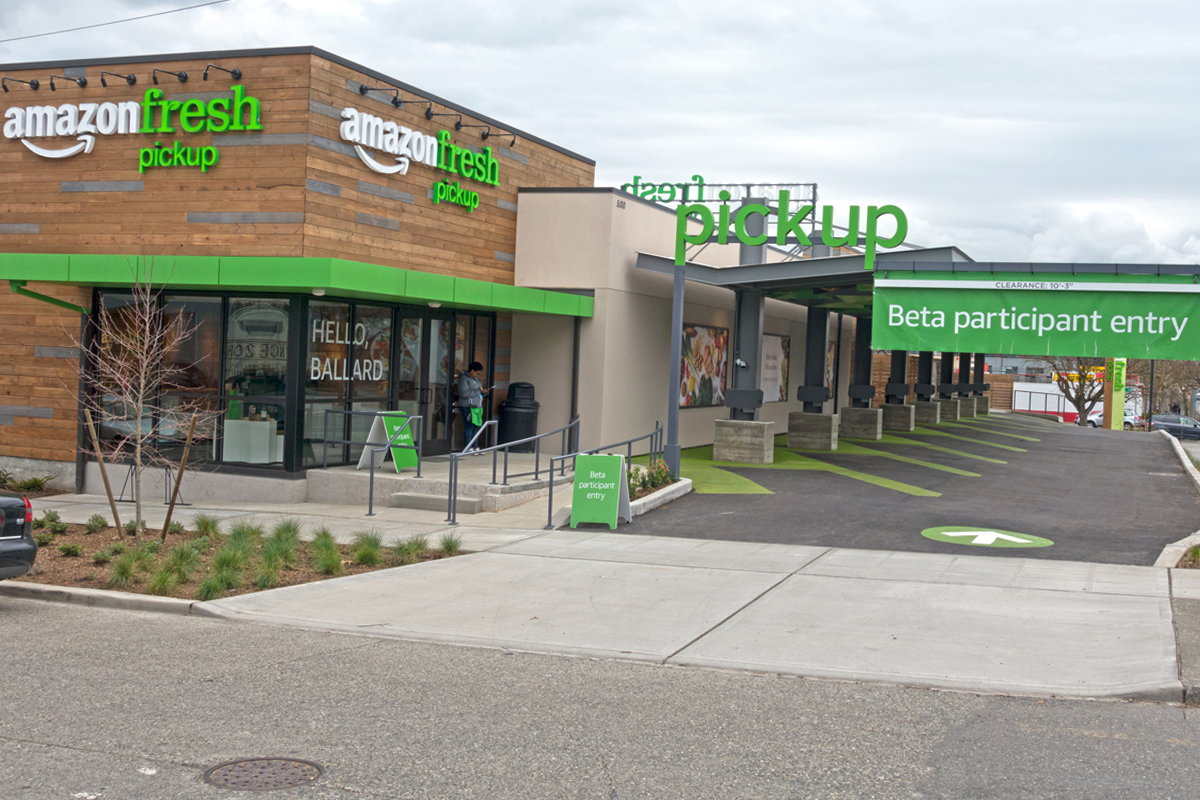 Micro-Fulfillment Centers: A Brand New Channel For New Branding
Micro-fulfillment centers aren't a stop-gap tactic—they are quickly becoming the popular modern fulfillment strategy. In urban areas, MFCs are already widely-used and already expanding options that give retailers more flexibility while limiting costs.
MFCs represent an exciting new branding opportunity—a brand new channel for companies to communicate their message to consumers when they pick up their order (where online connects with offline) making pickup a great experience.
Curbside pickup is an exciting new frontier for branding agencies to reach the consumer at the curb… and even before the curb.
The micro-fulfillment centers environment is a blank canvas waiting to engage your customers visually, integrate branded components seamlessly, and tailor curbside pickup experiences in imaginative, innovative ways. That's what we've always done at The Look Company, and we can't wait to obsess about the details of how this new space will appeal to modern consumers in a way that's innovative, authentic and adaptable.
Our purpose is to create visually striking, interconnected, large-scale graphic solutions that connect you to your audience using visual infrastructure from engaging retail signage to captivating curbside displays that are both functional and interactive.
We integrate mobile technology into our visual display solutions using NFC tap, QR Codes, and Bluetooth beacons to make any display interactive on a customer's smartphone.
Curbside displays could be "tappable" making it fun to find out more about your order, download a coupon, or activate a loyalty program. Mobile integration elevates the experience. It encourages interaction with brand and content, continuing the online conversation at the curb. Interactivity increases brand recall with advertising and digital content from outside the store.
Connecting a Hybrid Online-to-Offline Customer Experience
Don't settle for boring! Extend your customer's interactive experience and access to your web content throughout the pickup environment. Customers want a better experience. Use the exterior of the MFC to continue the conversation that began with your advertising or web and app initiatives. The end result will be an increase in conversions and brand awareness and loyalty.
The Look Company provides maximum exposure at any micro-fulfillment center. Fabric graphics are a low-cost solution with high impact. Keep that going with wall-mounted exterior tension graphics, flag, and vertical banner systems.
We've perfected our printing process over the past 20 years. That's why our products fill sport stadiums across the continent, creating the ultimate fan experience for Major League Baseball (MLB), the National Hockey League (NHL), the Fédération Internationale de Football Association (FIFA), world championships—even The Olympics. We know how to wow from the parking lot to the curb to the pickup counter.
The Look Company products extend your out-of-store conversation, guiding the consumer from the moment they enter the parking lot. As your customer walks in, take advantage of dynamic light-filled displays that connect customers to brands via sensory stimulus. Our visually-captivating displays create an immersive experience. And at the store level, we excel at drawing in crowds from the hallway.



At The Look Company, we're driven by visual engagement. We are excited about the wave ecommerce is riding but we're also creative realists; humans are tactile beings who like to see and hear and touch. That's where we shine! We create engaging environments that appeal to foot traffic customers at the store level and at MFC pickup locations.
As innovators, we scrum on how we can make an experience more enjoyable and more meaningful for your customer. In 2021, that experience looks at micro fulfillment centers, driving sales through a connected online-offline experience.
The Look Company Improves Customer Service in Retail
At The Look Company, our mission is to support retailers' needs, connecting you with your customers through engagement. Improving your in-store customer shopping experience is what we do with professional, attractive, innovative products that positively impact the retail journey.
The Look Company transforms retail environments by delivering innovative graphic display systems in a wide range of applications. Our retail solutions focus on best-in-class, lightweight, reusable aluminum extrusions, and award-winning fabric prints with silicone edge graphics or SEG. Customized for retail, this system allows The LOOK Company to produce a large volume and a diverse range of products. Contact us for a solution for your retail business.