Summary - Omnishoppers are individuals who use technology like computers or mobile phones as well as physical stores to compile information about the retailer, brand or product before they make a purchase. The way to reach this group of informed consumers is to implement an omnichannel retail strategy. Find out how to integrate fabric and frames into your retail strategy to create an all-round pleasing brand experience.
---
An omnichannel retail strategy aligns a brand's identity and messaging across all purchasing channels and touchpoints. But it also involves a deeper understanding of customer behavior.
A touchpoint is any instance of interaction between customers and your brand. They can include advertisements, websites, visiting your store or contacting customer service. Customers are looking for a unique brand experience when dealing with a brand at any touchpoint. 
What is the best way to create a pleasing experience for shoppers when they enter your store that also aligns with your online presence? The answer lies with how omnichannel shoppers associate with your brand.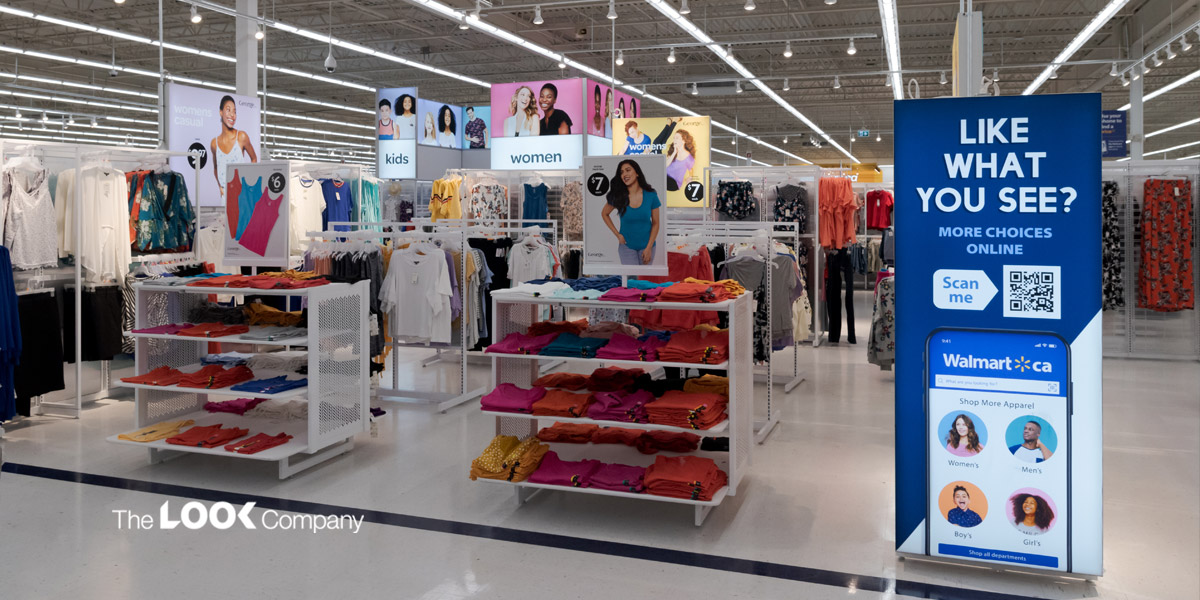 Retail Trends: Omnishoppers
An omnishopper is an individual who uses technology like computers or mobile phones as well as physical stores to compile information about the retailer, brand or product before making a purchase. Identifying trends in customer behavior and integrating successful tactics into your retail strategy can help reach the omnishopper, who is quickly becoming the main target demographic for retail sales. 
A recent report jointly produced by NielsenIQ and FMI forecasts that 74.7 million U.S. households will be omnichannel shoppers by 2025. And between now and then, each additional million omnichannel households will add another $8.4 billion in sales.
In fact, according to Neilson, "The food industry's heavy efforts in recent years to understand digitally savvy Millennial and Gen Z consumers might have been off target in terms of growth opportunity. The 45–54 and 55–64 demos account for the most omnishopper growth, and their spending prowess is much bigger."
Designing Stores for Omnichannel Shoppers
Let's take a step back and look at why retailers should consider the customers' journey, which to an omnishopper, also includes visiting a store. Even with the rise in online shopping, there are aspects of going out to a store that can't be duplicated through a website, such as:
Social interaction & customer service

A shopping experience in real life

Trying products before purchase

Instant gratification, no shipping

Shopping locally to support communities
Even though the customer journey can be omnichannel in nature, when a customer interacts with your brand and they become familiar with what your brand stands for, you want to ensure there's consistency across all channels.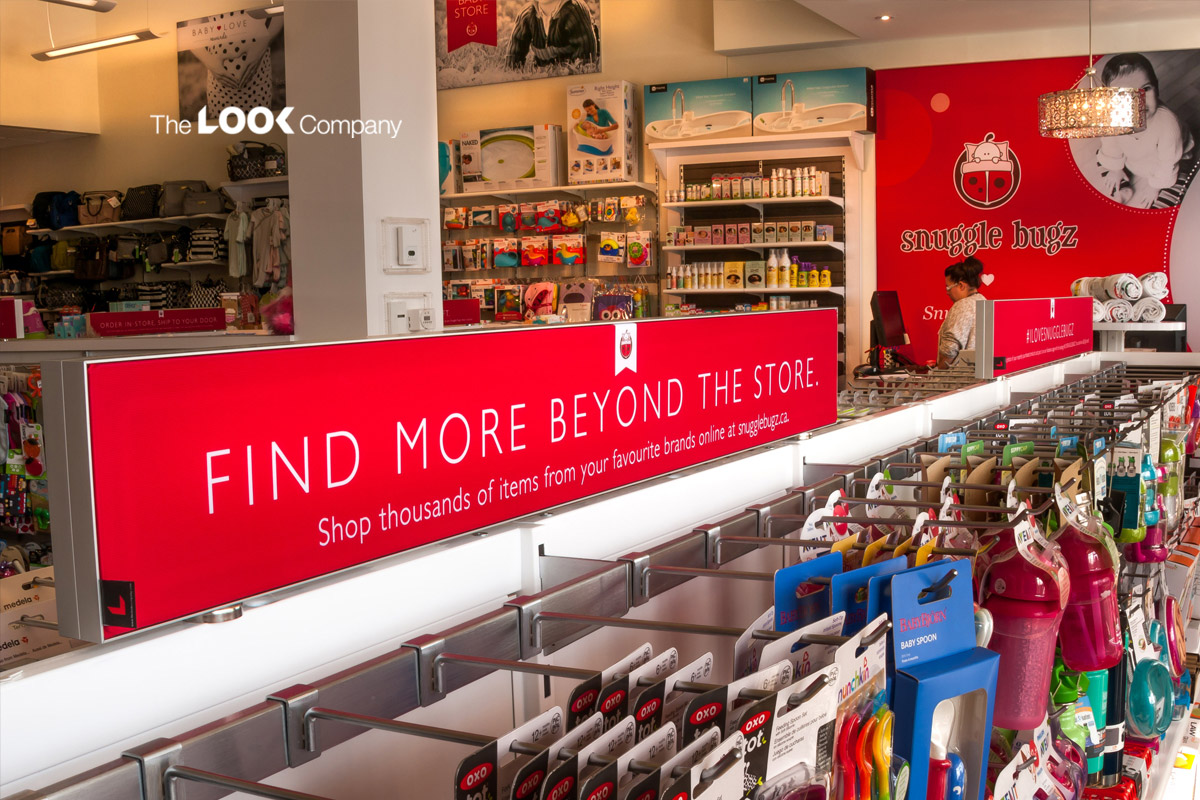 Taking into account what the customer may experience when interacting with your brand, consider eliminating any possible roadblocks to a positive experience. If a customer cannot find what they are looking for, are challenged by the speed in which they can find a product or service, or just find that their interaction with your brand is overall inconvenient to their lifestyle, they will drop off and find a solution elsewhere, taking their business with them. 
Instead, recognize there's an opportunity to build upon online activity by creating a unique experience for a customer to enjoy in-person while interacting with your brand in a store. Visual cues through retail signage plays a large role in customer experience. Easy to follow instructions and information in easy to spot areas help the customer help themselves. Then customers will associate pleasurable experiences with your brand and they will seek out more ways to engage, make purchases and even become brand advocates.
Why Use Fabric & Frames in Retail Environments?
With a team of visual merchandisers, retail designers and brand managers, it's not difficult to ensure a consistent brand identity online and offline. Where it becomes challenging, is defining what shopping is for a customer and how to translate that into a memorable experience overall.
Using fabric & frames or lightboxes in a retail environment addresses the desire to interact with physical elements versus a virtual reality or idea of a brand. Crossing over the threshold of what a customer can tangibly observe and experience.
For instance, printed fabric graphics dressing a retail environment on walls, displays, end caps and hanging from the ceiling all contribute to the physical experience in a store. They provide a break from screens on mobile phones or computers, absorbing the atmospheric lighting in stores instead of reflecting it. And not only can you control the amount of content you are communicating but also the speed at which you're conveying those messages.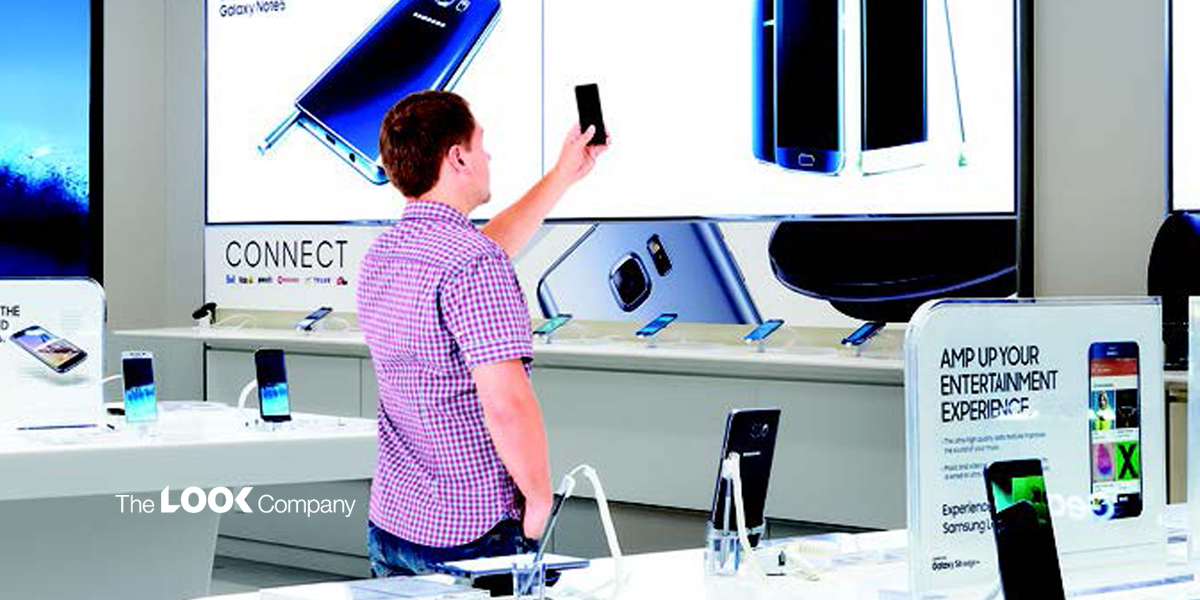 Types of Visual Engagement Solutions that Will Help The Omnishopper
Speed, convenience and navigation all need to be seamless to appease an omnishopper. At The Look Company, we identify that signage and wayfinding solutions are key to address the shoppers' needs. We work closely with retailers to bring brand similarities into a store design.
Wayfinding Solutions
Wayfinding tools within large retail spaces are essential graphic systems that shoppers know and use. They are ingrained into the shopping experience and are relied upon for omnishoppers to navigate throughout a space. Similar to a menu on a website, clear labels or identification signage and directional signage help to provide the shopper with the information and tools they need to maneuver around the store and find the items they need.
 Applying identification signage above shelves, along the perimeter of the store on walls or fascia, or hanging from the ceiling all provide ways for the customer to find key areas of where they want to go. While directional signage within the departments provide clear indications of what products shoppers will find down specific aisles. 
Aligning Offline & Online Inventory
Omnishoppers may look up the availability of a product before heading out to a store. These types of search queries online reduce the time to locate what they're looking for so that they can get in and out effortlessly. Alternatively, if they are in a store and try on clothing or footwear of a specific brand, they have the information about the fit and quality before making purchases online.
Having up-to-date information available on a website, with aisle numbers, and inventory information help to provide the omnishopper what they need before heading out so that they can complete their set task efficiently. Within the store, having the same information available on end cap or directional signage ensures an effortless experience for the customer.
BOPIS
Buying online and picking up in-store is here to stay. For omnishoppers, this convenient way to obtain products is quicker than waiting for a delivery. Ultimately, the outcome is the same for the store and the customer. In order to serve the customer after they've made a purchase online, make sure there is clear identification signage providing information on how to retrieve goods, whether it's in the inside or the outside of the store.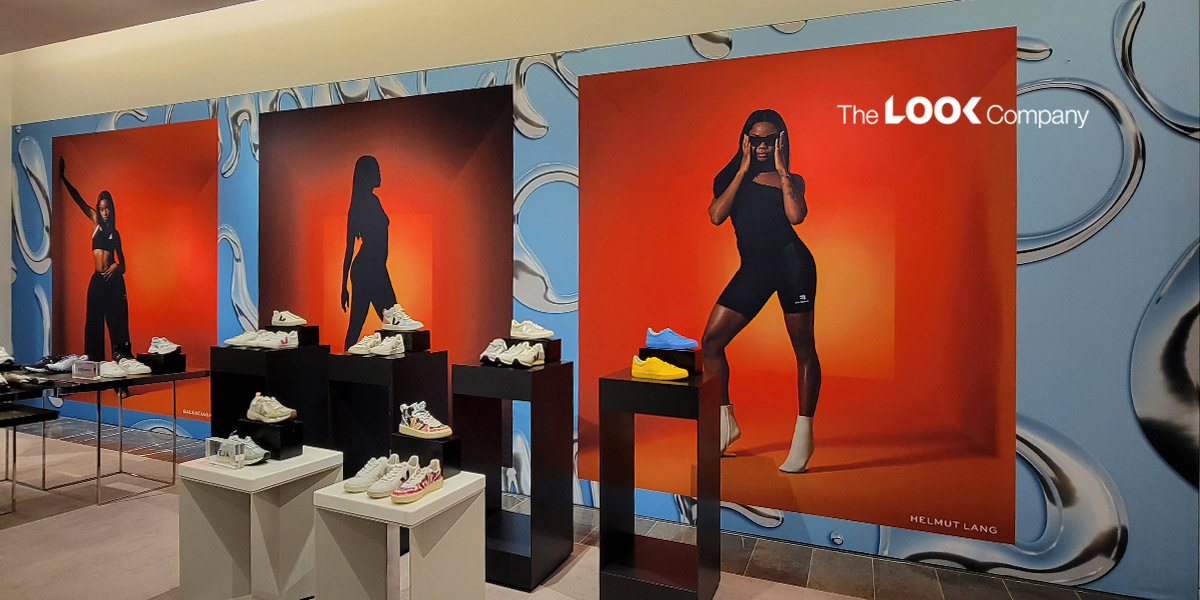 The Look Company: Visual Engagement Specialists
The Look Company transforms retail environments by delivering innovative graphic systems in a wide range of applications. By focusing on the customers' experience as they gather information about your brand or products before making a purchase online or physically in a store, will ultimately help create brand loyalty and repeat purchases. 
Our retail solutions focus around best-in-class, lightweight, reusable aluminum extrusions and award-winning fabric prints with a silicone edged graphic or SEG. Customized for retail, this system allows The Look Company to produce a large volume and a diverse range of solutions. Contact us for a solution for your retail business.