A successful retail presence is all about getting noticed. 
Custom retail signage that is bold, eye-catching, and engaging is a great way to communicate your brand's message and attract foot traffic to your store. 
Quality graphic signage is a versatile promotional tool for brand-customer interactions, whether it is outdoor signs, in-store display signage, or window displays for retail showrooms. 
You can use branded graphics to create a first impression, pique curiosity, enhance brand recall, and encourage customers to visit your store.
Merchandisers Use Custom Retail Signage as a Form of Visual Communication
Custom retail signage in your retail showroom or department store are an important part of your merchandising strategy, so it's important to plan them carefully, working with an experienced retail signage company. 
Professionally designed signage gets your brand noticed in a crowded retail scenario and helps you convert store visitors into customers.
TLC helps you incorporate various types of creative and innovative retail signage throughout your branded environment.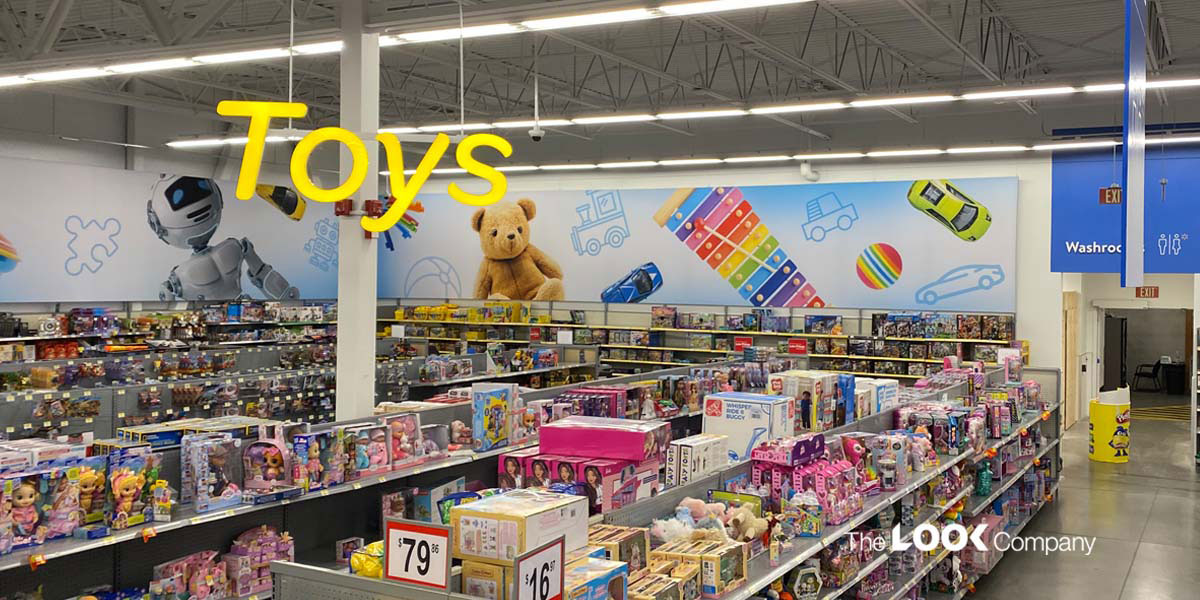 Wayfinding Signs
Wayfinding signage uses visuals and graphics to help shoppers find their way around the shopfloor (directional signs), find product information (informational signs), or appraise shoppers of rules or regulations (regulatory signage). 
Standalone Banners
Portable, temporary banners on stands or double-sided fabric and frames are a versatile tool for merchandisers. Use free standing displays in various areas of the shopfloor to effectively communicate offers, seasonal promotions or new product launches.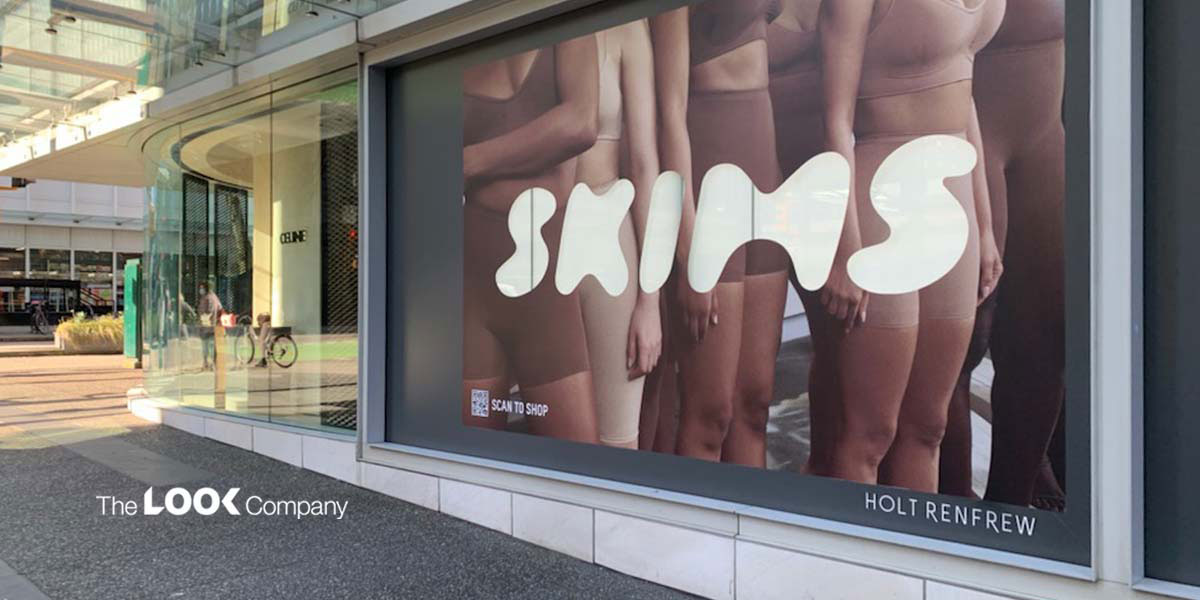 Window Signage
The visual impact created by storefront window signage is a key component of retail merchandising strategy. Visually appealing window displays and storefront signage draw shoppers into the store and help improve sales.
Endcap Displays
Endcap displays or featured products at the end of an aisle are prime property for retail promotions. Products featured on endcap displays have a distinct advantage and sell faster. TLC created a stunning effect for Walmart, Canada, by using lightboxes as endcap displays.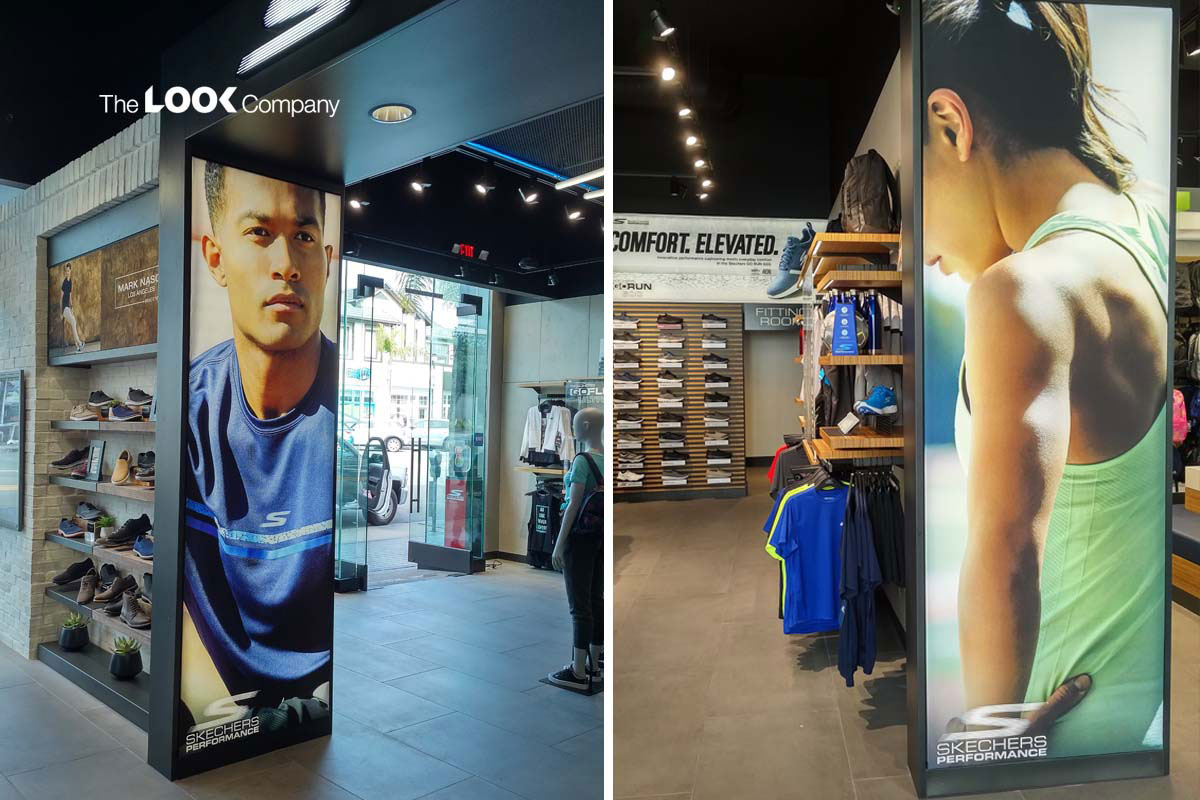 Pillar Wraps
Pillars wrapped with vividly printed fabric are a great way to advertise your products, promote your brand or provide eye-catching directional signage. Pillar wraps help you maximize the use of retail space. TLC has effectively used high-visibility custom signage on pillars using flexible, wraparound fabric seamlessly covering pillars.
Building Wraps
A building wrap covers the façade of a building with printed panels to communicate your brand's message with a big bang! The large format graphics create an instant impression in your audience's mind and enhance their recall of your brand.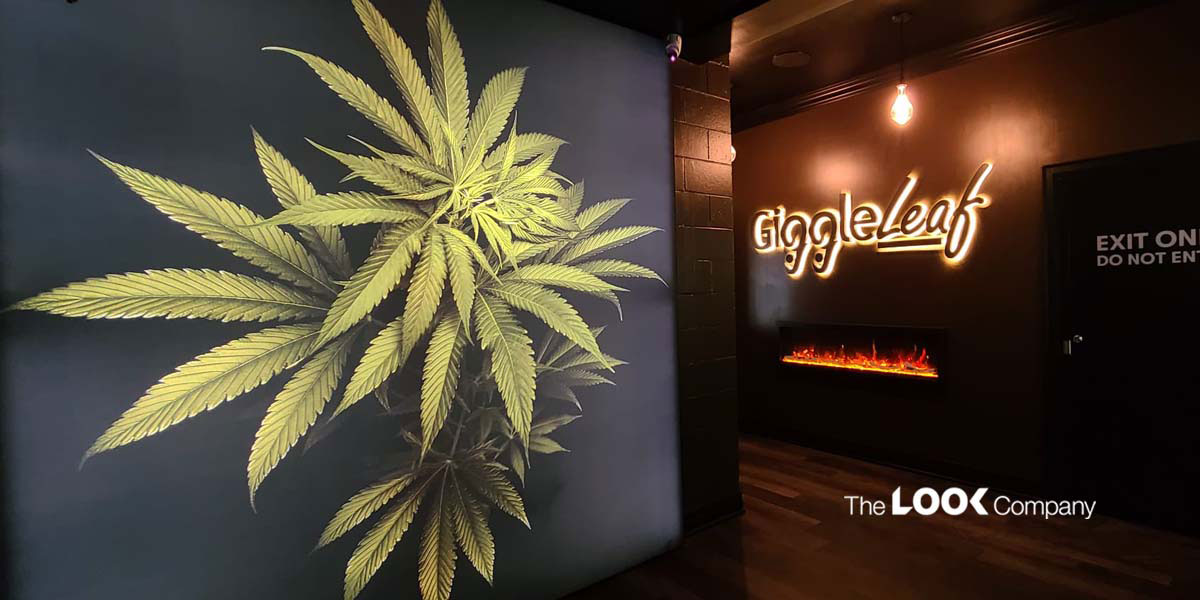 Lightboxes
Lightboxes illuminate brand images and retail messaging in malls, brand showrooms, shopping centers, and other retail indoor spaces. They create a stunning visual effect using vividly printed fabric and a next-gen LED lighting system. Available in a range of custom sizes and shapes with a variety of hanging, wall-mounted, or self-standing options, they are one of the most versatile custom signage solutions we offer.
Floor Decals
Floor decals are custom graphic signage printed on high-strength vinyl and applied to the floor of high-traffic retail spaces such as mall entrances, stairways, mall lobbies, or at exits and checkout counters. These floor graphics maximize promotional space and provide an added touchpoint in your retail branding.
Flag Poles & Street Banners
Flag poles and street banners are used in parking areas, entrances, and on curbsides to spread awareness about brands or products available in the store and showcase flagship products or highlight special offers. At TLC, we use the best quality fiberglass poles with a weighted base and high-visibility printed fabrics for flag pole banners.
You can take a look at some of the work we've done here.
Benefits of Custom Retail Signage
There's more to it than meets the eye! Creative custom retail signage doesn't just look great; it also plays an important role in customer conversions and has a direct economic impact on business.
Let's look at some of the benefits of retail signage:
Draw in Visitors: Window signs, street banners, and flags greet visitors even before they step into your retail space. They attract attention, build awareness, and encourage visitors to step into the store.
Promote Products: Like a silent salesperson, custom retail signage promotes your message to your audience, drawing their attention to new products, discounts or seasonal promotions. 
Guide Shoppers Through the Store: Wayfinding signs help shoppers navigate the shop floor, find what they are looking for, and create a smooth shopping experience. 
Drive Sales: Apart from branding and wayfinding, signs convey essential information about your products—such as price and specifications and help them make an informed decision to buy the product.

TLC: An Award-Winning Print Partner for Custom Retail Signage
Invest in high-quality signage for your branded environment. At TLC, we maximize your brand's impact with award-winning experiential graphics and visual engagement solutions that tell your brand's story innovatively and effectively.
Our expansive global production facilities utilize state-of-the-art printers, manufacturing, technologies and industry specialists. 
We are a G7® Master Certified Facility which confirms our commitment to providing our customers with the best results in color management and print consistency.
Connect with TLC for custom retail signage today.