People shop with their eyes! Many make buying decisions by looking at the window, product displays and retail signage—what we usually call impulse purchases. This kind of visual impact plays a massive role in retail merchandising. Shoppers feel drawn by visually appealing window displays. Visual imagery influences them in the first few seconds that they spend outside your retail store. You must capture their attention in those first few moments! 
It is no wonder that retailers treat shop front windows as prime property for visual merchandising. If your store window is cluttered, dirty, or simply uninteresting, visitors will walk right past it! And nothing is worse for business than an absence of visual merchandising or out-of-date promotional displays or graphics that don't support or carry forward your brand's story. 
The power of display graphics & signage
Product displays and visual imagery in your retail showroom create an impression in the mind of every visitor who walks into your store. 
Vibrant and striking printed retail signage and window displays seem to almost call out to passers-by! 
Visual merchandising strategies, when used intelligently, will reflect your brand's character, tell the story you want your audience to know, engage shoppers, and help convert them into your customers to increase sales.
Remember, the customers' buying journey begins at that storefront window display! As shoppers walk through the store, they take in your store's layout, product displays and the visual imagery inside the store; they move into the consideration phase of their buying journey. Finally, as they reach checkout, they move into the final conversion phase. So how do you generate visual impact that drives the customer from discovery to a sale? 
5 essential ways to generate visual impact & engagement for your retail store
1) Lighting is an important component of visual displays; it can be striking and draw attention, subtle and create ambiance, or a spotlight that draws attention to a particular product. 
Backlit displays can deliver remarkable results. Take a look at how TLC's custom fabric lightboxes create bold, illuminated, attention-grabbing displays.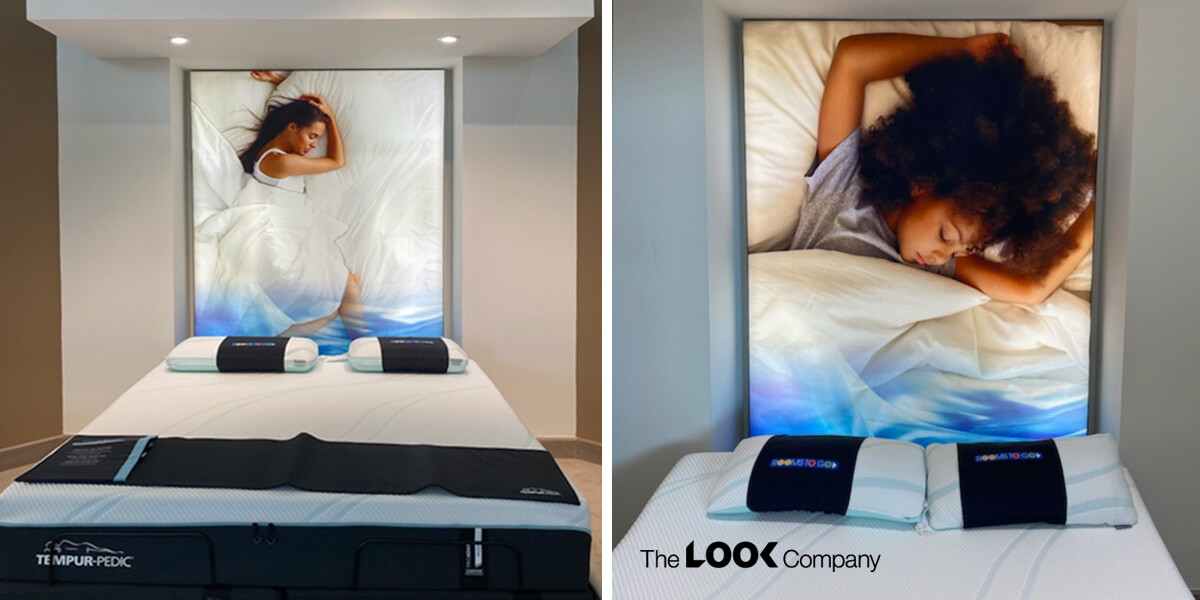 2) Compelling themes for window displays: The world's best brands use stunning visual displays in their shop front windows, year-on-year. Their window dressings have become iconic, and shoppers keep coming back to see their latest creative displays. A window theme tells a story—and much like the cover of a storybook, it draws viewers in, engages them, and leaves them with a memorable experience of the brand!
3) Stunning photographic quality prints on fabric bring any display to life and are a cost-effective method of creating large format, immersive imagery and ambiance. Take a look at the picture below to see how we used evocative imagery on backlit lightboxes.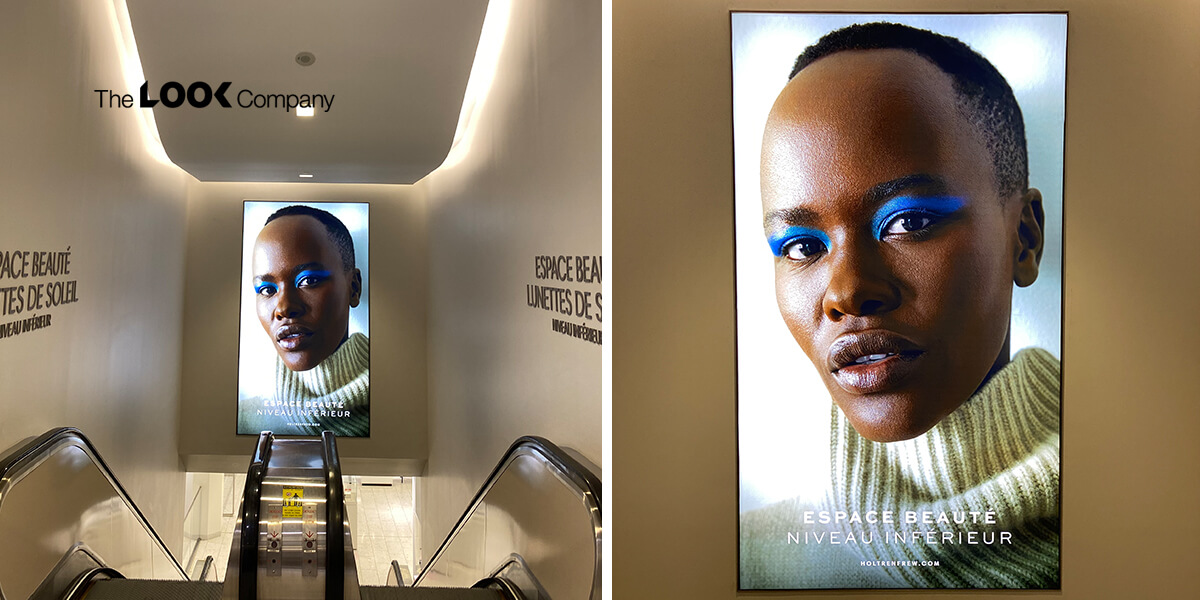 4) Eye-catching outdoor retail signage: Flagpole banners that can be seen from afar, curbside A-frame signs, flexible wraparound banners to cover pillars or props—all these increase visual engagement and drive footfall into your retail store. From outside to in-store, TLC creates stunning graphic signage and product displays. 
5) Easily changeable modular display areas: Change is the name of the game in retail. Quickly set up pop-up store-style graphic displays using modular shelving units and partitions. Or innovative selfie stations or self-checkout areas for new product launches, brand activations, and seasonal specials. TLC's display systems allow for easily changeable signage and graphics. No specialized tools or staff are needed to update promotional graphics, and there is little or no disruption to your shop floor during the changeover.
The Look Company creates fresh, flexible, and visually engaging graphic displays, from the moment your customer walks in and all the way to conversion. Our creative use of display graphics, lightboxes, wall coverings and window displays create visual impact and draw in customers. 
Visual imagery has a positive impact on brand awareness as well as recall. We create a visual narrative that pulls a visitor into experiencing your brand's story. 
Get in touch with us for visual engagement solutions that bring your retail brand into prime focus in a crowded retail scenario.