The retail industry has been thrown a curveball in 2020. The Coronavirus pandemic has disrupted a routine way of living, shopping, and interacting with each other. Previous examples of consumer behaviors and customer purchase decisions that once shaped how retailers conduct their business have been tossed out the window.
Looking at a Report from March 2019 from First Insight:
71% of shoppers spend $50 or more in-store versus 54% online. 

89% of female shoppers and 78% of males were more likely to impulsively purchase items in-store. 

73% of men and 69% of women prefer shopping in stores when the need for a specific product arises.
By taking away the option to shop in brick and mortar stores over the last couple of months, online shopping has become the only method of obtaining goods and services. Looking forward, if customers fall back into familiar routines, retail stores could see a boost in traffic.  Here's a review of how customer online shopping habits could shift to a preference for in-store shopping in a post-pandemic scenario.
Shoppers are craving social interaction
After being cooped up at home, consumers are itching to get out. Interacting with others is a basic human need. It's even more top-of-mind when retail choices are restricted and limitations to what you can and cannot do are imposed for the greater good. Compared to a website, being able to speak with someone, get first-hand recommendations, help with product information takes far less time than trying to navigate through a complicated eCommerce site.
Shoppers want the experience, not just the products
A well-designed store can heighten consumer experience. Unlike making purchases at home online, the retail environment can immerse customers in colorful graphics, music, and overall pleasurable moments. The right combination of seasonal merchandising and updated images will bring customers back and likely enhance their decisions to make a purchase.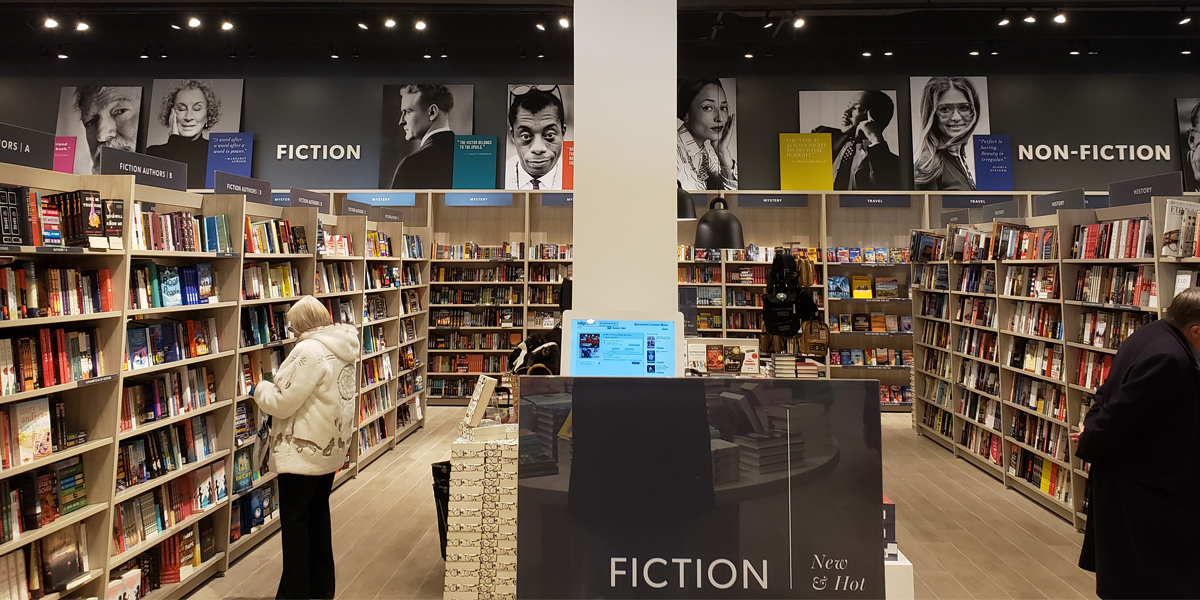 Shoppers want to try before they buy
Consumers want to engage with a product at the time of purchase. Sure, online shopping allows you to send products back if they're not the right fit or if the product doesn't meet expectations. But when given the opportunity, shoppers don't want the hassle and the buyers' remorse that comes with purchasing a product online and then having to send it back. In-store shopping allows for careful deliberation based on first-hand or in-person inspection before checkout.
Shoppers don't want to wait anymore
Something is missing with the online shopping experience. It's the instant gratification of holding something in your hand after you've purchased it. No wait times, no postage delays, or shipping damage. In-store shopping allows customers to go home with their purchase to start enjoying it immediately.
Shoppers want to shop locally and support their communities
One key takeaway to come out of the pandemic shutdown is the want and need to support each other in our local communities. Whether it is your neighbor who works at the big-box retailer or the farm-fresh products being sold at the local supermarket chain, consumers are becoming more aware of where their goods are coming from and want to help those local businesses thrive.   
What's next for retailers in 2020?
It will be interesting to see how shoppers will assimilate to their old shopping and social habits after the shutdown is lifted. Overall, providing a choice for shoppers to shop as they please, whether online or in-store, should be the top priority of businesses. As a retailer, will you be ready for the future customer? Read our blog about how you can adapt your store to accommodate new behaviors and expectations.
The Look Company transforms retail environments by delivering innovative graphic systems in a wide range of applications. Our retail solutions focus around best-in-class, lightweight, reusable aluminum extrusions and award-winning fabric prints with a silicone edged graphic or SEG. Customized for retail, this system allows The LOOK Company to produce a large volume and a diverse range of solutions. Contact us for a solution for your retail business.