A bi-annual event, the Las Vegas Furniture Market is an opportunity for buyers and sellers to browse the latest offerings from the home furnishings industry. From furniture and mattresses to home décor, the market allows retailers and manufacturers to display their products in beautiful showrooms. There, buyers and industry professionals can see what is new, what is trending, and purchase while visualizing how the products will look in a designed retail space or home.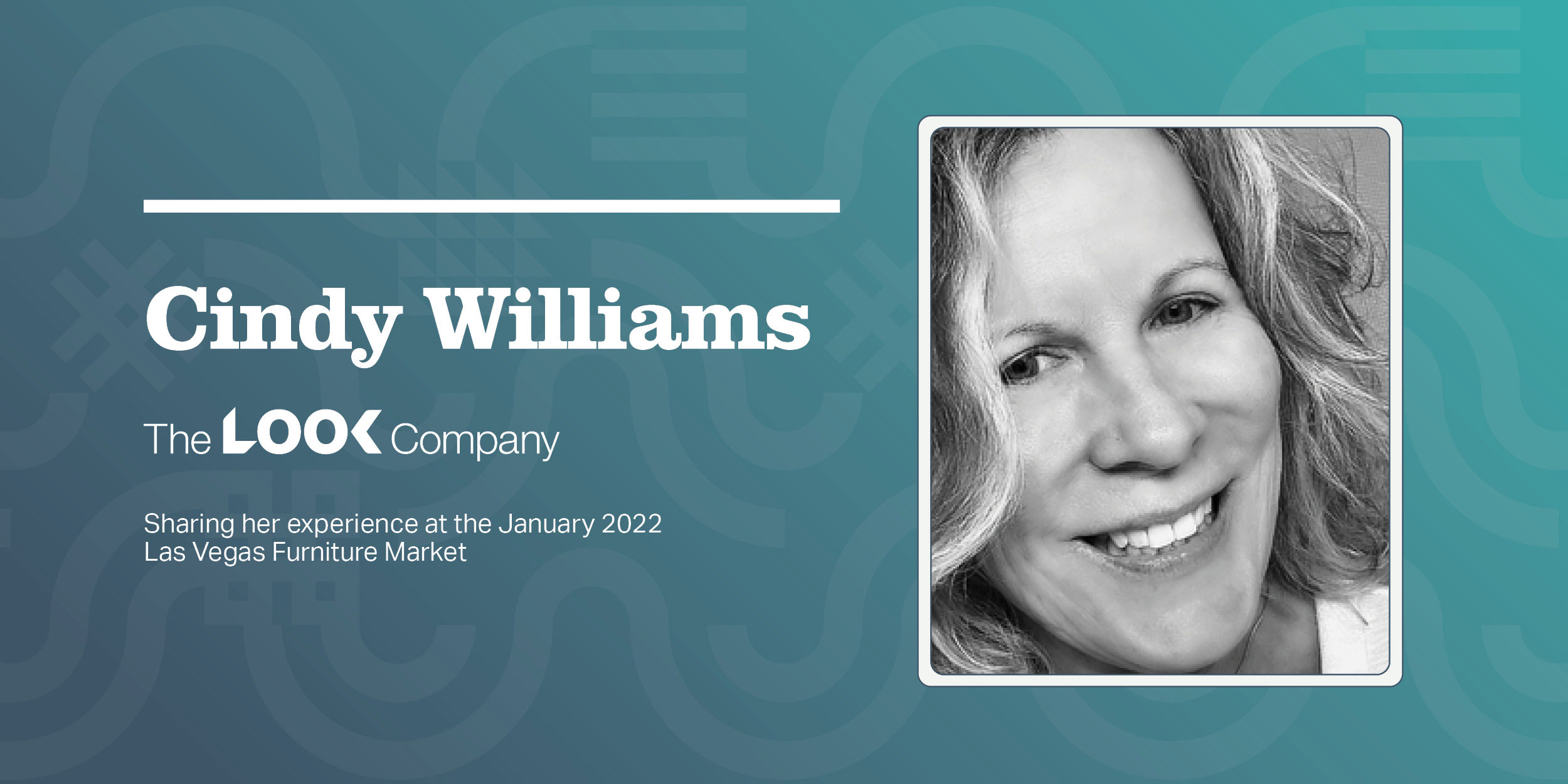 We sat down with Cindy Williams, Retail Business Development Manager from The Look Company to find out some details and takeaways about the winter market in anticipation of future furniture shows.
What was your impression of this year's winter Las Vegas Furniture Market?
Overall, it was very positive and optimistic. The furniture and mattress industry is a very close knit community. It was lovely to see everyone, network, catch up with colleagues and get back to business! During the last couple of years, the demand for new home furnishings has risen significantly. As an industry it's been challenging to meet that demand while navigating lockdowns and supply chain inconsistencies. Compared to the last couple of shows, this year's show attendance was much closer to pre-pandemic levels. It was a great opportunity to view new product innovations, new companies entering the marketplace as well as to find out what everyone has been up to in person. It was very exciting!
What are some showroom design trends you're seeing for furniture and mattress retailers at the Las Vegas Furniture Show?
Throughout the market this year, there were a couple of showroom design trends that were very important and stood out. What I noticed were bright, engaging graphics and spacious layouts as well as design flexibility in terms of updating the look and feel of the showrooms.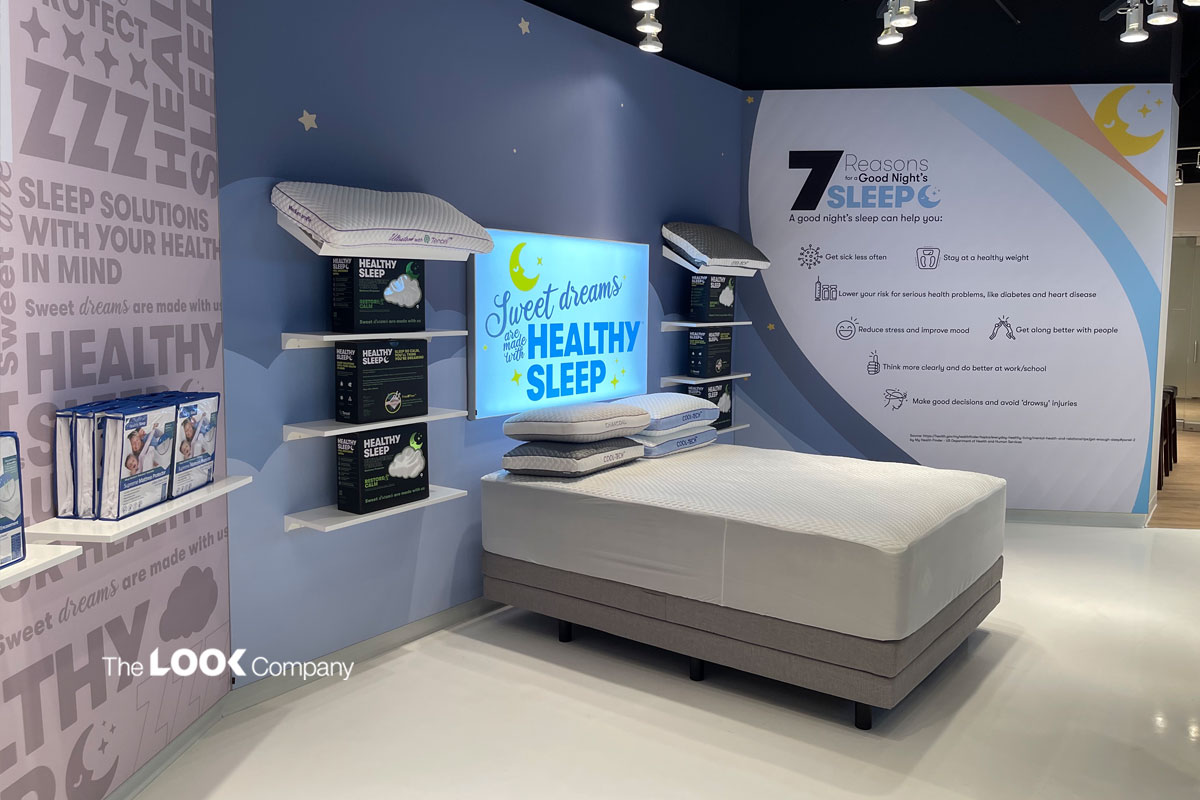 The most impactful showrooms were brightly lit with a combination of backlit graphics and accent lighting. They were colorful and engaging, drawing in potential buyers. Because I've been to a few shows, I've seen the best and I've seen the not so great showrooms. The showrooms that get the most traffic invest in visually engaging bright designs. I'm happy to say that The Look Company was a part of "lighting up" several of the furniture and mattress showrooms at market and helping those exhibitors see an exponential increase in showroom traffic!
Which TLC products make the most impact in a furniture showroom?
I would have to say that the best TLC products for furniture and mattress showrooms would have to be the range of lightbox products with the new Vivid Backlit Fabric, and custom applications such as display units for accessories using the modular frame extrusions. The combination of the Vivid Backlit Fabric and our proprietary lighting system is hard to beat. 
TLC has some really great products that would look good in any space, but the combination of the 50mm (2") lightbox frame and the new Vivid Backlit Fabric is very stunning to see in person. You absolutely must see it to believe it. The best part is that the sizes are customizable to the space. Working with some great companies to visually design their showrooms yielded some beautiful results. It was a "you dream it, we build it" scenario played out in real life.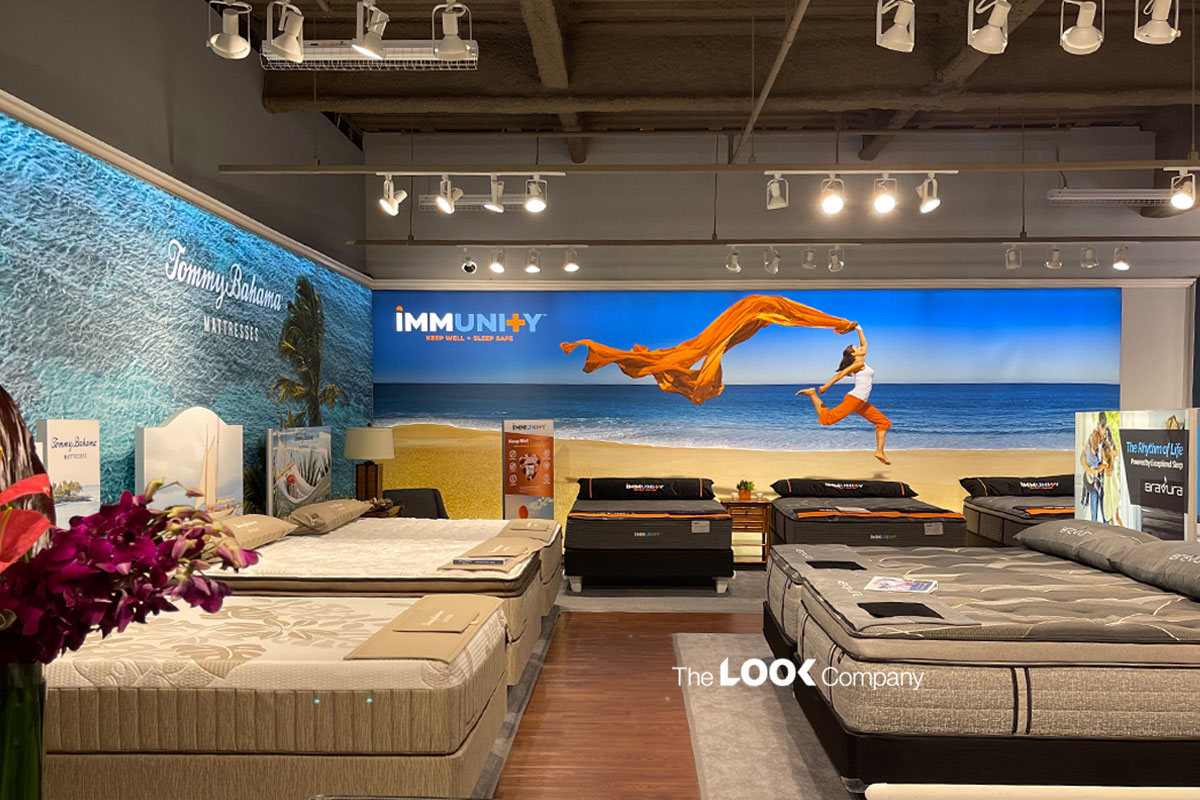 Even though it's not necessarily a product in itself, I have to give a shout-out to the exceptional quality of dye sublimated prints. There was such positive feedback from visitors who couldn't believe the print quality, and that the printed substrate was fabric! There was one application where you couldn't tell it was fabric at all, it looked just like real wood grain! Sometimes my customers give me the eye roll because I can't stop talking about it!
What are some takeaways from the market for furniture and mattress retailers?
More showrooms are using lightboxes to light up their branded space and it's attracting a lot of attention! Lightboxes initiate engagement with visitors by providing backlit focal points to guide the eye out of the dark hallways; and

Retailers who are using cost effective solutions to transform their spaces. Fabric and frame solutions provide the flexibility to easily and affordably update the look of showrooms. 
I visited showrooms where it was obvious that the company had spent a fortune on walls and acrylic graphics. It will also cost a fortune to update, so they are hesitant to refresh the showroom as often as they should. I saw expensive graphics falling off the walls! It doesn't have to be that way. TLC can create walls, signage and graphics all made from high quality, Vivid Backlit Stretch Fabric. Once the frame is installed, the entire look can be updated by simply printing new graphics that anyone can install. You don't have to call a contractor to do it. The cost is a fraction of the cost of other methods and substrates. The Look Company makes it easy to change up your showroom design so it's new for every show. 
Why work with The Look Company to help with furniture showrooms at the market?
Our goal is to relieve the burden of updating showrooms for the exhibitors. The best part is that a client can deal with one company to get everything done under one roof. The Look Company builds the extrusions to spec, prints the graphics, and puts all of the components together to be shipped. We also have installers in Las Vegas for every market, so we can do the installs if the customer wants us to.
From the beginning at the planning stage, we have streamlined the process of updating showrooms at the furniture market. We have the in-house engineering and design expertise, the knowledge of the Las Vegas venue space, experienced installers, logistics and the best customer service to ensure a seamless changeover. You will definitely see the difference!
Here's what some retailers have to say about their experience working with The Look Company: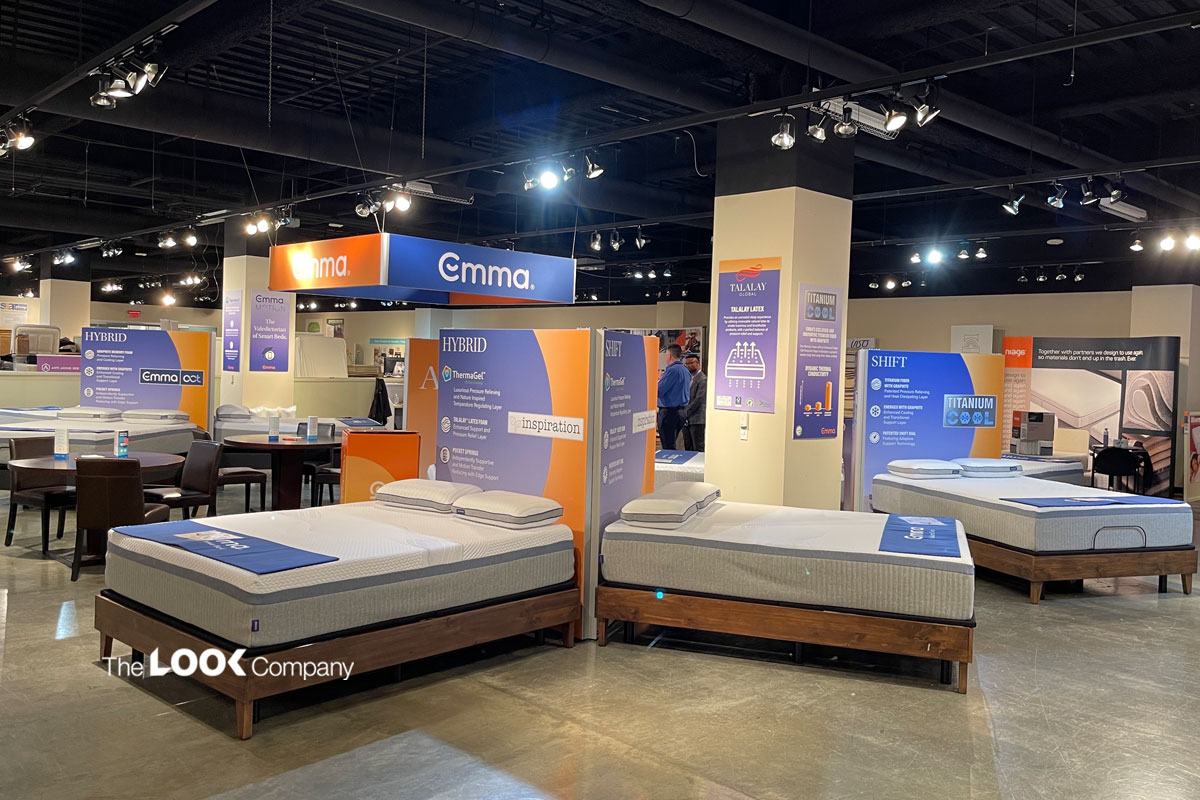 We loved how you and your team were able to transform our shared space in the Specialty Sleep Association showroom into our own unique area that stood out from the rest. As this was the first time Emma had shown at Las Vegas Market, I was tasked to help create the perfect space. Although this was the first time I had ever had to create a project like this, you made the process very simple and easy. Not only were we happy with how our space turned out, but so were many of the retailers that came to visit. They did not expect to see such a well thought through and designed space. Thank you for all of your help, and looking forward to seeing what you can create when designing our own space. - Vincent Passanisi, EVP of Sales for the US / Head of Retail Sales Emma The Sleep Company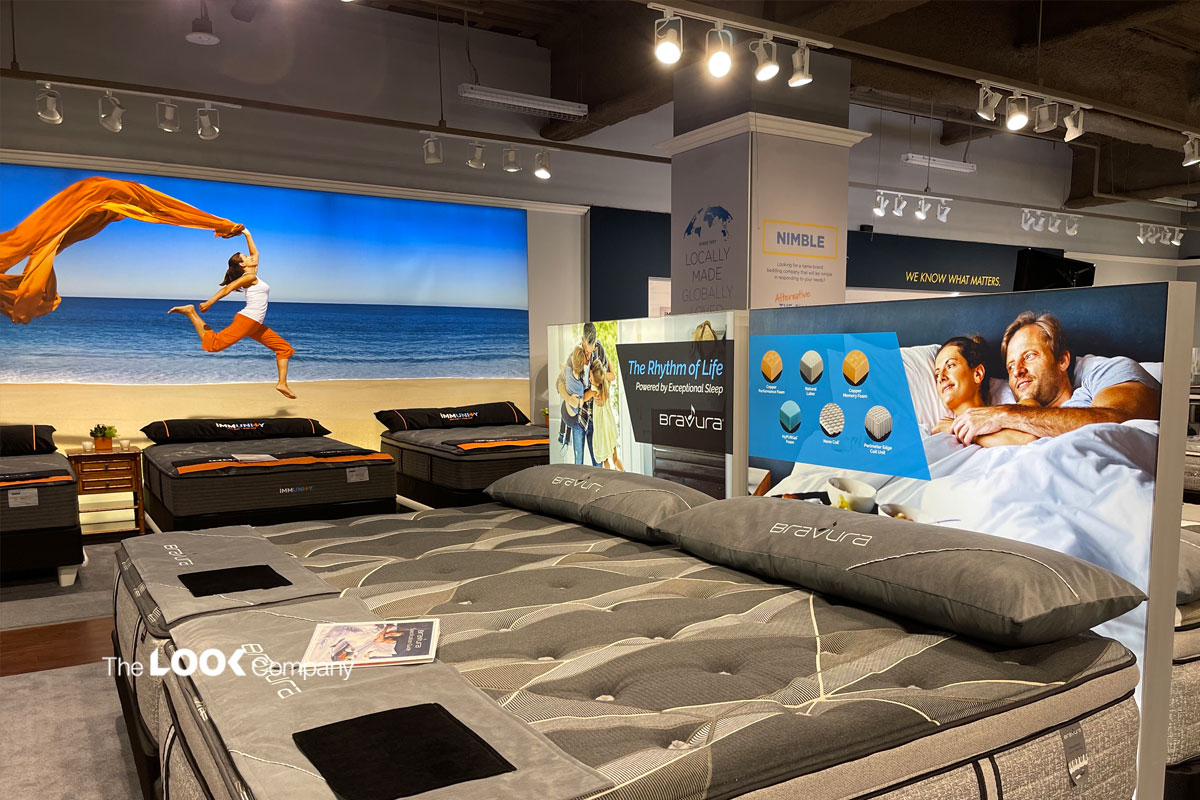 We've worked with The Look Company on multiple projects over the past few years, including the overhaul of our showroom POP/graphics. We continue to be "wowed" by how they take the graphics we supply and make them come to life, creating an engaging and visually impactful environment.  
The President/CEO, Gerry Price, is amazing. As my original contact, he was always prompt when answering emails, accessible by phone and is an experienced resource within our industry. We now work with more members of his team, who collect information, brainstorm and truly partner with us in order to execute our graphics and vision. They are very experienced and pleasant to work with and have provided timely delivery and installation. - Susan Mathes, VP, Brand Relations at Therapedic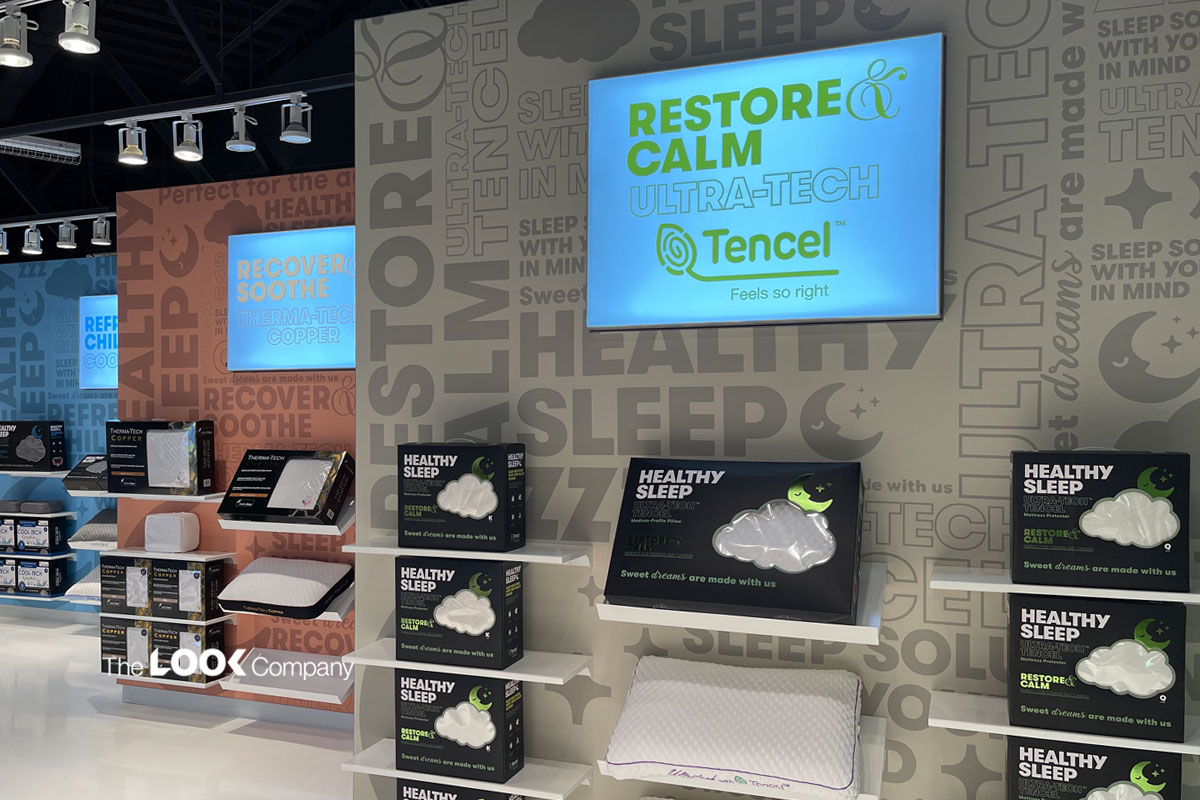 ProtectALL reached out to the Look Company when we wanted to dress our new Las Vegas Market showroom with the very best in materials/design. Our artwork was quickly and efficiently transformed into renderings so we could visualize the space before it went into production. While it looked amazing on the computer screen, nothing could prepare us for how well the space looked once it was completed. The work and final products exceeded our expectations! Thank you so much for a job well done! - Lara Dolloff, Head of Marketing, ProtectAll / Healthy Sleep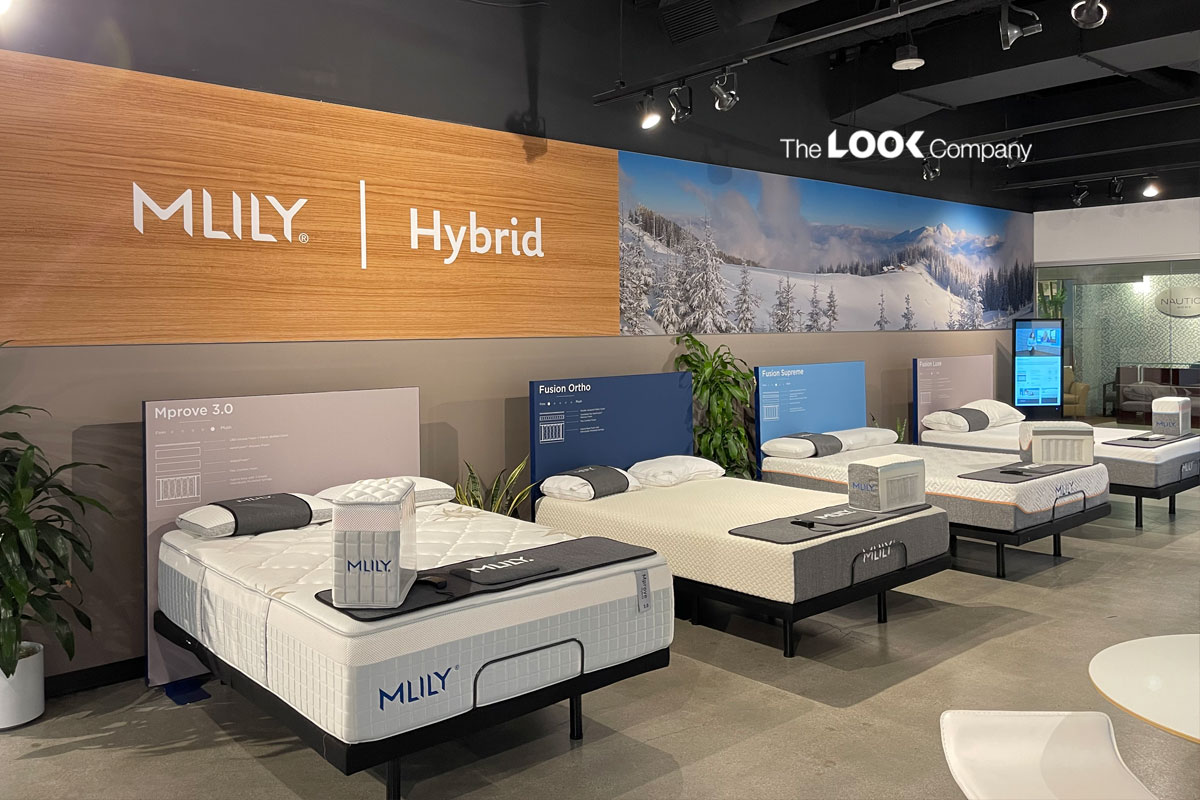 Our showroom went from "decently dressed" to the "bell of the ball" in no time at all due to The Look Company. We know that we can count on them from concept to reality, as well as for minor updates and revisions. Their team of designers, engineers, and installation team truly worked to make our showroom dreams a reality. If you are looking for a quality showroom specialist, look no further… 
– MLILY USA