Retail is undergoing significant changes. And new retail design concepts are emerging as retailers look for ways to use their physical retail space wisely and differently.  
Consumer behavior and expectations are evolving, putting pressure on traditional retailers to change their in-store strategies. For example, shoppers are increasingly looking for convenience. So online ordering and the concept of in-store pick-ups have gained prominence in the last few years. But at the same time, shoppers dislike one thing about online orders—waiting for delivery! And brick-and-mortar stores satisfy their need for instant gratification. The new-age retail store brings with it all the benefits of hands-on shopping, with the added incentive of instant fulfillment—you get to carry home your new purchases with you—no waiting for delivery!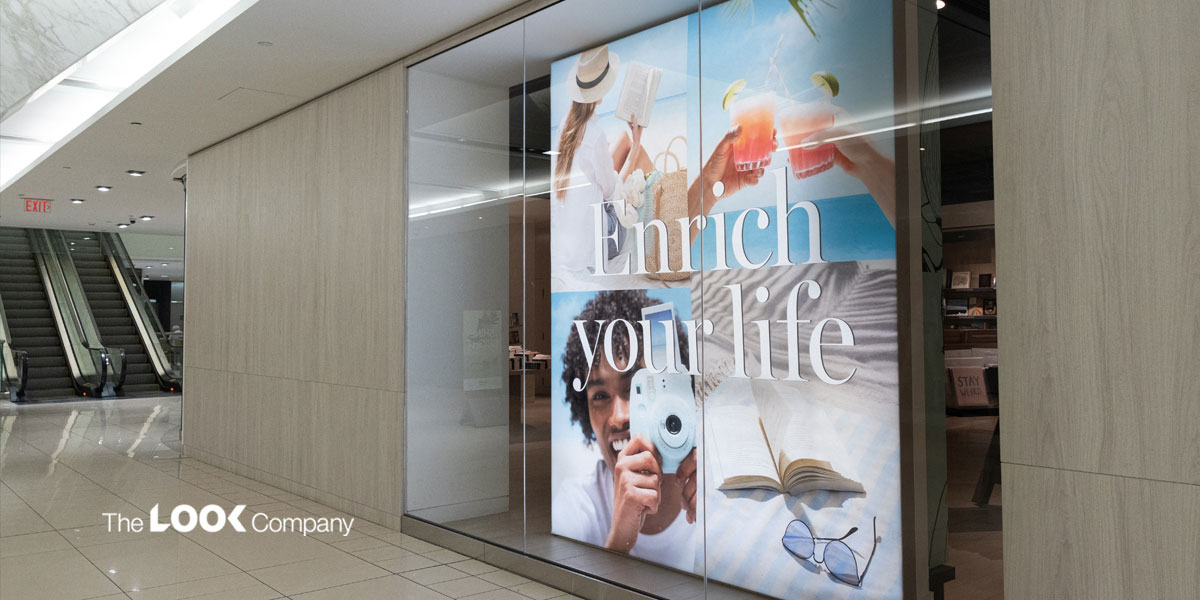 Retail Design Concepts: 5 Tips to Make Your Store Stand Out
Retailers must now think less in terms of markets and more about customers and their individual preferences. Flagship stores are moving toward customer-centric experiences and design. Retailers are now focusing more on store design concepts to lure savvy shoppers. 
Here are 5 tips for retailers to implement an effective retail design concept strategy.
#1 Retail is All About the Customer
—
Not About the Product
In the new retail, the visitor experience is the prime concern. 
According to Katelijn Quartier, the head of the Retail Design Laboratory at Hasselt University in Belgium: "We have entered Retail 3.0, a time when the customer is more and more in charge. This asks for much more from a designer than to translate a retailer's identity into a store design and goes beyond mere functionality and efficiency'.
As the Gensler Research Institute emphasizes: 'Retail is no longer about products; it's about the relationship between a brand and its audience.' Understanding their customers' shopping behavior and preferences will help retailers create a visual merchandising plan or store layout that works.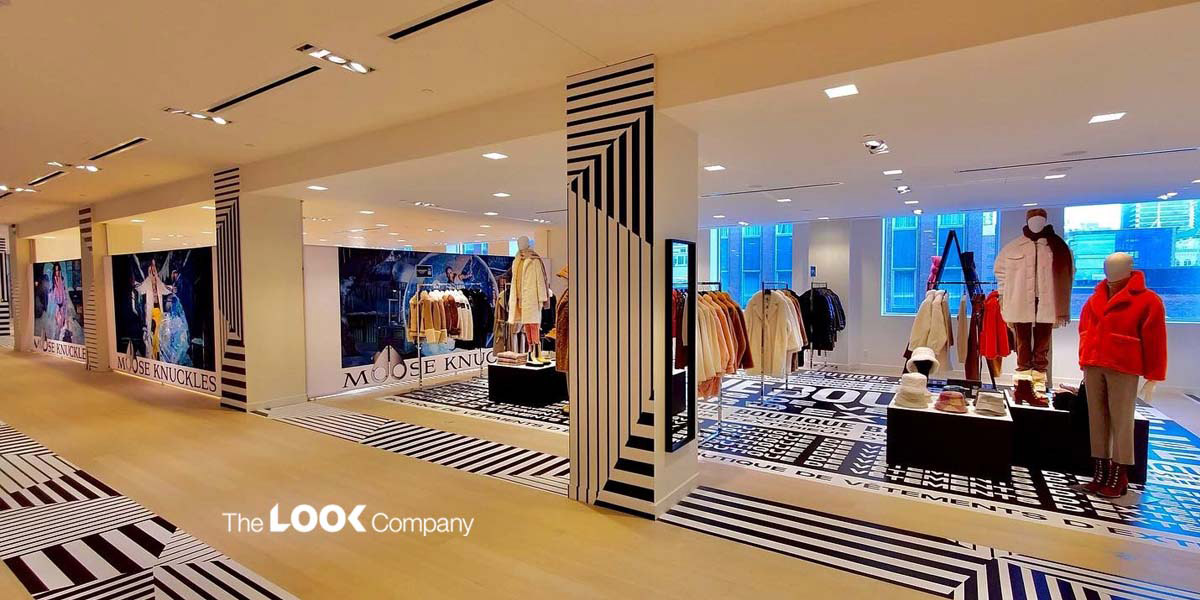 The Look Company helps retailers develop innovative designs and graphic solutions to give their customers a superior shopping experience. 
We offer a full range of integrated services with a global team of experienced specialists to transform retail environments into engaging and memorable brand experiences. From design concept to installation, we provide a complete range of retail store design solutions.
#2 Store vs Experiential Center
Experiential retail implies creating interactive and immersive experiences that showcase the brand's values and evoke the right emotions in visitors so that they associate positive feelings and a lifestyle with the brand, creating a long-lasting recall.  
An experiential store that focuses on customer engagement—rather than direct sales—is a step forward. It enables retailers to address consumer needs using in-store events and services or brand activations. Visual engagement solutions from The Look Company go a long way in developing the experiential store concept.
#3 Choose the Right Store Layout
There's no right or wrong layout for your store, but it's important to focus on your target market, your space, and the types of products you sell to come up with a retail store layout that works for your business. 
Your store layout should help you achieve your retail merchandising goals by guiding customers through the store and exposing them to your products while managing important stimuli that encourage purchasing behaviors.
For example, the loop or U-shaped layout leads customers from the front of the store up to the checkout. On the way, directional signage leads shoppers past the entire (or almost!) range of merchandise. The more time they spend looking at various product displays on the way to checkout, the more likely they are to make additions to their shopping basket! Many large department stores use this layout to their advantage - is it the right layout for your store? Get in touch with TLC to find out.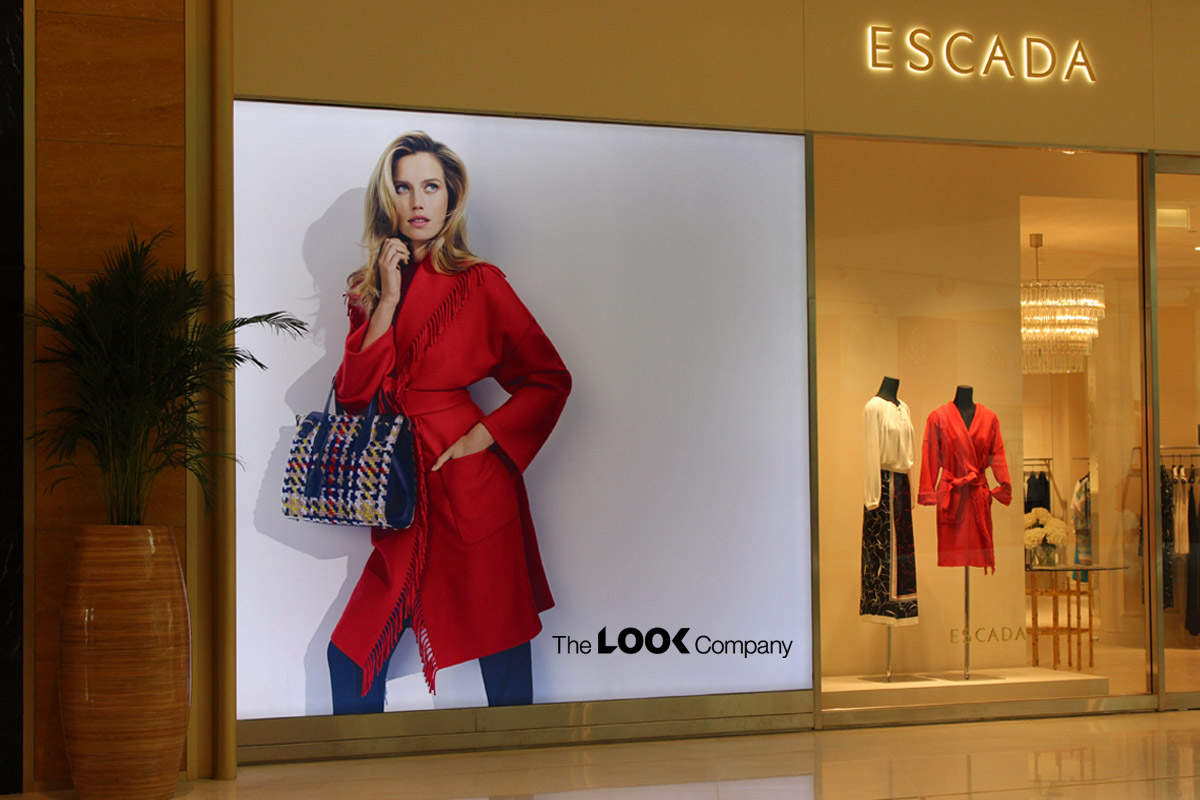 #4 Create Stunning Window Displays
According to Linda Cahan, a retail visual design expert, "Each window should tell a story." Store windows offer an appealing glimpse of what visitors can expect in-store. They should convey 'why' the visitor should step in.
Storefront banners and window displays create your store's first impression and appeal. Compelling window displays convert passers-by into store visitors. For example, our custom lightboxes create a stunning visual effect that grabs the attention of passers-by and lures them to step into the store to find out more about the brand.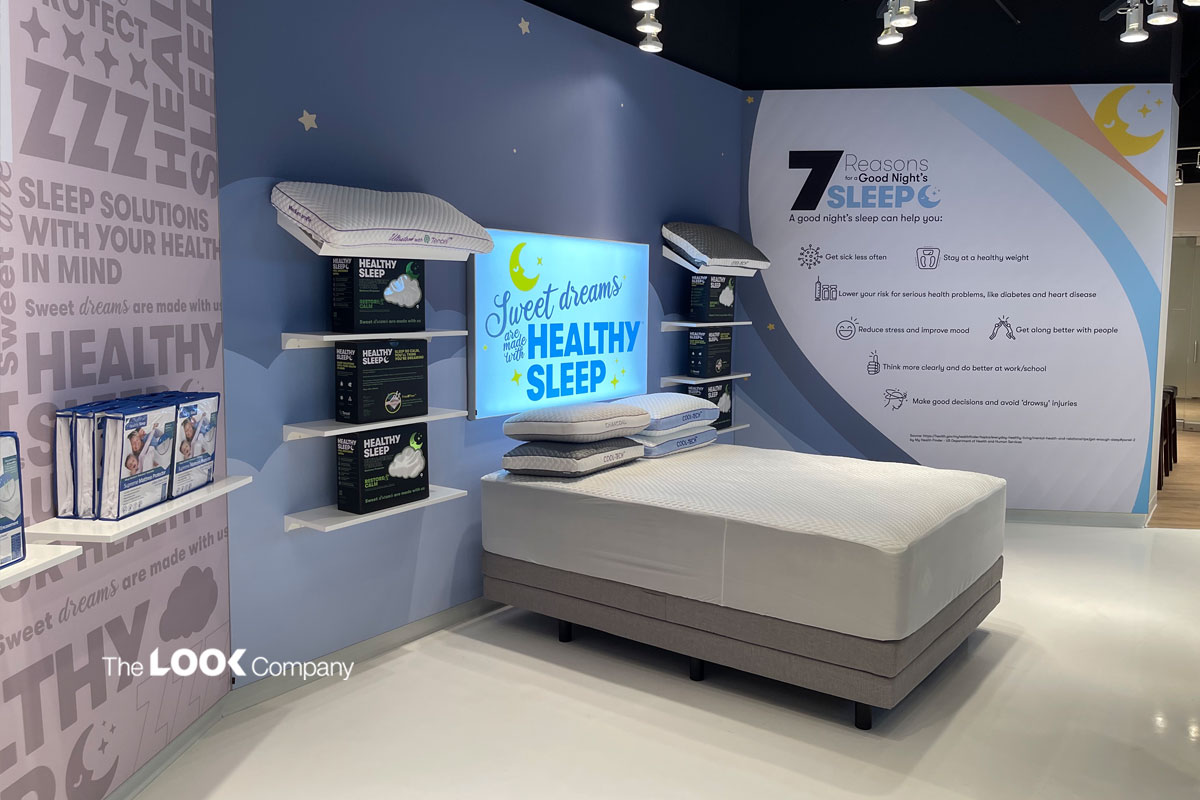 #5 Use Flexible In-Store Display Systems
Shoppers look for novel experiences. They crave unique experiences at all stages of the purchasing process. Retailers must constantly refresh their displays, depending on what their target customers are looking for, the seasonal trends and preferences, and client reviews and ratings of similar products. 
TLC provides modular partition systems to give you unlimited design flexibility. Create walls, corners, booths or complete rooms. Integrate lit and non-lit fabric panels and digital screens for an omnichannel display. Our modular display systems allow for multiple uses and increased functionality.
TLC: Turnkey Graphic Solutions to Power Your Retail Store Design Concepts
The Look Company brings you cutting-edge retail signage and graphic display solutions. Talk to us for stunning fabric lightboxes, modular display units that are easy to change out, and captivating window displays that convert passers-by into customers!
Get in touch with The Look Company today for dynamically changeable modular displays to create innovative retail store design concepts.