A retail store is a physical embodiment of a brand. It fulfills various objectives for the brand—it is not merely a revenue-generating outlet that sells the company's products. It is a place where the brand's fans or prospective customers can experience the brand's story and the values the brand stands for.
The Retail Store is Key to Customer Experience
The retail store of the future will continue to be a strong pillar in the retailer's business. Even though e-commerce and social selling may play an essential role in the way customers interact with the brand, the brand's physical showroom will remain key to how the customer experiences the brand.
In retail stores, visual merchandising has the potential to enhance the shopping experience and turn visitors into the brand's customers. The key is to encourage visitors to make that critical purchasing decision!
Innovative retail campaigns, attractive window displays, engaging in-store displays, and retail signage will drive brand loyalty and create memorable experiences for shoppers.
Here Are Our Top 3 Tips to Help You Plan an Immersive Experience for Your Customers: 
What is your brand's story?
Weave your brand's story into your immersive retail displays. Tie in your brand's overall messaging into retail displays. When visitors are completely immersed in the brand's experience, they are likely to connect to the brand's values and become loyal customers.

Define and detail out your target customer
Take the time and trouble to create a life-like persona of your typical customers. Who are they? What are their shopping preferences and purchasing habits? What kind of retail experiences do they find attractive? Once you understand these intricacies, you'll be better prepared to convert them into loyal fans of your brand.

What actions do you want shoppers to take?
Define the primary goal of the immersive experience you are planning. Do you want to create awareness of a newly launched product and its features? Or do you want shoppers to make a quick purchase decision when they see your retail display? Sometimes, the goal is not immediate—for example, you may design a retail display to get visitors to subscribe to your mailing list or share your brand's message on social media. Defining this goal is critical for the success of your immersive retail display.
Get Shoppers to Make that Critical Purchasing Decision
You don't want shoppers to dilly-dally over whether they should buy a product now or not—or later. A shoppers' indecision is the retailer's bane!
Create a sense of urgency
Time-limited promotions or seasonal specials are an excellent way to encourage shoppers to decide to buy now! Pop-up stores, for example, are a temporary, fleeting shopping experience that excite shoppers and trigger a FOMO (fear of missing out) response. Read how The Look Company's modular adaptive display systems help brands set up stunning temporary pop-up stores that surprise and delight shoppers!

Communicate value
If shoppers are convinced they're getting a good deal, they're more likely to make a quick purchase decision. Engaging visuals and out-of-the-box creative signage ideas help communicate the value your product or promotion brings to shoppers and convince them to make a purchase.

Bring in novelty
Something new, something exciting is what shoppers look for—if you bring an innovative product into the market, shoppers will buy it when they see it! Shoppers are hungry for new, unusual, and novel retail experiences. They want a thrill—a theatrical quality to their retail experience—which makes their shopping spree worth the time and money they expend. Click here for 7 must-try retail display ideas that you can use to wow walk-in shoppers.

Proof is in the pudding
When you label a product as a 'bestseller' or 'most popular, it encourages shoppers to buy it. It makes them feel that if other shoppers have bought it, they're making the right decision to buy it too.
One of the primary goals of an immersive retail experience is to engage shoppers and get them to find out more—here are some display ideas to do just that:
Interactive touchscreens integrated into modular displays systems are a good idea. They put shoppers in control, making them more confident about making a purchase decision.

Immersive experiences are fun! They transport the shopper into a world of their aspirations. Once they feel good, they're more likely to make a purchase decision.

By designing retail displays and signages that create an immersive experience, retailers can connect with their customers, convince them to buy, and even keep them coming back for more.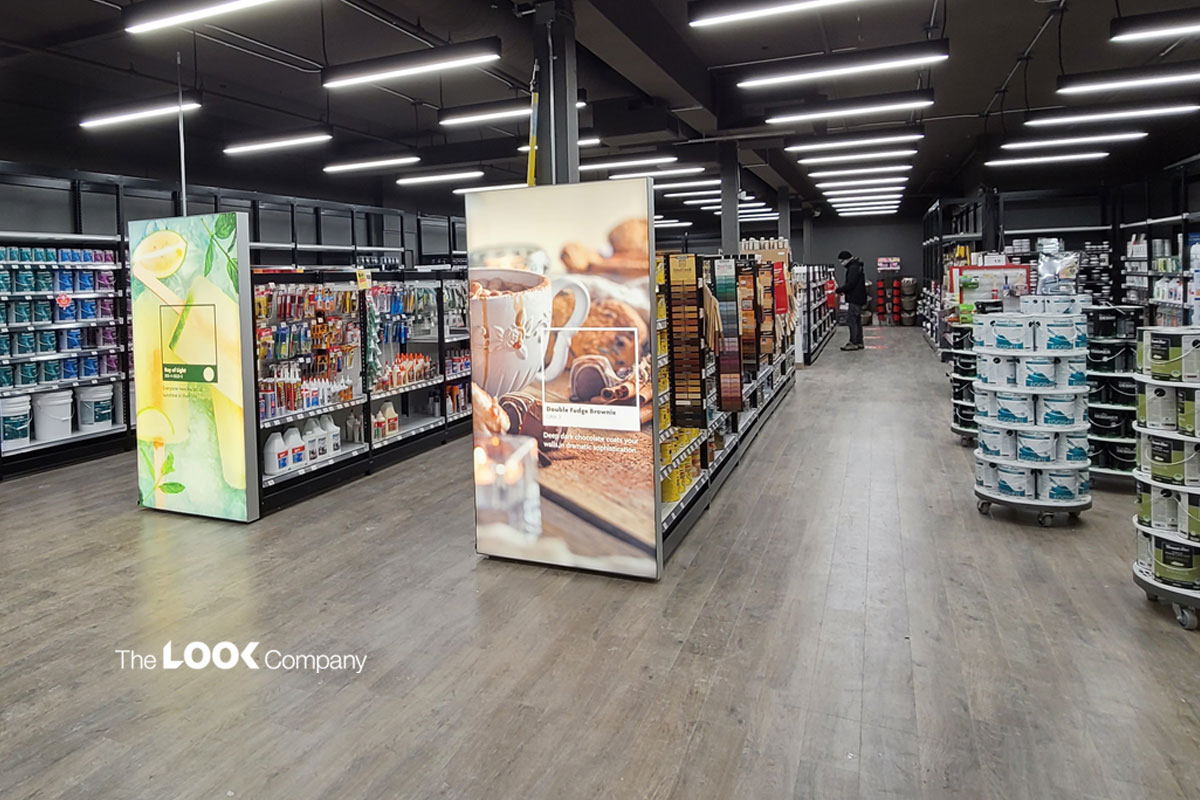 Backlit displays and illuminated signage draw attention and lead shoppers to key areas of the store. TLC's custom-designed fabric lightboxes are a great way to highlight a new product. Use our 50mm backlit lightbox—one of the thinnest in the market. Its space-saving design means that it can be integrated into your existing product display units without the reducing shelving area. We can customize lightboxes to fit any size or shape that your store requires.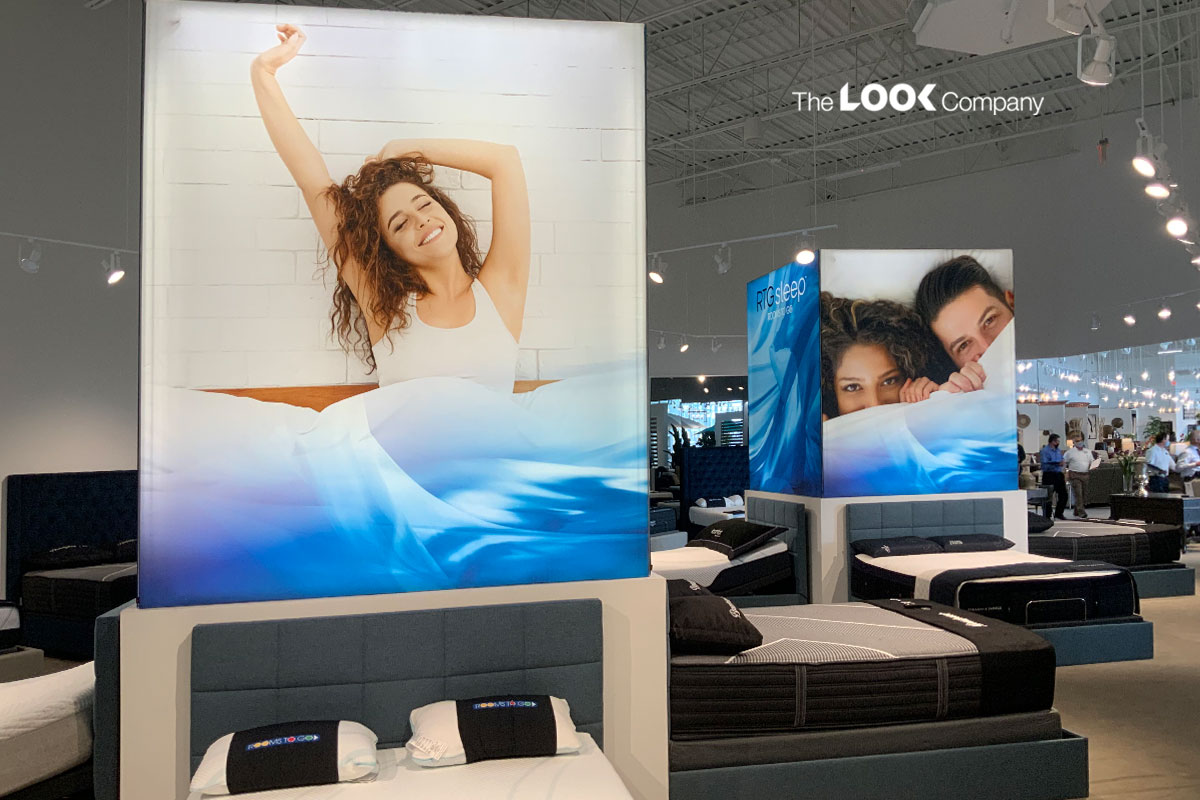 TLC uses direct dye sublimation printing for vivid, high-quality printing. What's more, we've even won multiple awards for excellence in printing quality, creativity and innovation.
The Look Company: Designing Immersive Retail Experiences that Convert Visitors to Buying Customers
The bottom line is that there is a clear link between engaging in-store experiences and purchasing decisions. At The Look Company, we have over 20 years of experience in designing innovative retail experiences. We make the complex projects look as easy as 1-2-3!  
Our concept development team crafts unique branded display solutions, starting from ideation and visualization to stakeholder collaboration.

Our design team then audits your space and recommends the best solutions to engage your audience and elevate your brand's experience.

Our project managers coordinate the entire project from start to finish to ensure quality deliverables, on-time and at scale.
Talk to our retail team at TLC, and we'll design an in-store experience that's sure to enhance footfall, convert passersby to shoppers and keep customers coming back for more.