Visual merchandising is the art of presenting brands and products to consumers in the best possible way. It includes designing storefront displays, product displays and in-store signage. The ultimate goal of the visual merchandiser is to get customers to step into your store and make a purchase.
Visual merchandisers use a range of powerful techniques to showcase products while crafting a unique look and feel for the store. A strong visual merchandising strategy has incredible potential to increase sales and revenue. 
Visual Merchandising Displays for Technology Products
Successful visual merchandising displays must consider how customers reach a decision to purchase a specific product. For example, in retail stores that sell smartphones, other small electronics and accessories, customers want to handle the products to check them out in detail. Understandably, it is challenging for retailers to create product displays that are appealing, hands-on friendly but still keep expensive display products secure.
For tech retailers, giving customers hands-on experiences with their technology products such as mobile phones, tablets, and touchscreen devices in their flagship stores is crucial—as technology is so close to their product. And the best sales pitch for these brands is allowing shoppers to experience their technology hands-on, in-store!
Multi-branded electronics stores usually display products of different brands according to their category, for example, displays for TVs will showcase TVs of various brands. Similarly, displays for other categories like home entertainment systems, laptops, and accessories will usually showcase a range of brands. 
Well-placed displays grab customers' attention. Wayfinding signage throughout the store can direct customers to featured products—that's where the merchandiser wants them to go!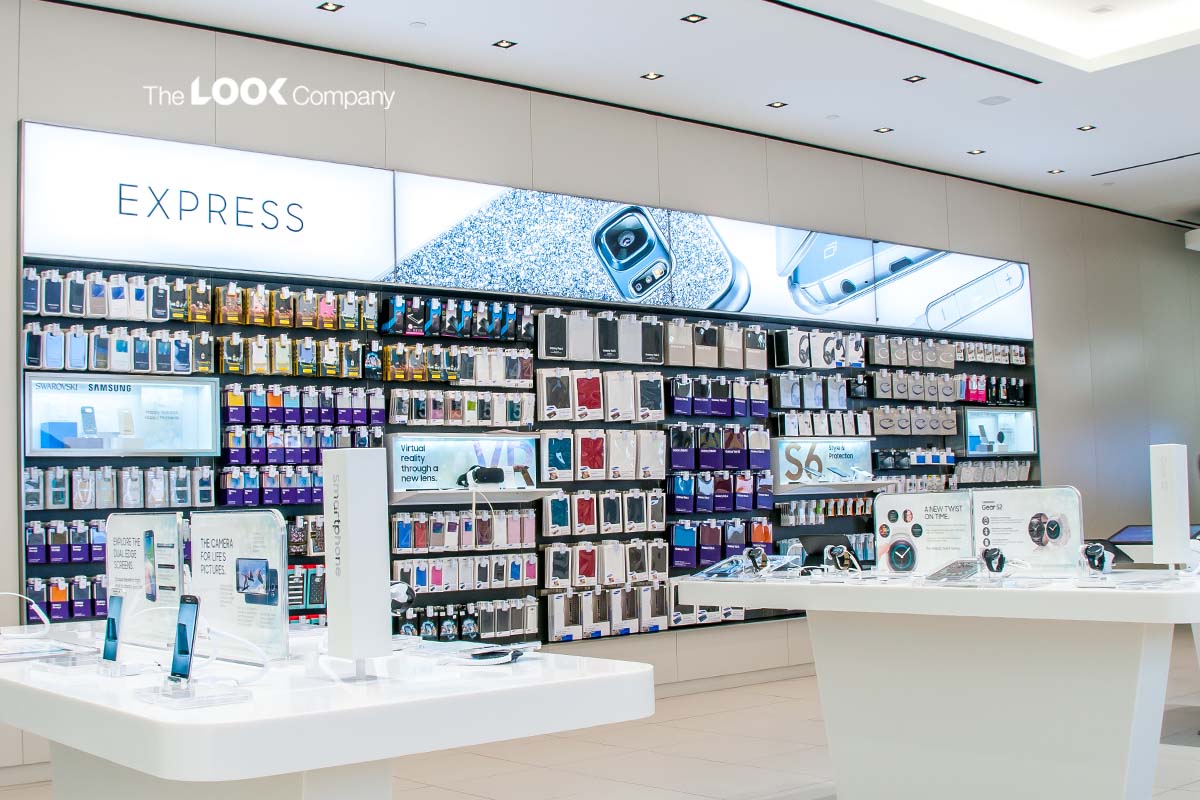 Visual merchandising takes on a slightly different focus in brand showrooms or exclusive brand stores by promoting the brand's story rather than merely selling products. Retailers view the brand showroom as a place for customers to experience their brand rather than a revenue center.
Visual merchandising displays are a non-intrusive sales technique—they encourage shoppers to explore the store without appearing too pushy.
Top 3 Ideas for Tech Store Visual Merchandising Displays
Let's look at some simple but effective ideas to help drive product sales for tech stores:
Add a Retail Speed Bump
A speed bump in the visual merchandiser's dictionary consists of display racks or countertop displays throughout your store to attract shoppers and make them slow down. Each 'speed bump' or display unit can have a unique theme that may be seasonal or based on what's trending in the tech world. It's a good idea to regularly change the products you feature on these speed bumps, so your displays are always fresh and updated. 
Does Your Store Feature a Power Wall?
If not, you're missing out on one 'powerful' visual merchandising strategy! 
When customers walk into your store, most tend to turn to their right—and that's why the most important brand message and featured products are traditionally placed to a customer's immediate right. So, use this area effectively to display key revenue-earning products, such as your most popular tech accessories or the latest smartphone or tablet versions. 

Promote Your Brand's Hashtag
Choose a catchy hashtag that conveys your brand's message. Each product launch or special promotion can also have its own hashtag. Display the hashtag prominently in key areas of your store (such as the entrance, featured displays and checkout) to entice customers to share it on social media. Hashtags make your brand or product easily searchable on social media and help create a buzz about your brand—that's a great way to drive footfall from tech-savvy millennials to your store!
The Look Company: Visual Merchandising Display Tips from Our Experts
Use these visual merchandising tips to encourage shoppers to experience electronic devices and explore accessories and add-on products:
Feature Display Areas
Create a feature display area to showcase the latest products. Design them to represent the home or office where the product is typically used so customers can experience the product in a realistic scenario. TLC offers turnkey display solutions that combine modular frames and fabric graphics to support your visual merchandising strategy and create visually engaging displays for technology products. View a gallery of our work to see how we integrated graphics and lightboxes into store display fixtures.
Changeable Fixtures, Display Units, Kiosks
Display counters or tabletops, shelving units or racks, and interactive kiosks are great ways to display tech merchandise. Kiosks provide interactivity to bring a hands-on feel to demonstrate tech product specifications or variants at the point of purchase. In addition, TLC offers easily changeable frames and fixtures that allow you to quickly change graphics as you launch new products or offer new promotions without modifying the frames and display structures. 

Wall Treatments & Lightboxes
TLC offers fabric wall treatments, pillar wraps, and custom lightboxes to create stunning visual displays. They create immersive experiences for shoppers besides bringing out the advantages and features of technology products. 
When shoppers are immersed in the brand experience, they start to identify with the lifestyle that the brand promises. This is the success of the visual merchandising strategy. It's the point at which the shopper is most likely to make a purchase decision and convert into a customer!

Finally, Keep in Mind the Concept of the 45-degree Customer Line of Sight
"Customers scan and view the store at about 45 degrees from their own path of walking..." – Chris Guillot, Founder and Retail Consultant at Merchant Method
The most important aim of visual merchandising displays is to draw the customer's eye to your featured products. And the most natural way to do that is to put these products clearly in their line of sight. So walk around your store and scan your product displays at a 45-degree angle. What do you see? This is the customer's line of sight, and this is what they're seeing on your product shelves!
Get In Touch With The Look Company for Tech Store Displays
The Look Company delivers turnkey retail display solutions that create inspiring brand experiences and drive revenue growth using solid visual merchandising display techniques.
Talk to our experts to find out how we can transform your tech product displays into compelling shopping experiences for consumers!