City dressing campaigns provide interactive and engaging experiences that resonate with fans on an emotional level.
These may include fan zones at a live sports arena or product sampling booths where fans can see and experience a product or exciting city dressing elements at prominent places such as airports, hotels, city markets and squares, or other high-traffic areas. 
Experiential sports marketing goes far beyond traditional marketing activities. 
Experiential activities allow fans to interact with each other and connect with the teams or sponsoring brands, creating lasting memories and recall of the sporting event and the associated supporting brands. 
In this article, we discuss the importance of city dressing as an experiential sports marketing technique and how TLC's sports branding solutions can contribute to building a strong brand for live events, sports teams as well as sponsoring brands.
What is City Dressing? How Does it Create Memorable Brand Experiences?

Marketers and brand managers are realizing the potential of experiential marketing techniques and are starting to prefer immersive and interactive activities to the more passive traditional forms of advertising.   
City dressing is emerging as an essential tool for sports marketers and includes event branding outside the main sports venue to promote, attract and engage visitors and the community. 
The Look Company helps event organizers, sports teams and sponsors to increase their visibility and build brand awareness using branding elements such as street banners, flagpoles, temporary kiosks, pop-up displays, building wraps, vehicle wraps and branded crowd control barriers for pedestrians.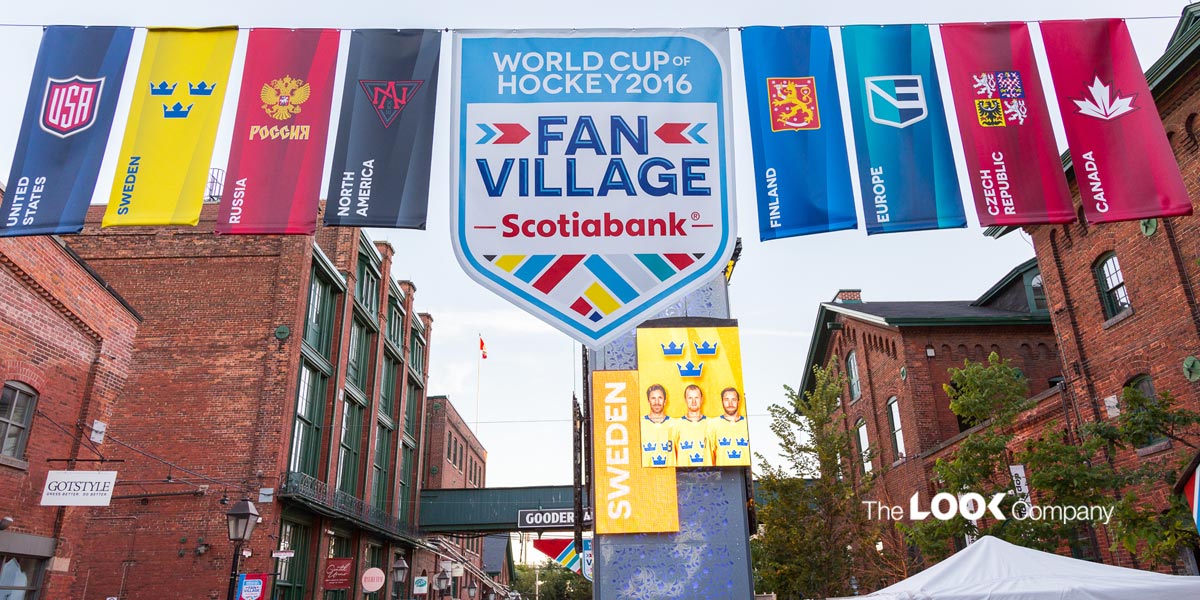 Here's how city dressing establishes event branding and helps build awareness of upcoming sports events:
City dressing elements such as street banners and flagpoles at airports, train stations and other prominent locations display the event logo, brand colors, and sponsor logos.

City dressing also reinforces and enhances recall of the event's dates, venues, and sponsors in the minds of local fans and residents, creating anticipation and excitement about the events.

Vibrant visuals and immersive experiences at various city locations contribute to event branding, sponsor branding, and the overall fan experience.

Sports teams can establish a strong visual identity throughout the city using creative branding, brand storytelling, and other experiential activities to reinforce the team's brand positioning.

Event sponsors can leverage city dressing elements to create a strong positive association between their brand, the fans, and the city.

PRO TIP: Leverage live sports events for brand activation campaigns. Read this article on how mega sporting events are a perfect match for brand activation campaigns.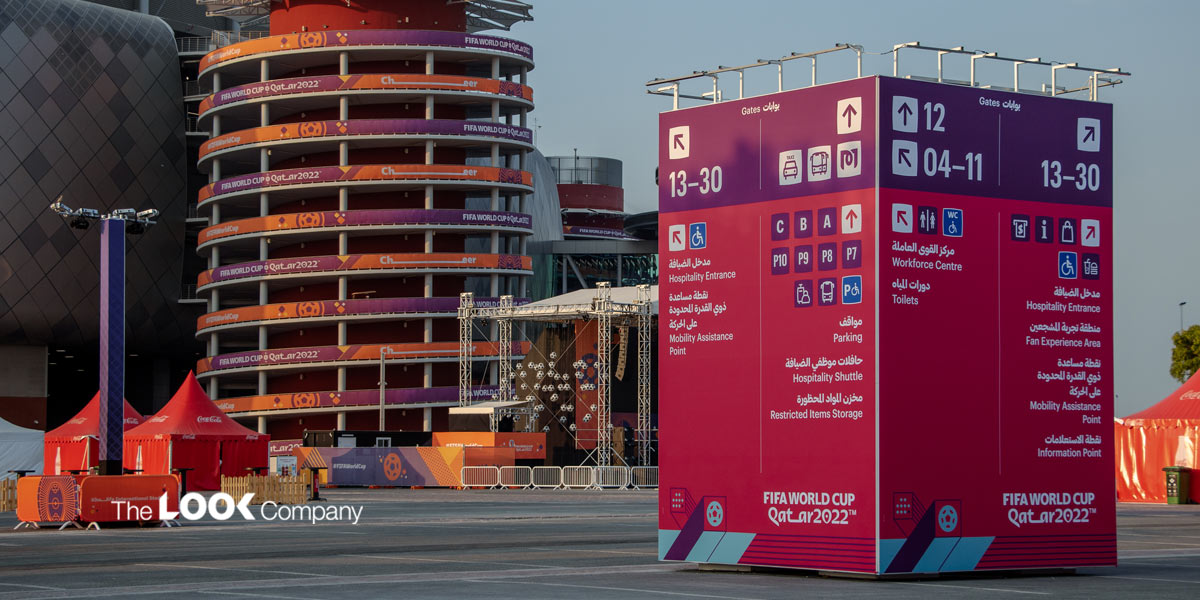 Experiential Sports Marketing: How City Dressing Fosters Engagement

Connecting with fans and engaging a city's residents to evoke enthusiasm about a sports event is one of the major goals of city dressing.
One study shows that 64% of consumers want brands to connect with them, while 49% expect brands to bring people together toward a common goal.
Event organizers use city dressing to adorn the host city with sporting imagery, immersive experiences and attractive displays that generate excitement and evoke the emotions of fans. 

City dressing allows sponsors to showcase their brand and align with the excitement and energy of a major sporting event.

Strategically placed event banners  and informational displays throughout a city create an engaging environment for residents and visiting fans. This emotional connection builds loyalty and drives fan engagement. Wayfinding signage gives fans the information they need to find the venue and access other key areas for the event.

City dressing elements foster a sense of community and pride in city residents as they start associating the event brand with their city.
Read more: Learn about TLC's exterior event branding solutions to drive fan engagement.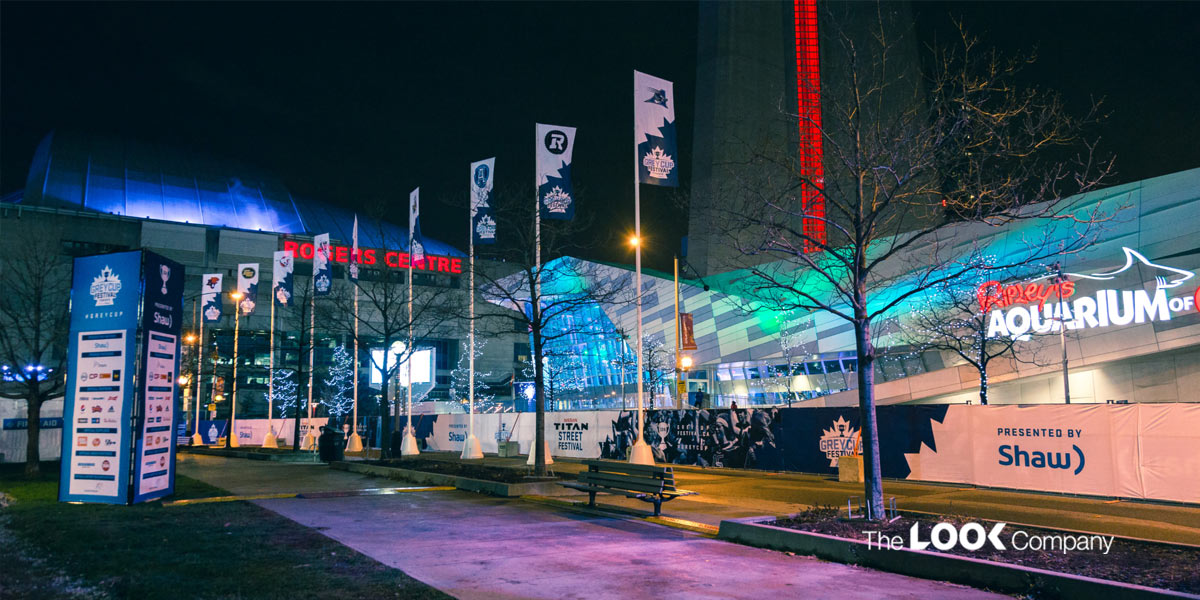 Best Practices for Implementing City Dressing in Sports

Implementing city dressing campaigns for a sporting event starts with meticulous research and planning. 
Here are some best practices to help marketers, organizers, and sponsors succeed with experiential sports marketing.
Clearly outline an overall strategy to maximize brand visibility and foster fan engagement.

Identify key locations in the city that are ideal for high brand visibility and will maximize reach to their target audience. 

Tailor and align the imagery, messaging themes, event branding design, and immersive experiences to the interests and preferences of the target audience for maximum engagement and impact.

Set down campaign budgets and execution timelines and closely monitor them with meticulous project management.

It is vital to have a good understanding of local regulations and have buy-in from city authorities for executing city dressing. Obtaining necessary permits and permissions ensures compliance and prevents hurdles during the campaign. 

Finally, garner support from the city's residents and fans!
At TLC, we offer a full range of integrated services with a global team of experienced specialists to transform event venues and sports environments into engaging and memorable brand experiences.

TLC: Leverage the Power of City Dressing for Experiential Sports Marketing

A well-planned and flawlessly executed city dressing campaign helps event organizers, teams and sponsors to achieve their business objectives.
And, when a major sporting event graces a city, the city and its residents benefit as well! Large events provide a boost to economic activity in the city. They drive tourism, bring in business for Food & Beverage (F&B) outlets and provide employment for many such as support staff and logistical personnel.
City dressing is fast growing into an irreplaceable marketing tool for branded events in the sports industry to enhance brand visibility, create an engaged community of fans, and create a memorable event experience for viewers and city residents. 
At TLC, we focus on delivering premium visual engagement solutions, whether for brand activations, stadium branding or city dressing campaigns. Our solutions unify the look of events, stadiums, and teams, elevating the fan experience.
Connect with our consultants to discuss and plan exciting and immersive experiential sports marketing campaigns to drive brand awareness and fan engagement at your sports event.