SUMMARY:

Retail lightbox displays are a great way to engage shoppers and increase sales. Find out how our customized lightboxes give big box retailers the creative freedom to design innovative displays.
---
Retail lightbox displays are ideal for big box retailers. 
Big box stores have an expansive shop floor displaying thousands of products. Even if they are spacious (by definition), big box stores are 'noisy'—that is, thousands of products and brands compete for a shopper's attention.
In the last few years, big box stores have revolutionized retailing in North America. About 29% of U.S. retail sales were accounted for by 6 big box stores as of 2020.
The key to success for product sales or special promotions is the store's ability to design an eye-catching display and captivating messaging that makes the product or promotions stand out from all the surrounding products.
Lightboxes are the ideal display solution for the fast-paced big box retail environment. They showcase your products in the best light—making them look real and enticing. And products that look good sell faster! 
The Look Company's custom lightboxes use SEG fabric printed graphics. They are vibrant, with a high level of contrast, and add a dimension of depth and detail to the imagery.

How Retail Lightbox Displays Increase Engagement in Big Box Stores



Attract Shoppers 



Our eyes are naturally attracted to bright sources of light. Illuminated signs add warmth and create an inviting ambiance that draws shoppers toward them. TLC's backlit or perimeter-lit lightboxes create radiant displays that catch the eye from afar. They produce maximum visual impact and increase brand awareness.

Create an Enticing Brand or Product Image 



TLC's lightboxes attract the attention of shoppers with bold fabric prints while adding a 'wow' factor to your store's in-store displays and promotions. 
The vibrant SEG graphics create an irresistible pull toward your featured products. Moreover, backlit graphics stand out against the store's ambient lighting, unlike a non-lit image that blends in with it.
In a large big box store, lightboxes ensure shoppers see, remember, and recall your special promotions.
Elevate Your Messaging to Experiential



Lightboxes bring your signage to life! Take the example of our lightbox 'cube'—360-degree wraparound graphics elevate your messaging from just words or imagery to a more experiential level. Or our seamless corner boxes that can be used creatively to engage shoppers and let them 'experience' the brand or product. Engaging displays have an emotional trigger that's known to help in conversion.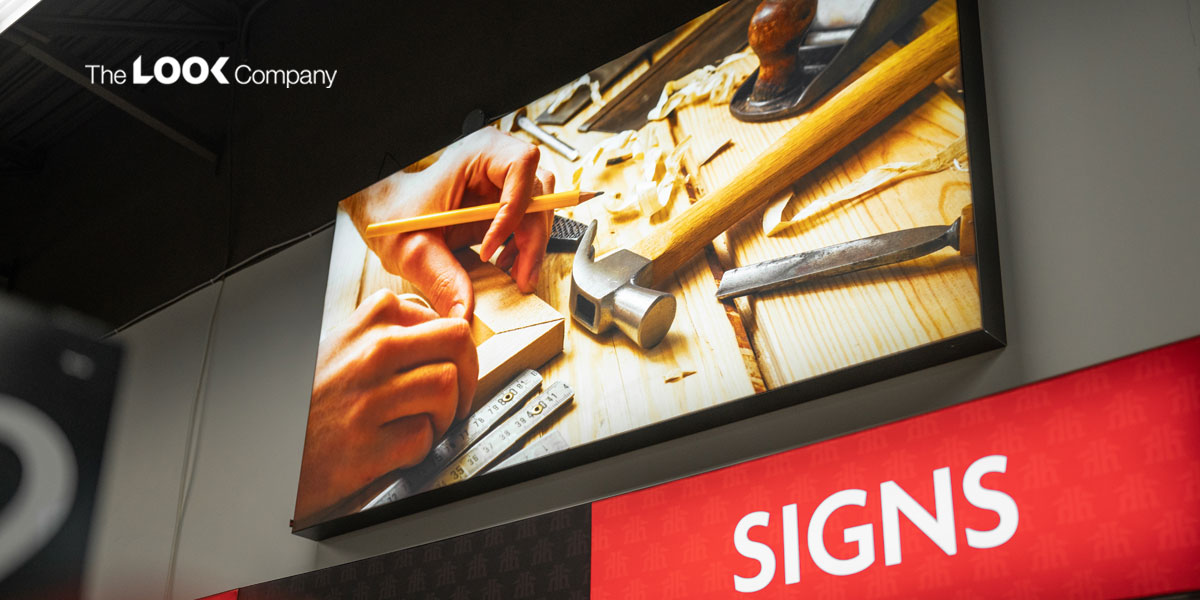 Benefits of Lightboxes Over Other Visual Display Options

Lightboxes are not just retail signage illuminated with LED lights. There are aesthetic considerations as well as real business benefits to using customized lightboxes.
High Visibility



Lightboxes, especially ceiling-hung or wall-mounted types, can attract a shopper's attention from afar. Big box retail stores have expanses of floor space, so backlit signs with bold, vibrant prints catch the eye and can be seen from a distance. They enhance brand recall and make customers gravitate toward their section in large stores.



Adaptability



Available in custom sizes and shapes, lightboxes can be used in various applications. For example, create an illuminated pillar wrapped 360 degrees with printed graphics using our corner lightbox pillar. Or create a modular ceiling design using our ceiling-hung lightbox. The tension fabric graphic prints in our lightboxes don't require any special training or skill to changeout, so your in-store staff can execute a flexible promotion plan with rapid graphic changeouts.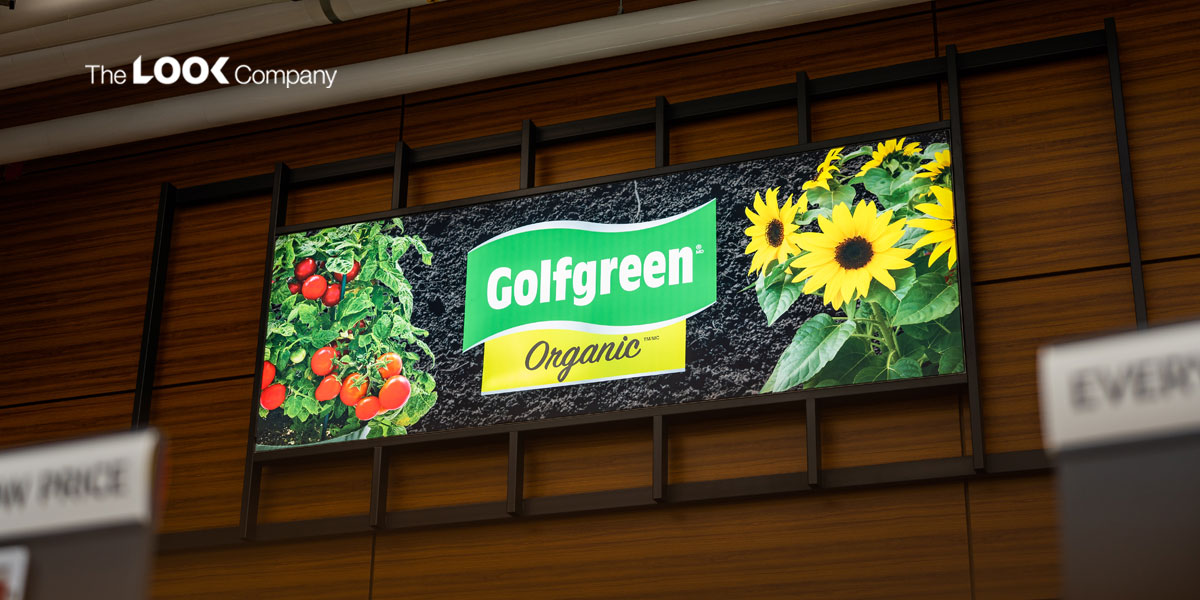 Easy to Store, Ship, and Assemble



Fabric prints used in our lightboxes are long-lasting and easy to maintain. They are more durable than paper and can be stored easily and reused over several seasons or promotions.
Our lightboxes are packed knocked-down for economical shipping and are easy to assemble on-site without the need for specially trained technicians.
Stand Out in a Noisy Retail Space



Lightboxes deliver imagery with improved contrast compared to other visual media. They focus customers' attention directly on your message. For the shopper, backlit images are definitely more appealing than those that are not backlit.



Environmentally Friendly



Our next-generation lightboxes use superior, advanced LED technology that ensures low energy costs and creates less of an environmental impact. They consume 60% less power than our first-generation LEDs. Fabric prints can be reused for several promotions and seasons.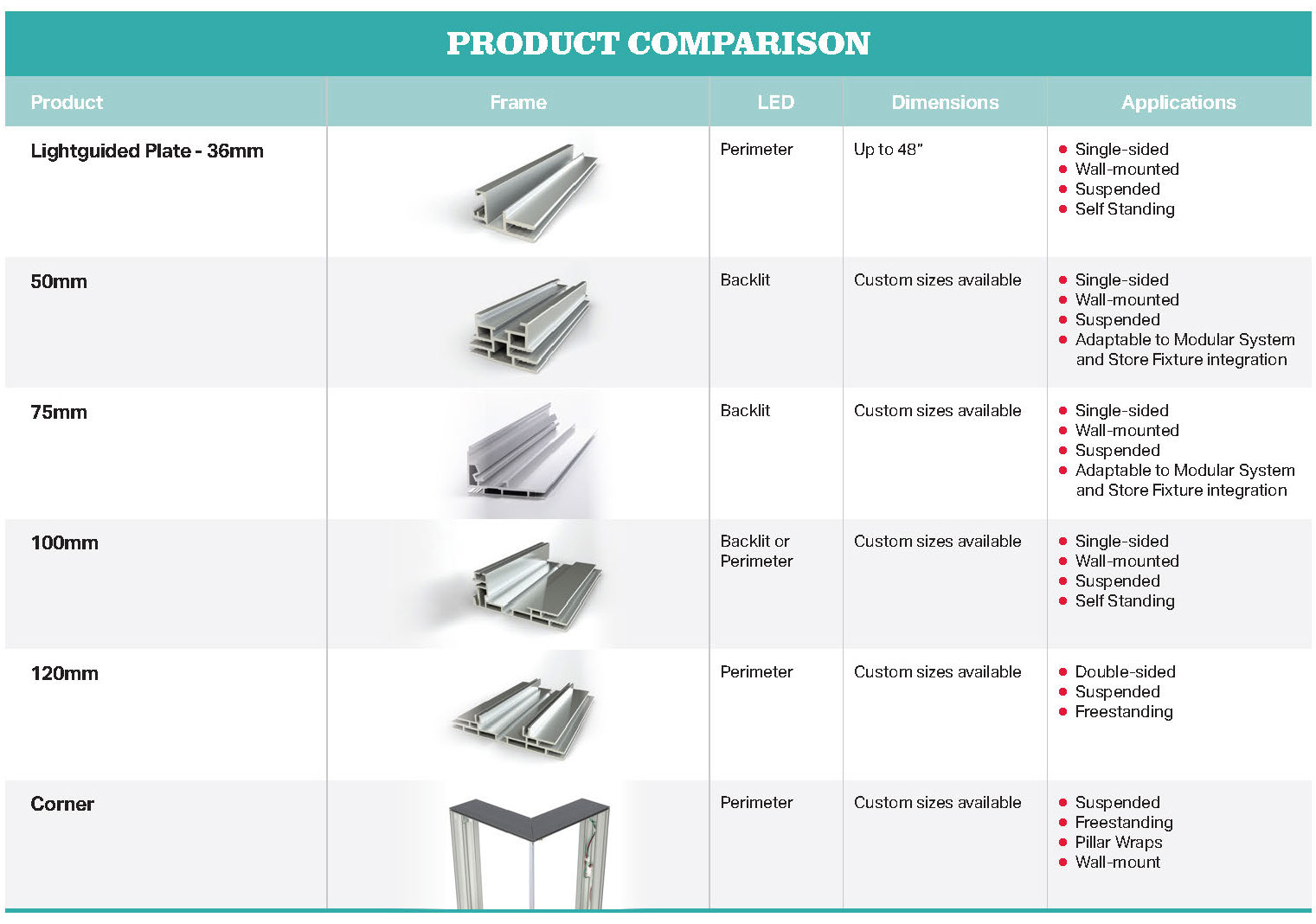 TLC: Industry-Leading, Customizable Lightbox Solutions
The Look Company's industry-leading lightbox solutions give your brand managers and visual merchandisers the creative freedom to design innovative displays.
Use them to accent furniture displays, create inspiring storefront displays, and irresistible point-of-purchase product displays. Build lightboxes into freestanding partitions and product display units, or use them as wall treatments to create unique brand environments.
Get in touch with TLC today for stunning retail lightbox display solutions and other visual engagement solutions to wow shoppers in big box environments.