When live sports or games are held in a stadium or arena, fans from all over the region (or world—if it's an international level game) throng to watch a game they love, support their home teams or cheer on their favorite player.
An estimated 130 million fans attend professional and college games annually. And a whopping seven out of ten sports fans can correctly identify a product advertised to them at a sporting event!
It's no wonder, then, that brand managers and marketers love stadium branding. It is a highly effective marketing strategy that helps businesses build a brand identity and create brand awareness within a captive audience of potential customers. It offers a wide variety of advertising opportunities.
You can showcase your brand in different formats and locations in and around the stadium, common areas, and commercial establishments like F&B outlets and merchandise shops.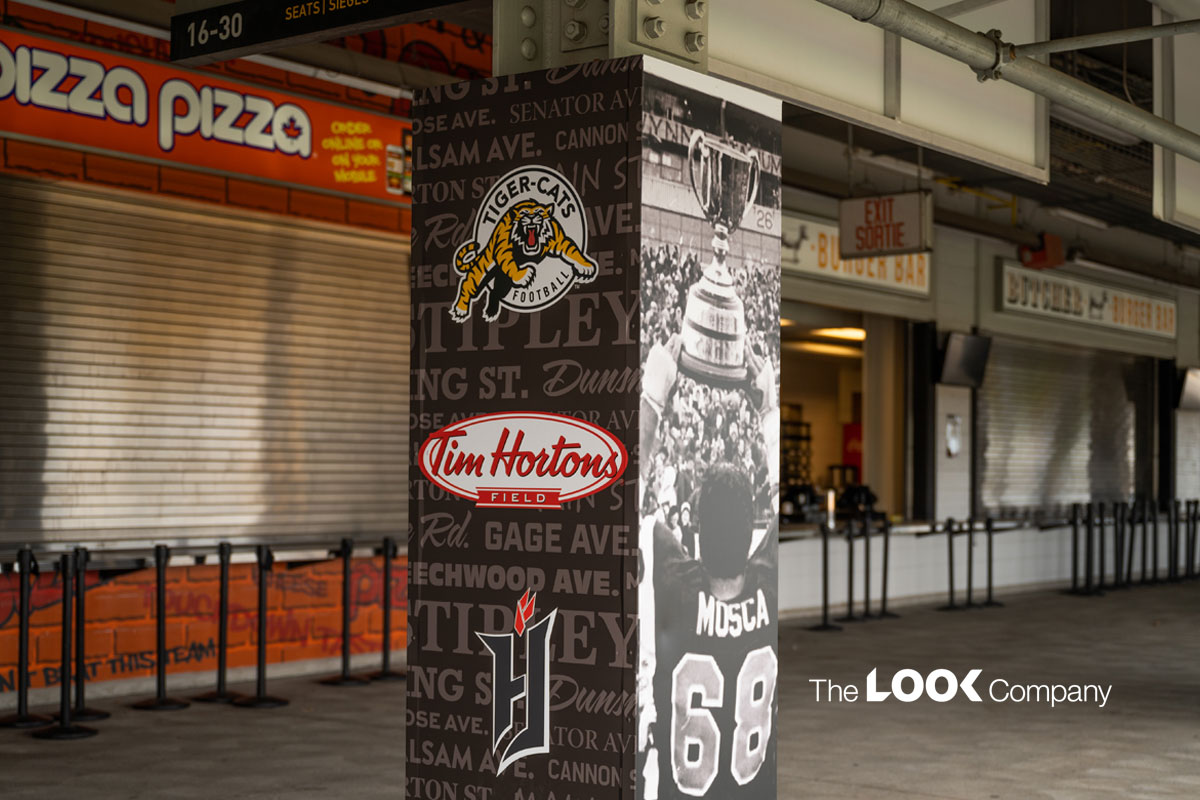 What is Stadium Branding, and Why is it Valuable for Businesses?
Sports stadiums offer advertisers many opportunities for branding—from locker rooms to VIP lounges, team dugouts to parking areas and F&B hospitality outlets.
Businesses have the opportunity to have their brands displayed on any of these:
Large-format wall graphics

Flags and banners

In-bowl graphics such as vomitories, fascias, field-of-play headwalls

Floor decals

Stair risers

Interactive fan zones
The bold, memorable graphic signage and displays foster a lasting connection between fans, the venue and the teams that play in that stadium.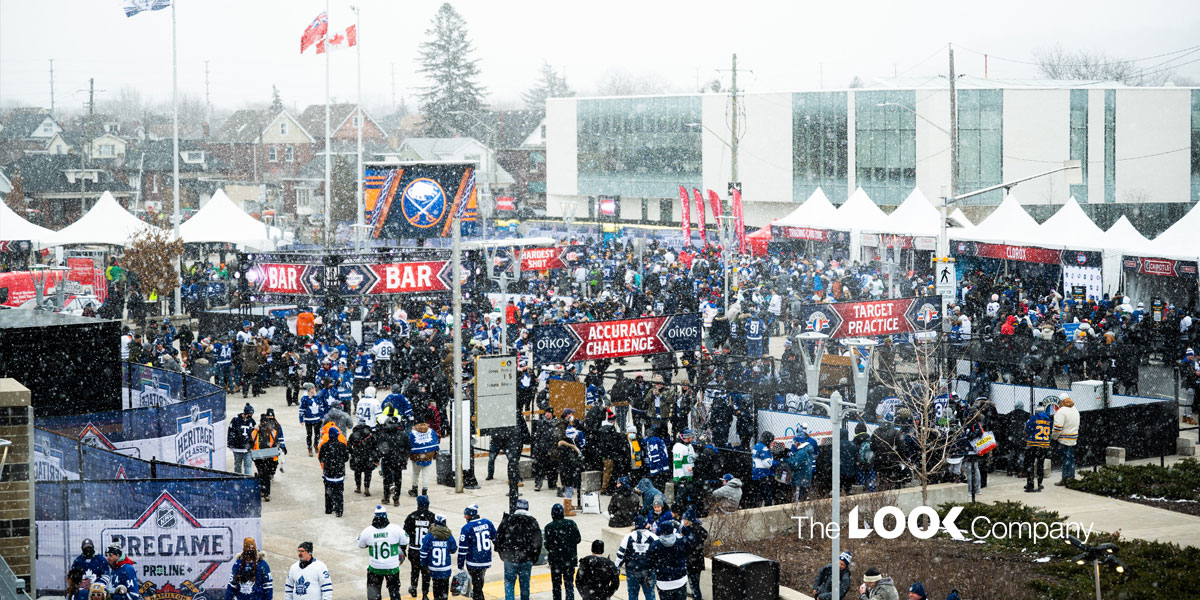 Some of the Main Advantages of Stadium Branding
You can create a design for stadium signage and reuse it for an entire season, attracting tens of thousands of eyeballs of a specific demographic in an essentially captive audience. 

Once the event begins, your audience can't turn off your ads or branded signage! Nor are they likely to leave (or switch channels!)

Stadium advertising signs are so cleverly placed that as the fans follow their favorite team or players on the field, they see the branded signage sub-consciously as they follow the game.

You need not worry about time slots like you do for radio or TV commercials, nor do you need to look at readership metrics like you do for magazines or distribution metrics like you do for newspapers.

You can rest assured that if there's a live sponsored event in a large national-level arena, it will be a packed house with thousands of passionate, cheering fans!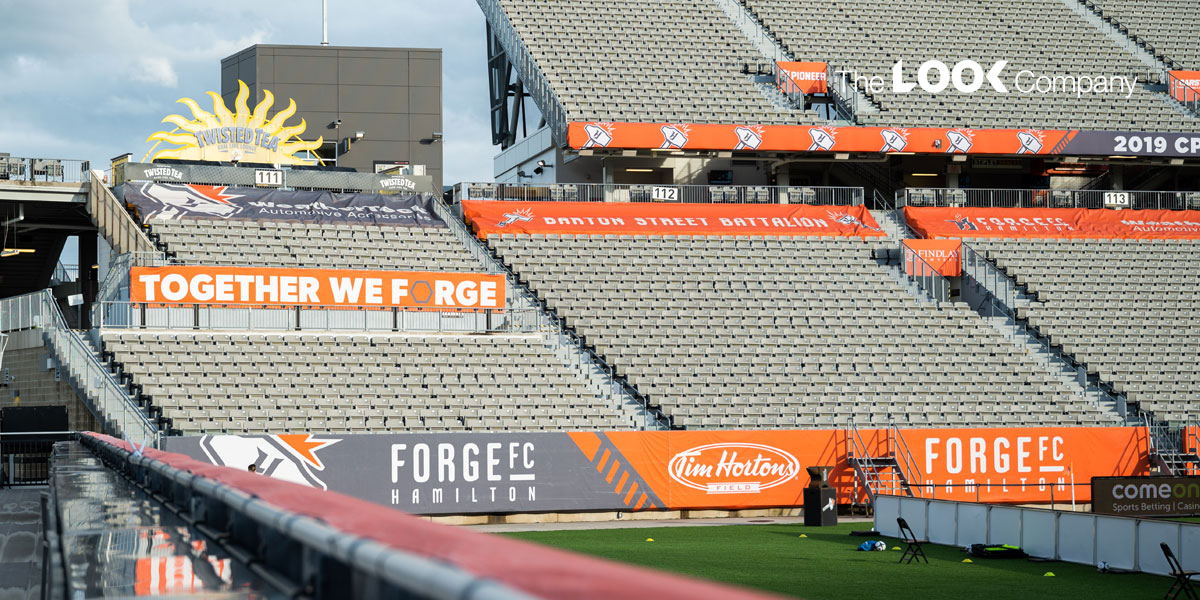 The Future of Stadium Branding: It's all About the Fan Experience!
Live games are back with a bang after a long hiatus. Per a CNBC report, several sports leagues and teams are looking to upgrade their home venues or are looking for new stadiums. As a result, we could look at over $10 billion in investment for sports arena development by 2030. 
That's a lot of potential space for branding and sports marketing.
And indications are that the future of stadium branding is in improving the fan experience and not just creating brand awareness. 
For example, Harrogate Town (a League Two professional association football club) has appointed the club's first-ever Fan Engagement Manager to improve the matchday experience and keep fans engaged.
Sports events offer umpteen advertising and branding opportunities to reach thousands of eager fans in the right mindset to appreciate the brand experience. 
From college-level football stadiums, basketball arenas or baseball fields to professional-level NBA arenas and NFL stadiums, there is ample opportunity for any brand or business to find the audience that fits their advertising goals.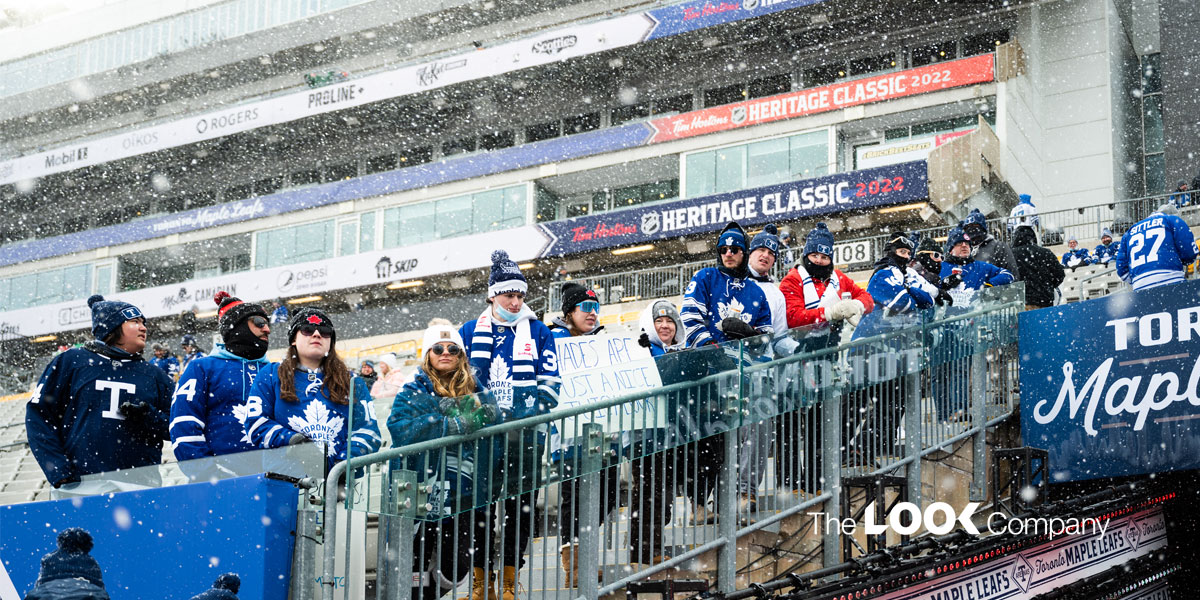 Why do Companies Pay Millions of Dollars to Display their Brand at a Live Sports Arena?
A live event with their favorite team or players is an exhilarating experience for sports fans. Stirring anthems sung proudly, fans sporting their team's colors—almost like warriors ready for battle!
It's the ideal setting to get your brand before the eyes of your target audience.
The fan experience starts much before the game day. Fans book tickets way in advance. As soon as fans enter the stadium, they want to enjoy the experience: before, during and after the game. While the game and its intricacies are most important for the diehard fan, creating memorable and shareable moments is more important for many fans.
Stadium branding offers a unique opportunity to foster a sense of community, belongingness and pride in the home team. The shared experience is fed by the energy and passion of both players and fans, creating a lasting emotional connection between the fans, the community and the home team.
Fans are driven by this emotional connection and a perceived sense of shared value or goals. Together they root for their team with visible passion and emotion.
Sports advertising is a unique opportunity for sponsors to tap into a sense of community that cannot be matched. 
The best companies market their brands to sports fans based on this deep connection and the experience the fans want at a live event. This is a powerful marketing tool for businesses. Fans start associating the home team with the brand that is advertised in the stadium. 
For example, if a big brand like Starbucks sponsors a stadium's wayfinding signage, fans will remember the branded signage and associate Starbucks with the stadium. Consequently, they're left with a feeling that Starbucks is directly connected to their favorite home team (and, therefore, to the fans themselves!).
Advertisers must carefully map out the potential journey of the sports fan during a live event. Starting from their arrival and entry into the stadium, through their experience during and post the game and their interactions at fan zones, F&B stations, and team merchandise shops. If they work on improving every aspect of the fan experience at these touchpoints, they can yield branding benefits far beyond their investment.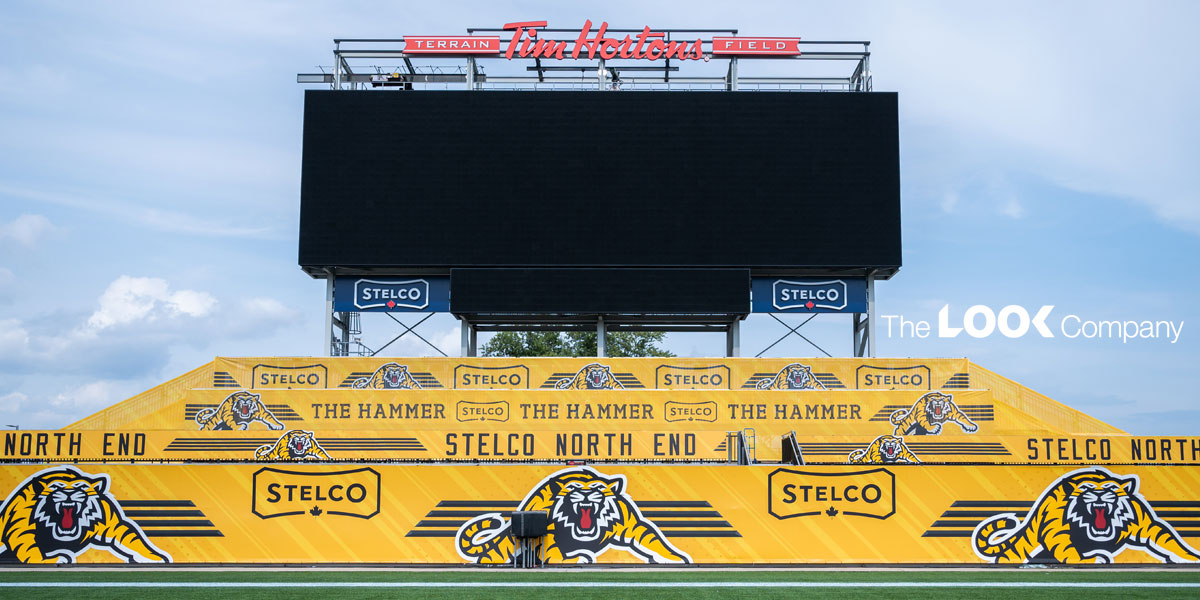 In Summary
The Look Company specializes in visual engagement solutions for sports events and live arenas. Our vividly colored graphic prints, modular framing solutions, and other printed graphics promote, attract, and engage visitors from the community, home team supporters and fans of the game.
Here are some of the stadium branding elements TLC can customize for live sports arenas: 
Branded photo walls or media backdrops for stadium interiors

Printed sports memorabilia and fan zone graphics

Exterior wayfinding signage to guide spectators

Field-of-play headwalls

Athlete tunnels

Floor decals and stair risers

F&B popups

Banners and branding for sponsored fan zones

Exterior event branding or city dressing
Get in touch with TLC today for stadium branding solutions and stunning event branding graphics to wow sports fans, their home teams, and the players themselves!