Unique clothing display ideas are critical for retail success—whether in high-fashion boutiques, luxury fashion brand showrooms or a big box store.
The world's best brands are moving away from passive in-store installations that merely display apparel on mannequins to more striking, immersive fashion displays that engulf shoppers in a memorable shopping experience and reinforce the brand's identity.
Innovative fashion displays create visual impact, sparking curiosity, evoking emotions, and leaving a lasting impression on shoppers.
Compelling clothing display ideas not only keep your fashion store buzzing with customers but also create a distinctive identity for the store that engages fashion enthusiasts and keeps them coming back for more—during every season and for every new trending style. 
In this article, we discuss:
How retailers can benefit from unique clothing display ideas to enhance sales and build a distinctive identity for their store

Techniques to effectively showcase clothing items and convey a brand's story

How the strategic use of modular display systems, integrated fixtures, and other visual engagement solutions creates visual impact
The Look Company specializes in visual engagement solutions that help fashion retailers create iconic window displays, immersive in-store experiences and promotional displays with quick change outs for high-sales-velocity products.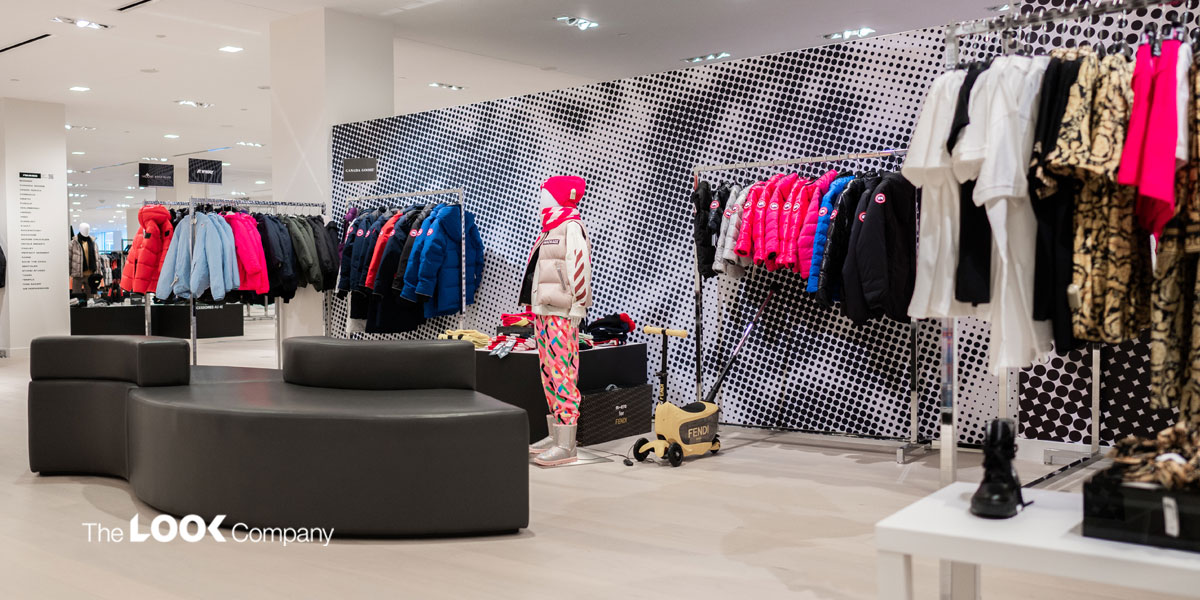 Benefits of Unique Clothing Displays

Fashion store display ideas go beyond aesthetics to bring retailers real business benefits.
Using innovative retail clothing display ideas, your visual merchandisers can draw in passersby, generate customer interest in seasonal sales or featured styles, drive higher sales velocity, and differentiate your store from competitors. 
Here are some key benefits of incorporating retail clothing display ideas in your marketing plan:
Create a buzz with creative clothing display ideas. Once you have a compelling display, it entices shoppers to share photos and videos of your store and products. Social sharing can expand your brand's reach exponentially. Brand ambassadors and influencers also love sharing unique ideas on social media as well as through word-of-mouth.

Draw foot traffic into the store with compelling window displays. Appealing fashion display ideas or themed concepts in your storefront windows capture attention, pique the interest of passing shoppers, and draw them into the store to discover more.

Increase dwell time by engaging in-store shoppers with immersive displays. Use strategically placed signage or floor markings as visual cues to guide shoppers' movement through the store, taking them into various store sections before they arrive at the checkout area. 

Encourage impulse purchases and increase basket value with displays that bundle several items. You can also create impulse-buy zones by placing small, low-cost, or on-sale items near checkout counters to encourage last-minute impulse purchases.

Showcase your brand's identity with displays that weave a story around your brand. Relatable stories and experiential displays engage shoppers and make the shopping experience memorable. Tell a good story, and shoppers are more likely to remember your brand and come back for more.

Differentiate your store from the competition. The more unique and striking your fashion displays are, the more likely it is that customers will remember them distinctly. Distinctive retail displays help your store stand out from the competition and enhance your brand's recall.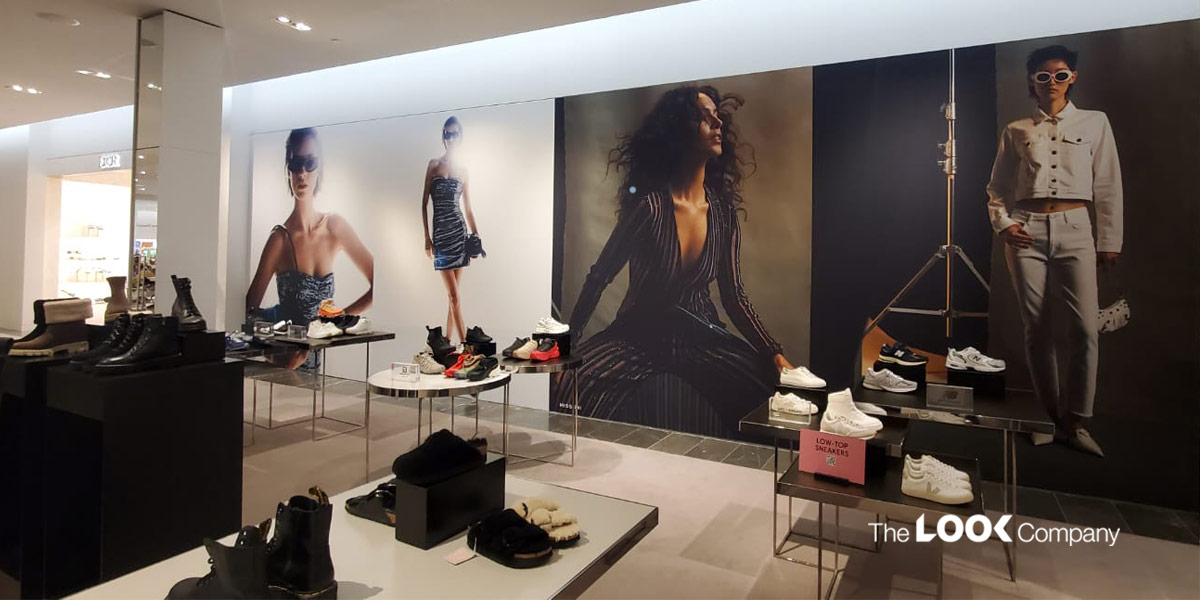 Creative Merchandising Techniques for Clothing Displays
Let's look at some best-in-class techniques to showcase fashion merchandise and effectively convey the brand's story.
In-store activations or themed displays


Visual merchandisers often pick a theme or concept, organize an immersive display around it, and recreate a scene or an emotion connected with the theme.
Themed displays can transport customers into an experience that aligns with the brand's narrative.
Take the example of Anthropologie, the global women's apparel brand. 
Anthropologie's themed displays are carefully curated to reflect the brand's eclectic and bohemian style.
Anthropologie is known for visually captivating and immersive displays that align with the brand's story.
Ever-changing exhibits and seasonal store displays are integral to the experience, transporting customers into a world that aligns with their brand identity. 
As Erika Lavinia, their visual design lead, puts it, "We want to help create spaces that our customers want to live within... I loved one of our fall windows where all of the oak leaves were cut from recycled mail and repurposed Anthropologie bags!"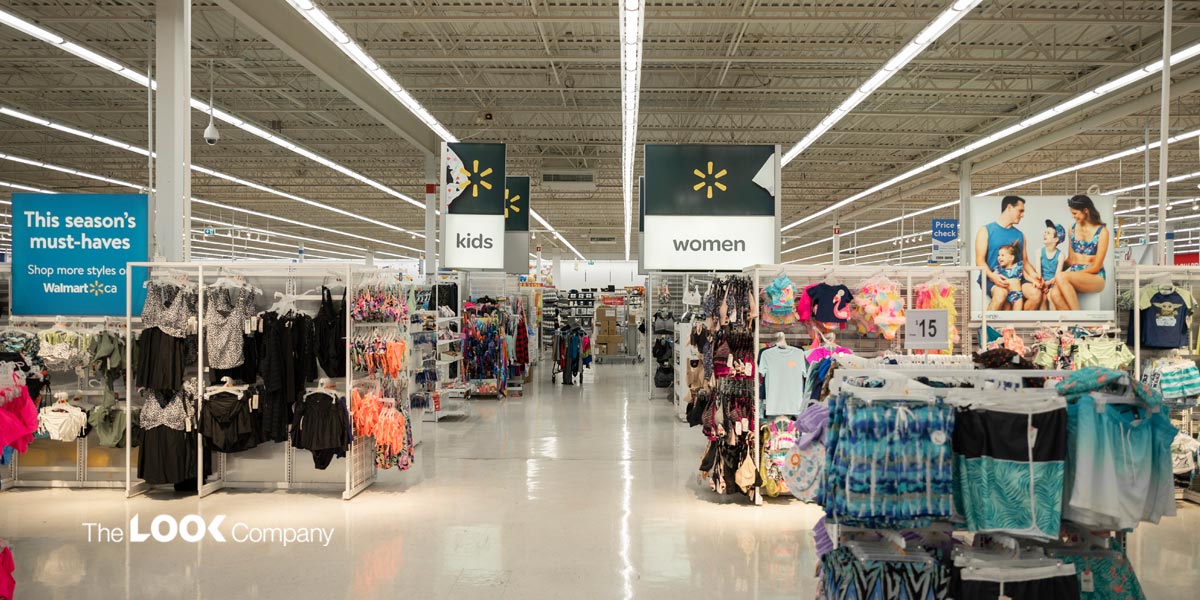 Signs & banners that create visual interest




Signs and banners generate visual impact throughout the customer's store visit—from the time they walk into the store right up to the checkout. 
Appealing storefront banners entice customers to step into the store and explore products and brands.

Impactful in-store displays on the power wall, endcap displays, wall-to-wall, large format graphics or signs engage customers.

Wayfinding signs help customers navigate through your store, while informational signage helps them learn about products or brands and aids their buying decisions.

Promotional signage or standalone displays near the checkout area are effective ways to encourage last-minute impulse buys.
Lightboxes that set the right mood

Another technique that not only enhances visibility but also creates an ambiance that is conducive to shopping is backlit imagery and signage.
Lightboxes with vibrant prints draw attention to specific displays or store sections. Hung from the ceiling or installed high up on walls, they can be seen from afar.
Lightboxes are versatile. Available in various sizes and finishes, they can be integrated into endcap displays used as corner stands or standalone displays. Whichever way you use them, they are sure to entice shoppers with unmatched sophistication and quiet elegance.



Modular Display Systems: Bringing Clothing Display Ideas to Life!

The Look Company specializes in display solutions that are uniquely designed to fit with your existing store shelving units or millwork displays. These components complement your existing fixtures with integrated graphics to create engaging visual displays.
Our modular display systems are flexible and can be easily configured to create temporary walls, displays, and pop-up kiosks. They are completely customizable and give your visual merchandisers unlimited design flexibility to include lit, non-lit or digital components.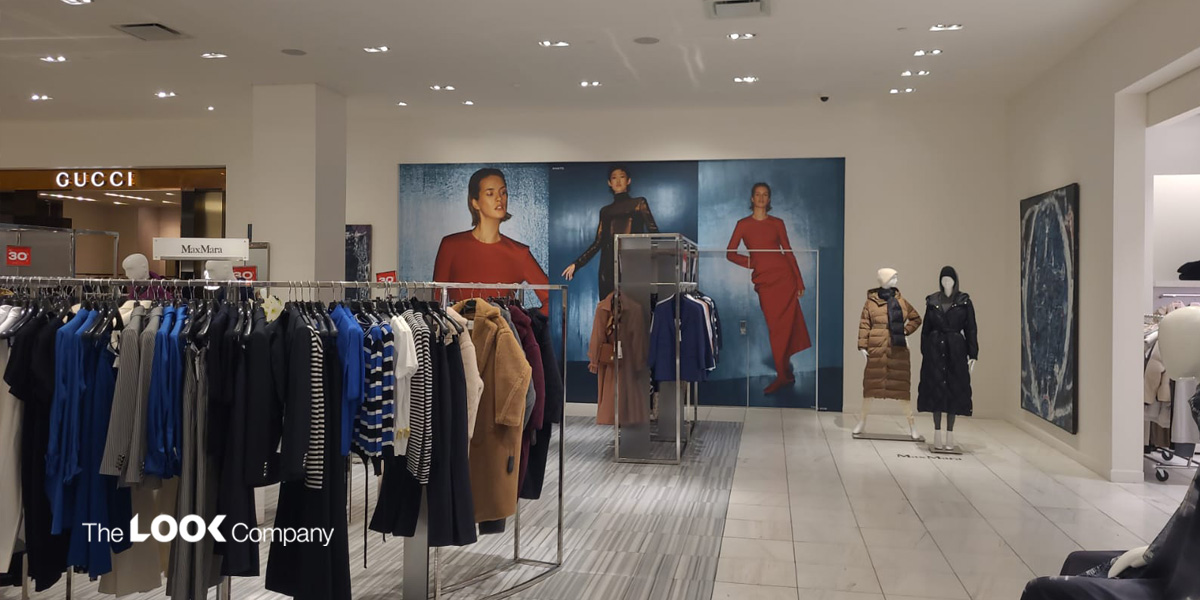 TLC: Innovative Display Solutions for Fashion Retailers

TLC's modular display systems and immersive retail signs and banners encourage your visual merchandisers to think creatively and experiment with unique display ideas to differentiate your brand and drive customer interest.
Use our visual engagement solutions to create visual impact, spark curiosity, and communicate a brand's story to in-store visitors. 
Connect with us to understand how we can bring your clothing display ideas to life with our visual engagement solutions.