Summary:
SWAS or 'store within a store' is an experiential retail strategy that's proving to be a win-win for host retailers and brands that want to expand their physical presence—without a large investment of locked-in capital. But is SWAS a passing fad? Or will it prove to be a forever retail strategy? Read on to discover the answer!
---
In retail, you keep up with the latest trends, consumer behavior, and preferences—or be left behind! 
One such trend that has grown in popularity over the last couple of years is SWAS, or 'store within a store.'
SWAS is not a new idea. Cosmetics and beauty brands, in particular, have favored the try-before-you-buy approach for a long time—notably in stores like Sephora and Ulta.
SWAS is ideal for brands that want to tailor an in-store customer experience with experiential beauty services or play tables where shoppers can discover and test products.
It is also a great solution for brands that want to focus on storytelling or create a concept store—like MAC's first-ever youth concept store in Orlando, featuring a product play table.
The Look Company offers a range of modular display systems to help you create adaptive and flexible pop-up stores.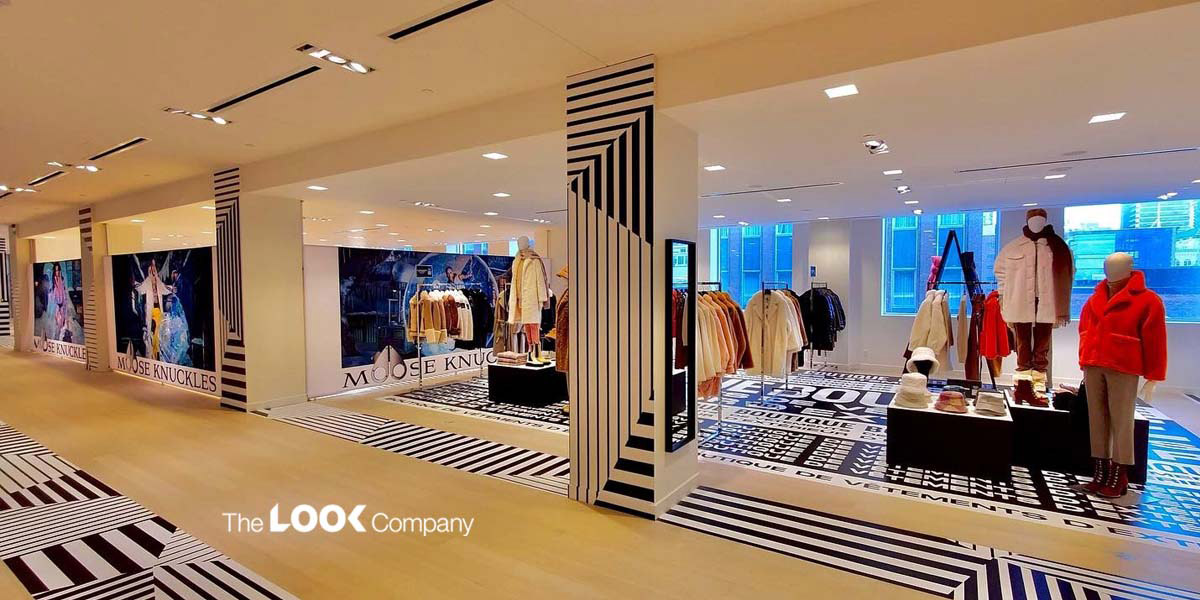 What is a Store-Within-a-Store (SWAS)?

SWAS is essentially an experiential retail strategy where retailers can rent out space to partnering brands, usually on a temporary or short-term basis. 
The SWAS concept has already been used for co-selling in categories that traditionally go together, such as fashion & accessories, bookstores & coffee shops, and cosmetics & perfumes, among others. 
Departmental stores like Walmart have used the store-within-a-store format to test new products or special promotions. 
It's an excellent strategy for large department stores or big box retailers to form short-term partnerships with local, upcoming brands, region-specific brands or 'flavor-of-the-month' categories like organic products or environmentally-conscious products, which grab the attention of a larger portion of consumers.
If the match between the host retailer and the brand occupying the rented space is synergistic and well-accepted by consumers, SWAS can be a win-win for both parties.


Types of Partnerships that Benefit from the SWAS Strategy
Pop-up stores are an ideal way for online stores to enter the brick-and-mortar space or for big box retailers to experiment with new retail partnerships with complementary products or synergistic brands.

Direct 2 Consumer brands (D2C) that have a largely online presence can piggy-back on large retailers, use their infrastructure and logistical setup and access a shared target audience at a low cost of acquisition.

The 'bed-in-a-box' startup Casper disrupted the mattress market with their digital-first brand. Casper struck a deal with Target to stock their 'no-choice, single-option' mattresses in over 1,000 stores. Casper was also stocked at 80+ different West Elm locations across the country.

Local, regional or boutique brands that want to experiment with a new market can use a SWAS partnership before launching their brand store.
DTC skincare brand Bubble tied up for a SWAS partnership in 3,800 Walmart stores in the U.S. By carrying Bubble products, Walmart catered to a younger consumer group. For Bubble, the partnership made its products more accessible to its target audience.
Retailers who want to provide evolving experiences to shoppers can invite brands that satisfy the shoppers' thirst for new, innovative and trending products or categories.

Retailers who move away from the brick-and-mortar format due to financial reasons can maintain a physical presence without the heavy infrastructure and overhead costs of independent stores.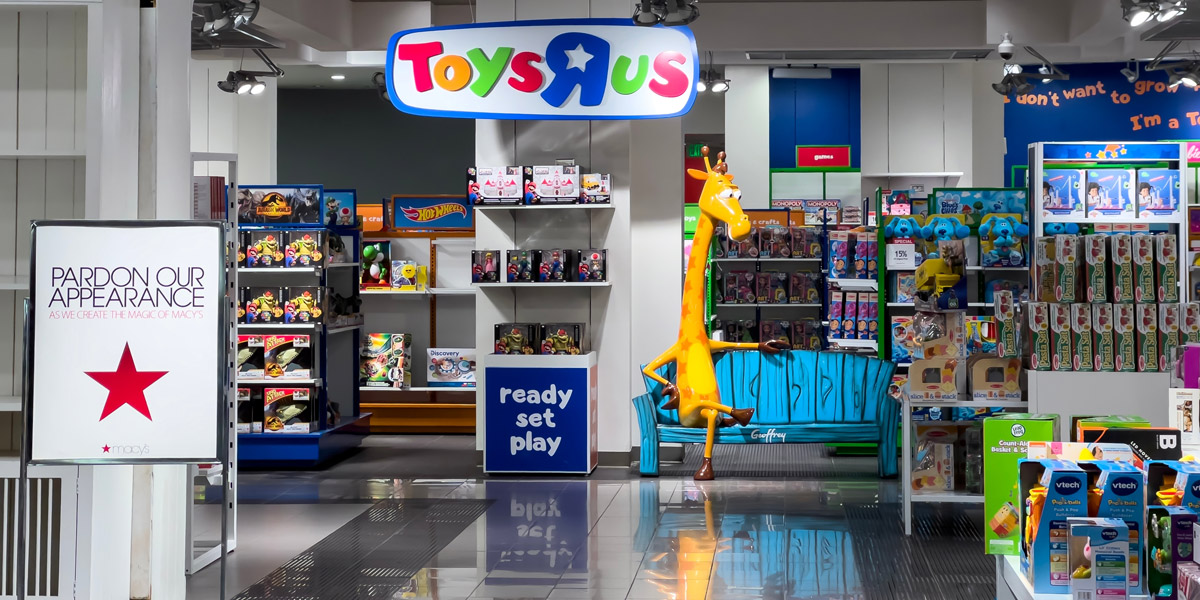 Photo credit: Colleen Michaels
One of 2022's most prominent SWAS tie-ups was the deal between Toys R Us and Macy's. After Toys R Us filed for bankruptcy in 2017, it was left without a brick-and-mortar presence in the U.S. For Macy's, the 'shop in shop' partnership with Toys R Us was a great choice as it planned to expand the size of its toy business.
TLC supports the SWAS model with modular display systems for temporary pop-ups, in-store kiosks and easy-to-changeout product displays. 
You can create custom freestanding graphic displays by simply connecting panels together using our wide range of connectors. Or you can apply custom powder coated colors to the aluminum frames to customize your modular display and match your branding.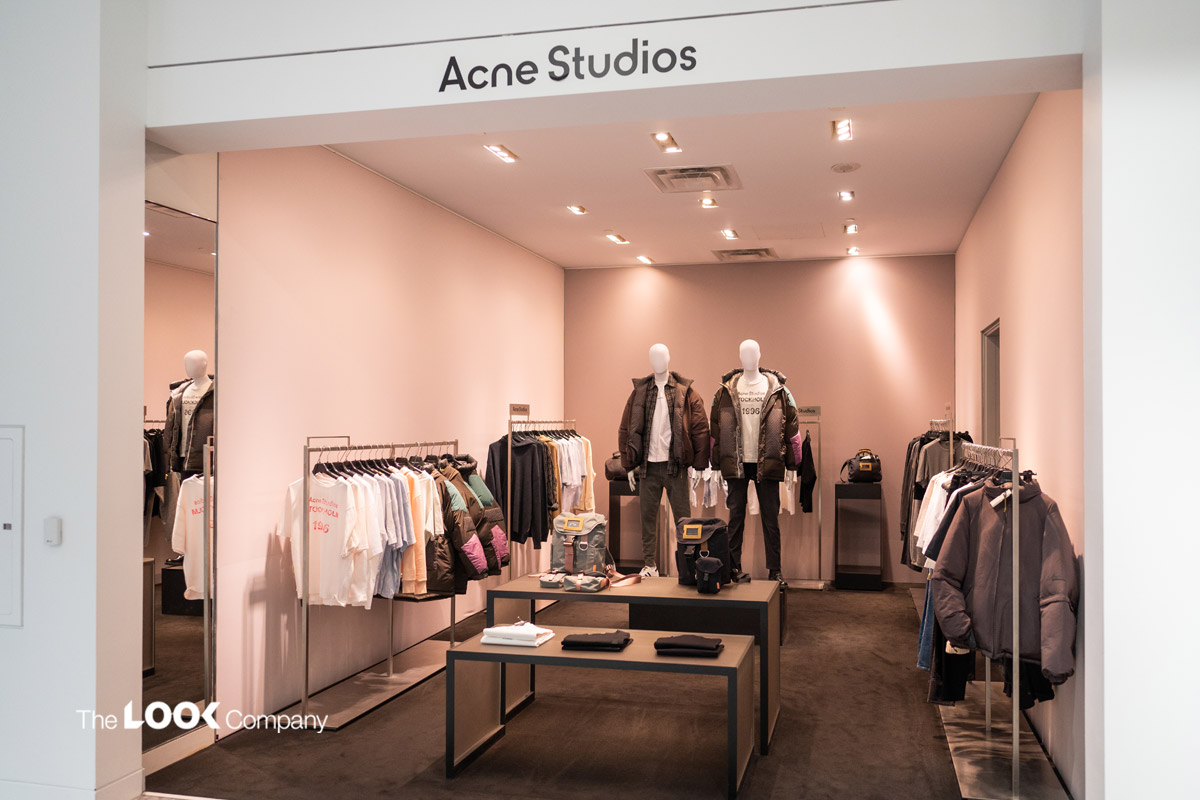 The Benefits of SWAS



Freshness:
Retailers that offer different pop-ups or SWAS partners regularly give their customers a reason to re-visit their store.

Experience:
Pop-ups or temporary SWAS formats offer promotional giveaways, product demos, tasting experiences or learning experiences to in-store visitors.

Omnichannel activity:
SWAS promotes or supports an omnichannel experience which is crucial to retail success. For example, a cosmetics brand with a pop-up store can allow customers to book an appointment via their website for a demo or free experience at the store. 

Uniqueness & innovation:
Well-picked SWAS partners can lend a uniqueness to legacy retailers who can't produce innovative products frequently or to the often dull 'sameness' of departmental stores.
Petco Health and Wellness Company, Inc. has partnered with the iconic retailer Canadian Tire to make its pet products available in dedicated shop-in-shops across 450 Canadian Tire stores (90% of the company's total locations) in 2023.

Increased foot traffic:
Pop-ups provide brick-and-mortar retailers with fresh and interesting ways to increase foot traffic. For example, Macy's began adding Starbucks coffee into its stores, so their customers could take their time to browse around the store, finish their purchase and then sit down to enjoy a refreshing cup of coffee.

Additional revenue:
A SWAS strategy allows the host retailer to earn a rental income by giving out floor space to another brand. The host also makes additional revenue from impulse buys from walk-in shoppers attracted by the pop-up store.

Marketing advantage:
When a big brand like an electronics major sets up a temporary pop-up in a departmental store, it lends credibility to the (comparatively smaller) host retailer. A popular or famous high-end brand association gives the host a marketing advantage.

Captive audience:
SWAS gives small or young brands an affordable option to expose their products or services to a valuable and captive audience within the premises of an established, larger retailer.
Read how Popable, a pop-up shop platform provides growth opportunities for emerging brands with short-term rental leases with local retailers like Walmart. The partnership helps bring new brands to local communities while giving small brands significant foot traffic.

Cater to Gen Z:
SWAS appeals to Gen Z, who will hold a large portion of purchasing power in the next few years. According to a survey of 1300 Vogue and GQ readers in the U.S., this generation looks for innovation, is willing to try newer, more innovative products and prefers genuine experiences rather than old-fashioned marketing promotions or advertising.  
For example, fashion brand Fendi collaborated with Skims shapewear, creating the much hyped Fendi x Skims capsule—a collection that united the aesthetic codes of the respective brands to create a capsule wardrobe for the modern woman. An interactive pop-up installed at Holt Renfrew Yorkdale featured the bold and colorful hues of the collection with an animated video and photo output where shoppers could  capture images to upload and share on their social profiles—an ideal way to create buzz online for a Gen Z audience!
As Fendi's iconic designer Kim Jones put it: "We share a desire to push boundaries, think differently and challenge convention which is why we found so much common ground collaborating on this collection together."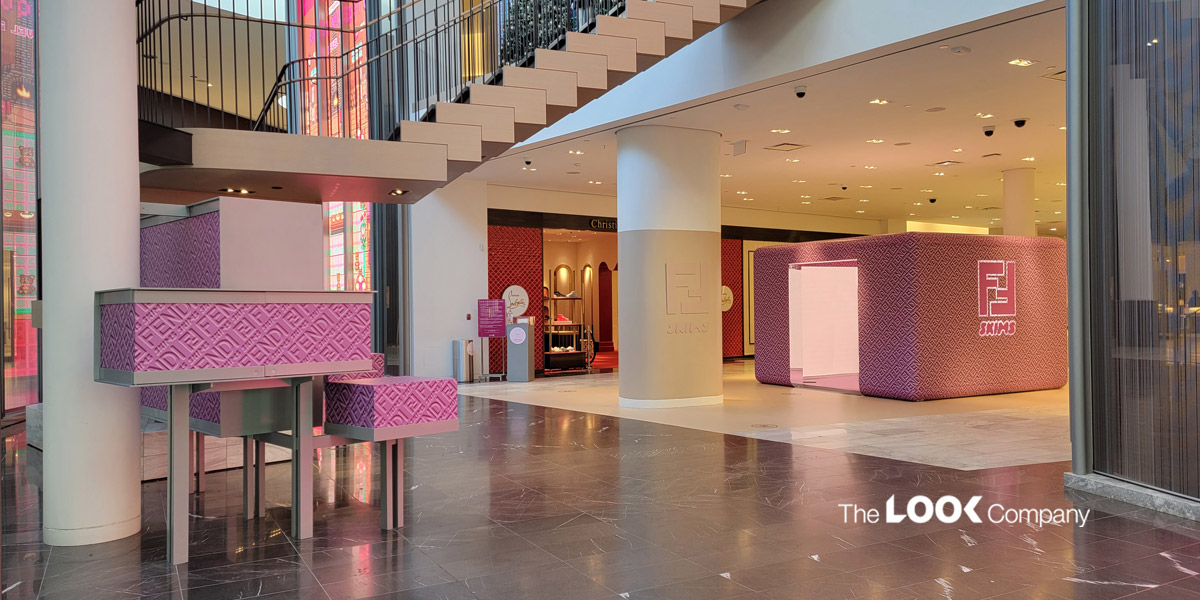 To sum it up: SWAS is an excellent strategy for products and services not competing with the retailer's offerings and improving the overall shopping experience for customers. 
Far from being a passing fad, you can expect pop-up stores to revive the brick-and-mortar store format with unique, interactive, and customized in-store experiences.



Store-Within-a-Store: How TLC Enhances the In-Store Experience for Shoppers with Modular Display Systems

Here's how The Look Company helps you create temporary pop-up stores and easily configure them with modular fittings.
Make frequent change-outs to display banners and fabric lightbox prints. Easily dismantle your pop-up display system—most components can be transported, knocked down—and reassemble it in a new location! 
You can also download our guide on Modular Display Systems to understand more. 
Use our modular display systems to enhance immersive spaces as fixtures, standalone displays, pop-ups, kiosks or large-format graphics.

Create walls, corners, booths or complete rooms. Integrate lit and non-lit fabric panels and digital screens for an omnichannel display.

Modular connectors provide unlimited design flexibility to connect panels welding or bending like typical fixtures.

A full range of accessories to customize your modular display. Add light integrations, millwork, and powder-coated finishes to create a unique brand experience. 
Get in touch with TLC today and find out how our modular display systems help you make the most of a SWAS retail strategy.