Retail stores have been perfecting the art of window displays for ages. Why? Because they realize that they have just a few seconds to catch the eye of passers-by and entice them into their store.
How do you design your retail window displays to stop shoppers in their tracks, give your store a second look—and walk in?!
Firstly, Who Exactly is a Window Shopper?
A window shopper is someone who visits shops or malls, browsing through products on display without the intent to buy anything! So why would people spend precious time on such an unproductive activity?
Well, it's a stress buster for one—retail therapy, as we like to call it. It helps shoppers stay in touch with the latest trends and styles, with what's new in  stores. You get an idea of prices, and it satisfies an exploratory instinct we all have to know what's in our environment. And for some, it's entertainment—a bit of change from work and home—with no need to spend money.
In a recent post-pandemic survey conducted by NPD, more than one-third of consumers (36%) said they missed browsing retail store aisles, and 21% said they missed viewing creative holiday displays, windows, and decorations. That's how prevalent window shopping is.
But should retailers take window shoppers seriously—if, by definition, they have no intent to purchase something?
Several studies indicate that retailers would do well to treat window shoppers as prospective customers. Even if they don't have a purchasing intent at that moment, they're definitely interested in the products or the brand that is being showcased. 
Moreover, shoppers are drawn to storefront windows just like they are attracted by advertisements. So window displays act more like ads than merchandising displays.
These observations give us cues about designing store window displays that can turn your target audience into customers.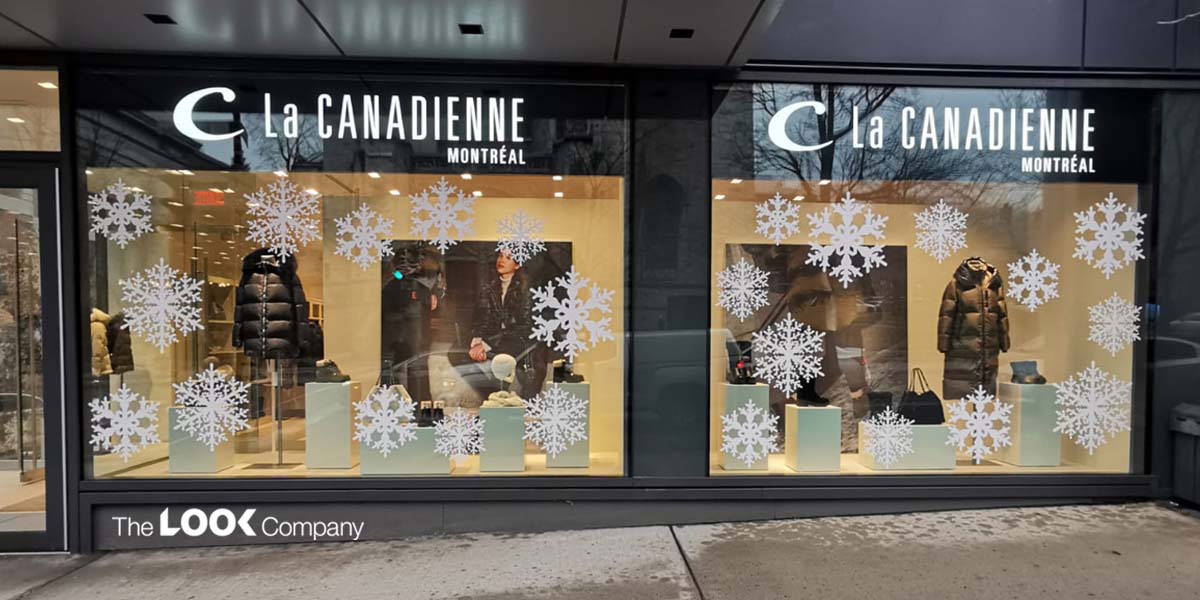 Types of Window Displays
Visual merchandisers pay special attention to window display ideas and designs. The shopfront window is an integral part of merchandising strategy. Using this space innovatively can turn window shoppers into customers.
Windows that Display Specific Products
In retail, straightforward is sometimes the best way to sell. Want to increase sales? Display your bestsellers in your storefront window and make the product the focal point. Who says you always need a story to sell your products? Sometimes, it's best to keep it simple and let your products do the selling. For example, a department store can use advertisement-style banners to convey product information or pricing and design visually appealing signage.
Window Displays that Sell a Brand's Story 
Research shows that window displays function more like ads. Some visual merchandisers prefer to focus on displays that tell the brand's story, create appeal, entice the visitor to find out more about the brand, or build an aspirational appeal for the brand.
Windows that Reflect the Retailer's Brand Values
Instead of focusing on a product or a brand, some retailers use their window displays to reflect their brand's values—what the brand stands for. For example, the cosmetics brand Lush creates window displays that reflect their commitment to organic or natural products.
Once We've Enticed Shoppers into the Store, What's Next?
Your visual merchandising teams and display designers have worked hard to draw window shoppers into the store—the last thing you want is to have them leave the store without making a purchase.
Here are our top three tips for converting window shoppers into customers: 
#1 Capitalize on the Impulse to Purchase 
Retailers consider that about half of all brick-and-mortar store purchase decisions are made on impulse. That's why attracting foot traffic into the store is so crucial. Window displays offer that brief glimpse of what to expect inside the store and entice shoppers to step in. Once inside, visual merchandisers use the power wall—the first area to the right—to showcase their most important merchandise. These could be products on sale, the latest additions, seasonal specials or products that are usually purchased on impulse.
#2 Engage Shoppers In-Store
Get shoppers to try out products or experience the benefits of your products or services. It could be as simple as a product demo, free samples, or free tastings of food products. Informational displays, immersive graphics that create an ambiance the shoppers aspire for, or kiosks that shoppers can interact with are all great ways to engage shoppers.
#3 Make the Purchasing Process Easy and Comfortable
Engaged shoppers can be coaxed into a purchase! Strategically placed product shelving at eye-level, thoughtfully designed layouts, in-store graphics, judicious use of lighting elements to draw the eye and wayfinding signs that lead shoppers through the store are all critical. In addition, an easy checkout system and a comfortable store ambiance help convert engaged shoppers to customers.
To Sum It Up
Attractive window displays help draw in customers. You can use window displays innovatively to display new products, promote special or seasonal deals, convey your brand's message, and differentiate your store from your competitors. TLC has visual engagement solutions to draw in those valuable customers.
Talk to The Look Company for retail graphic solutions, signs and banners and stunning custom lightboxes that entice shoppers and convert them into customers.