As the year starts winding down, retailers have a busy time.
Seasonal promotions, discounts, holiday-special products and gifts—there's much to promote and display. 
But retail's busiest days start about 5-6 weeks before Christmas. Come November, shoppers are in a frenzy to finish holiday shopping. Physical retail is gearing up for a busy period. And retailers are under immense pressure to get their holiday promotions right.
In this article, we're doing a roundup of holiday retail display trends in 2023. We discuss the importance of investing in flexible and adaptable display systems that are easy to change out for multiple promotions. Look out for tips and strategies from our experts, who are masters of the art of seasonal displays!


Current Trends in Holiday Retail & Holiday Shopping Behavior



'Tis the time to shop & splurge!



2023 will likely be a memorable holiday season for retailers.
Shopping trends are normalizing after a couple of years, and in-store spending is expected to return to pre-pandemic levels despite inflationary swings.
According to the 2023 Deloitte holiday survey, 95% of consumers surveyed said they plan to purchase during this holiday season, and about three-quarters of them are expecting higher prices year over year. There is a strong spending surge expected from the crucial $50K–$99K and $200K+ income groups.
TAKEAWAY FOR RETAILERS
Prepare for higher sales volumes than the last couple of years. That means more revenue!



Nothing to beat that 'in-store' experience

Many shoppers prefer to browse around for inspiration for gifts in physical stores and malls to see what's new and what's on offer rather than browse for products online.   
According to some estimates, about half of all holiday shopping in physical stores still happens in late November and early December. About 66% of consumers (versus 49% in 2022) are planning to shop the week of Black Friday-Cyber Monday (BFCM).

TAKEAWAY FOR RETAILERS
Despite the convenience of shopping online, the physical retail landscape looks very bright! Especially as the holiday season peaks! Brands that offer BOPIS (buy online, pickup in-store) are likely to see higher conversions.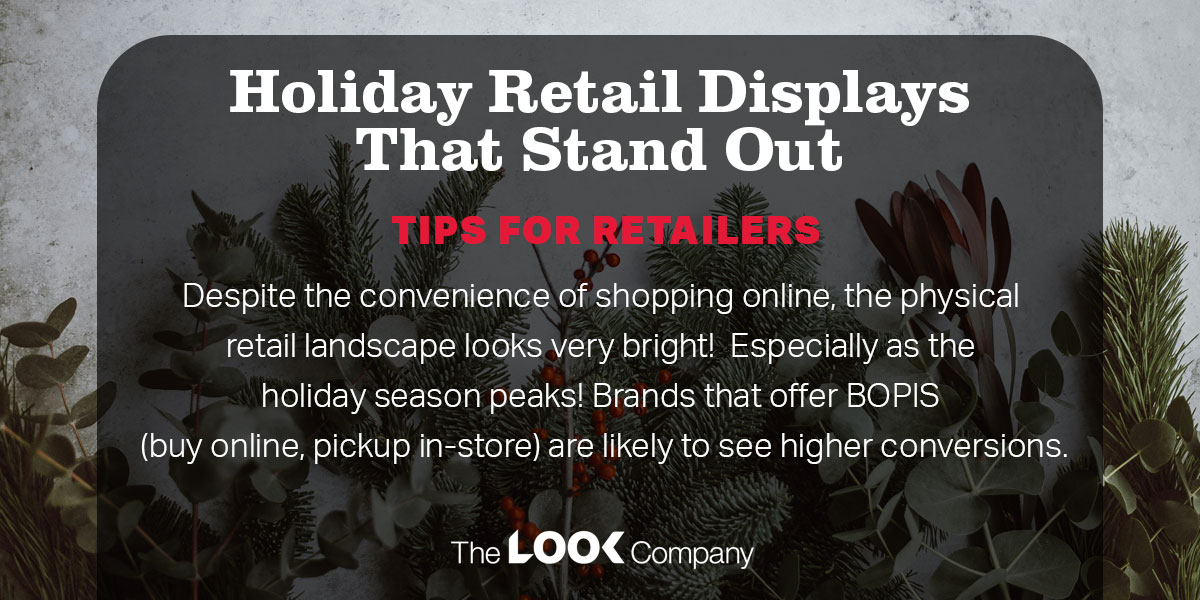 Shoppers are spreading out their budgets

Many shoppers likely start shopping early in order to spread out their expenses over a few months and accommodate Christmas shopping into previous months' budgets. So, when consumers start shopping early, it doesn't necessarily mean they finish their shopping lists well before Christmas—it's simply more spread out. 
TAKEAWAY FOR RETAILERS
Even if you start your holiday promotions well ahead of time, don't underestimate the importance of peak promotions in stores in November and early December.



November is key for holiday displays

Super Saturday, which is the last Saturday before Christmas, sees a huge amount of foot traffic in physical stores.
Even though shoppers may be ticking off about 20% of their holiday shopping lists by October, it is really November and December that we see the legendary holiday store displays come up—whether it is the Saks Fifth Avenue window displays that will be unveiled on November 21, 2023, or the Rockefeller Center Christmas Tree Lighting Ceremony 2023 that will take place on November 29, 2023. In Canada, the Distillery Historic District lights up from mid-November till Christmas Eve, and Hudson's Bay's picturesque holiday windows are a treat for the eyes, starting early November.
TAKEAWAY FOR RETAILERS
Change your in-store product displays often through the holiday season to keep shoppers engaged as they get through their shopping lists, month on month. And come late November, bring out the best of your window and storefront displays and watch your brand make its way into shoppers' hearts!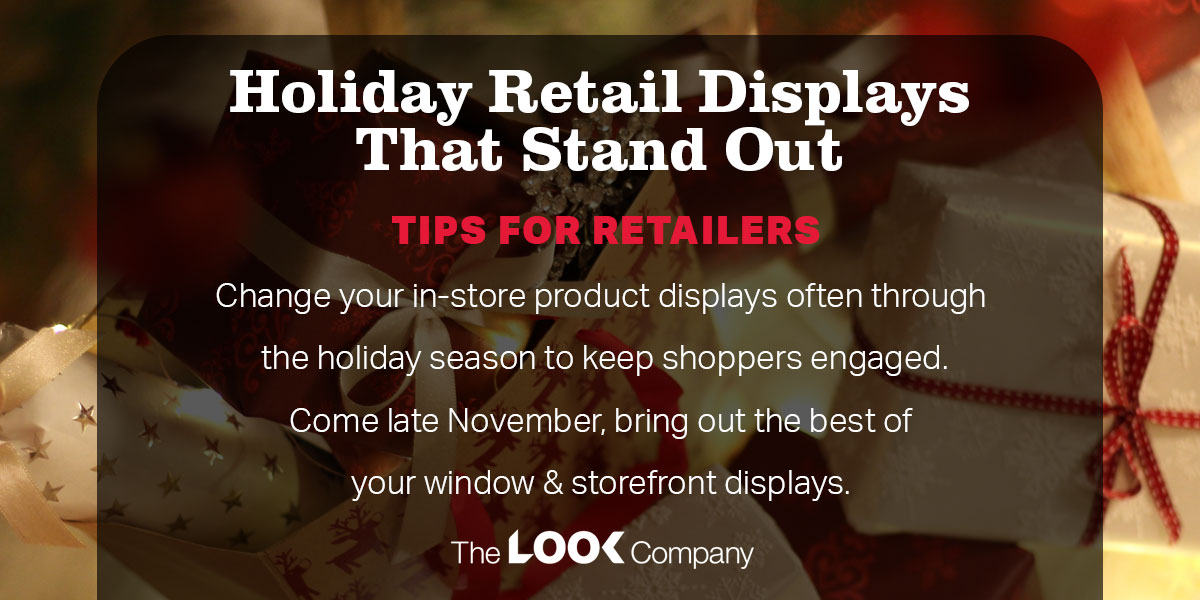 Find out more about The Look Company's modular display systems and fabric prints that allow you to change promotional displays quickly and easily throughout the holiday season.



Tips for Creating Standout Holiday Retail Displays

In November, holiday retail displays take over entire malls, not to mention the shopfloor of most retail stores!
It's the time that shoppers love to browse around the shops and get the feel of Christmas as stores go all out with their window dressings and holiday product displays.
And it's also the time that retailers must keep a sharp eye on how their holiday promotions are working.
Here are some tips and tactics to help you design and execute compelling holiday retail displays:

Flexible & adaptable displays

Modular display systems and easily changeable fabric prints are essential to staying dynamic and flexible throughout the holiday season.

TLC's fabric prints can be easily removed from their hardware frames and folded down to a handy size that's easy to ship or store. So you can change your displays during the holiday season to stay current, try different promotions and respond dynamically to consumer demand and trends.


Lighting it up: Backlit promotional displays

Backlit displays using super-sleek, seamless lightboxes are crucial for designing contemporary holiday retail displays that truly stand out. 

Choose TLC's space-saving and energy-efficient LED lightboxes with vividly printed fabric to create bold and stunning in-store displays.


Immersive displays: A tale for every season

The end-of-year retail season includes a series of festive holidays, each with its own symbolism and color palette. Engage shoppers with an engaging story for each festivity. Use TLC's modular display systems to create immersive displays. Create temporary walls, booths and pop-ups. Use freestanding kiosks and digital screens to engage shoppers with visual narratives.



In retail, product placement is everything!

Placing standalone displays strategically across the shop floor is crucial. Identify high-traffic areas where featured offers will grab attention. Pay special attention to placing high-volume or best-selling products at eye level on shelves and displays so they're easily visible even in crowded aisles.


Aim for customer delight

Holiday shoppers will share holiday shopping pictures and snapshots of the gifts they receive during the holidays. So prepare your brand for some social love. Aim to design photogenic, instagrammable displays that leave a lasting impression on shoppers and their social networks alike!

Contemporary Design Trends & Holiday Retail Display Ideas

When it comes to display design and visualization, it's hard to beat the expertise of the TLC team! Here are some retail display tips based on what we're seeing trending through 2023:
Go big on offers and discounts. Make special in-store signage a priority- expect shoppers to turn out in large numbers as they get back to physical shopping.

Millennials prefer minimalistic design. Try no-fuss, modern, festive graphics rather than the heavily traditional ones. Keep it clean.

Shoppers want everything green—and we're not just talking about the color green here! Shoppers, especially Gen Z, resonate with visual elements related to the environment and sustainable living. So natural, earthy hues of beige and brown rather than plasticky bold colors, rustic textures instead of shiny artificial ones and foliage instead of neon lights may resonate better with today's consumers.
And before we go, here are a couple of inspiring examples of holiday retail branding strategies used by some of the biggest global brands!
The Christmas window displays at Harrods in London are iconic. Each year, shoppers eagerly wait to experience the magic of Christmas decor and take photos of the now-famous Harrods in-store Christmas Grotto. Apart from the displays, Harrods hosts a series of festive in-store events throughout December.
The Coca-Cola Christmas trucks are another iconic holiday marketing strategy from a global brand. Known as the "Christmas Caravan," the Coca-Cola trucks make an appearance in neighborhoods across many countries, heralding the festive season and bringing joy and cheer to thousands of fans across the world.
Why Metrics Matter More During the Holiday Season

Holiday displays do as much for long-term customer experience and loyalty as they do for short-term goals of sales volumes and revenue. 
It's a long promotional period from August or September through November until late December. 
Ultimately, seasonal displays are not just a tactic to boost sales in the last quarter of 2023. Rather, they need to be approached with a more long-term perspective—building a brand tradition that nurtures customer loyalty and results in lasting success for the brand.
The season is long enough to warrant frequent changes in in-store product displays. As some high-volume sale products sell out, your merchandising and shop floor teams must react quickly to change promotions and offers or restock the products. 
As you head into the final 4-5 weeks before Christmas, you may also want to evaluate what's worked so far and what you can do to make the most of those last and busiest physical shopping days of the year.
Sometimes, last-minute changes are necessary to respond to new and emerging trends that affect shopping behavior in the last few weeks of the retail peak season. So, it's important to refine promotions as you observe customer preferences and shopping trends throughout the season.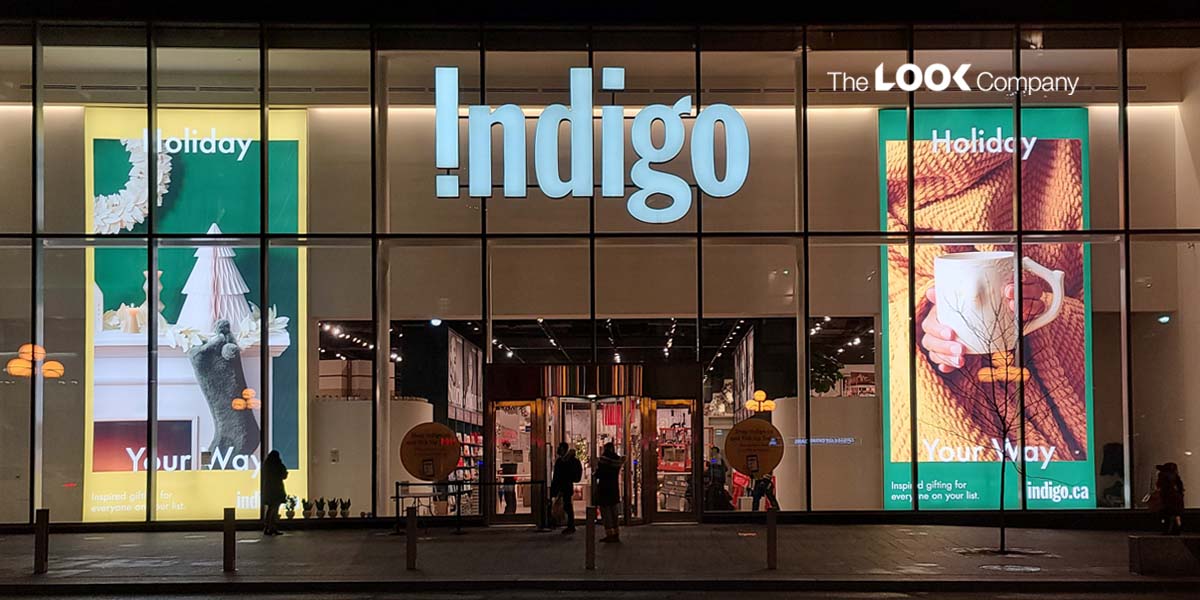 The Look Company: Delivering Standout Holiday Retail Displays

Crafting compelling holiday retail display solutions requires a delicate blend of creativity, strategic thinking, and a touch of Santa's magic!
Are you tapping into the power of visually engaging displays to delight holiday shoppers? Work with us to bring innovation and creativity to your retail promotions.
At The Look Company, we help you with concept development, visualization, rendering, prototyping, as well as installation. From window displays to endcaps, signage, pop-ups, standalone kiosks, and modular retail display stands, we go the whole haul to deliver creative solutions for your seasonal displays.
Connect with TLC for world-class retail display solutions and create flexible displays that you can changeout frequently and easily through each season!